In 2015 and 2016, Palau's Jellyfish Lake suffered a drastic decrease of jellyfish population due to a severe drought. Many tour operators decided to stop offering this attraction in order to help the lake to recover.
Great News
Last week, we have received two incredible news from our Palau Cruise Director. Not only the Golden jellyfish are back to Jellyfish Lake after its drastic decrease, but also the Moon jellyfish is back since they total disappearance in 1998, after El Niño in 1998.
"I've just returned from Jellyfish Lake for the first time with guests since 2016! Let me just say it was an outstanding success! Our guests were blown away by the experience. We were surprise to see the Moon jellies back now after almost 20 years since 1998! Some are huge, bigger than a serving platter! Nature never ceases to amaze! I am happy to say that this is once again a viable tour and will be a part of all charters going forward." says Eric, Palau's Cruise Director.
What is Jellyfish Lake and why jellyfish don't sting?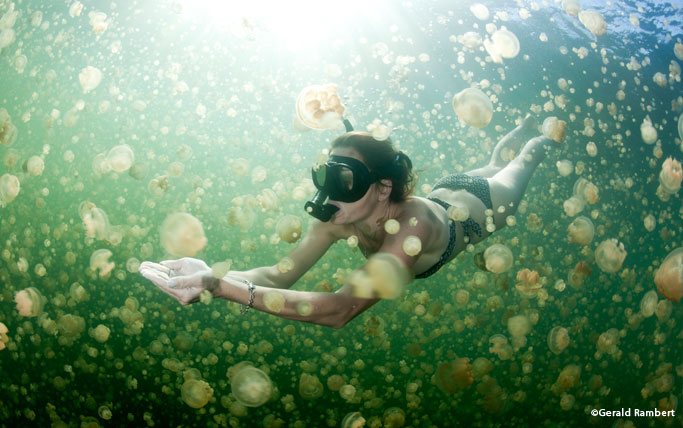 In the Rock Islands of Palau, there are around 52 marine lakes that are connected to the sea through fissures and cracks in the limestones of the islands. Five of those lakes feature something unique: each of them has their own endemic golden jellyfish. Only one of these five lakes is open to the public: renowned Jellyfish Lake in Palau.
Jellyfish Lake is home to around 5 million golden jellyfish that migrate inside the lake following the sun. This unique behaviour is due to the symbiotic relationship that jellyfish has with the algae in their tissues. The jellyfish ensure that the algae get enough sunlight for photosynthesis and in return, the algae give the jellyfish energy and nutrients. If you visit Jellyfish Lake on a sunny day, you will find them very close to the surface.
Not a big fan of jellyfish stings? You don't have to worry: due to the lack of predator in the lake, jellyfish have decreased their sting. The sting is very mild and essentially harmless to humans.
In 1999, following a strong El Niño, the jellies disappeared from the lake. They returned after El Niño. However, after a strong drought occurred in 2015 and 2016, their disappearance again until this year!
The Moon Jellyfish
The El Nino in 1998 caused also the disappearance of the other inhabitant of the lake in that time: the Moon jellyfish. It never came back after it as did the Golden jellyfish. However, now you can find
Moon jellies bigger than a serving platter!
Either you have already been to Jellyfish Lake in Palau or not. Either way, why not come (back) to see them with Master Liveaboards! Contact us today!