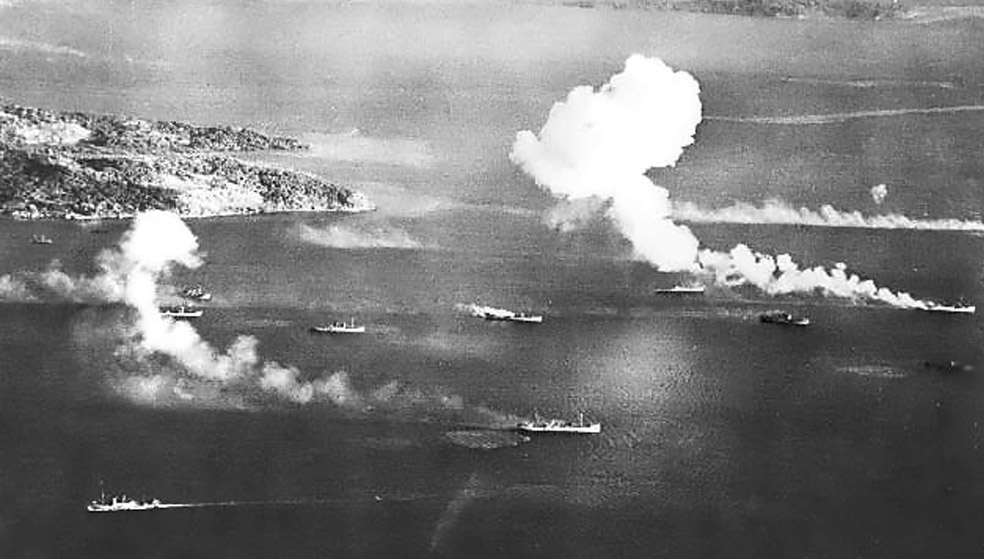 After the Germans had been defeated in World War I, Chuuk became a Japanese protectorate in 1919. During World War II, Truk Lagoon was the Empire of Japan's main base in the South Pacific theatre. A heavily fortified base for Japanese operations against Allied forces in New Guinea and the Solomon Islands, it served as the forward anchorage for the Japanese Imperial Fleet.
Truk Lagoon was considered the most fortified of all Japanese strongholds in the Pacific. On the various islands, the Japanese Civil Engineering Department and Naval Construction Department had built roads, trenches, bunkers and caves. Five airstrips, seaplane bases, a torpedo boat station, submarine repair shops, a communications center and a radar station were constructed during the war. Protecting these various facilities were coastal defense guns and mortar emplacements (defensive structures). A significant portion of the Japanese fleet was based at Truk, with its administrative center on Tonoas (south of Weno). At anchor in the lagoon were the Imperial Japanese Navy's battleships, aircraft carriers, cruisers, destroyers, tankers, cargo ships, tugboats, gunboats, minesweepers, landing craft, and submarines.
This is the reason why after the US/Allied attack on the Japanese Empire Naval fleet -Operation Hailstone in 1944 – this considerable number of ships ended up on the bottom of Truk Lagoon. Even today, new wrecks are still being discovered!
Learn more about the Operation Hailstone