The Similan and Surin Islands offer some of Thailand's finest diving and certainly deserve to be on your bucket list. Tucked away nearly 10km east of the Surin Islands is Richelieu Rock. Certainly it's spectacular, but is it Thailand's best dive site? The Junk's own Renske Lauterbach makes her case.
This large solitary limestone seamount sits alone in the surrounding waters of the Andaman Sea. The top of the pinnacle is just visible at low tide, but fully submerged at high tide. The cracks and crevices of the site provide a safe haven for the countless marine creatures living on it. But Richelieu Rock also caters for those passing by who, after a long swim, are in need of food, shelter, or a good clean. With at least three dives typically planned on Similan itineraries, there is always something to see.
What's In A Name?
Theories abound to the very French name given to a tiny geographical feature in Thailand. The most popular is that it was named by Jacques Cousteau, after Cardinal Richelieu. The reasoning being the similarity in colour between his gown and the purple soft corals covering most of the pinnacle. While this is a great story, apparently Cousteau never went as far as Richelieu while in Thailand.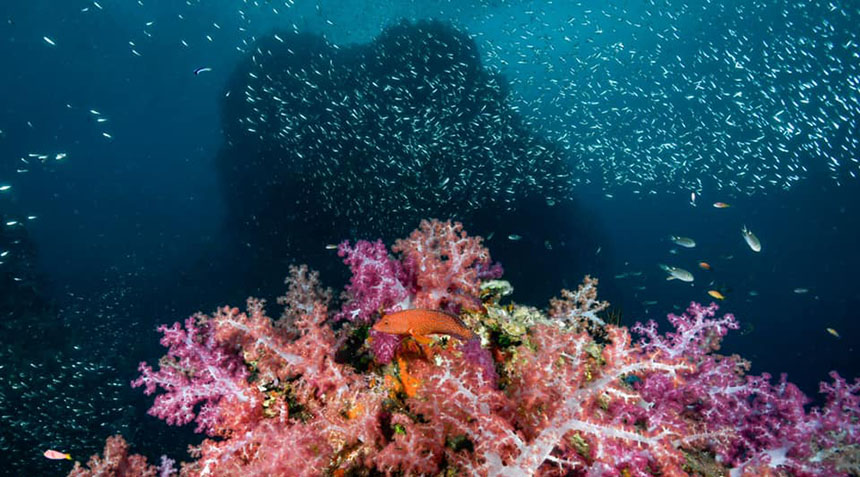 The more likely reason, while actually sounding even more fabricated, is that it was named for one Andreas du Plessis de Richelieu. Richelieu was a Belgian born naval officer who became the only foreign born commander-in-chief of the Thai navy. He also, apparently, happened to oversee the first hydrographic survey of the Andaman Sea.
Either way, the beauty of the purple corals and diversity of marine life, big and small, is a sight to behold. That's why many people refer to Richelieu Rock as Thailand's best dive site.
What To See At Richelieu?
This horseshoe-shaped outcropping slopes steeply to a sandy bottom at 18 to 35 metres (60-120 ft). It features overhangs, small caves, and pinnacles; the seascape is stunning. Along with the soft corals, there are large areas fully covered with magnificent sea anemones.
Usual suspects include impressive schools of fish, such as jacks and fusiliers. A massive school of 2 striped yellow snappers hangs about on the sheltered side of the rock. Spanish mackerel and trevallies also patrol in big groups around the rock. This has earned them the nickname 'the Mafia'. A resident and friendly school of bat fish are often on hand to hang out with you during your safety stop.
Looking closer, keep a close eye open for ghost pipefish, harlequin shrimp, frogfish, and peacock mantis shrimp. A little deeper down you can find tigertail seahorses, colourful scorpionfish and grumpy stone fish. For the lucky ones even octopus and in the right season cuttlefish, often engaged in mating displays.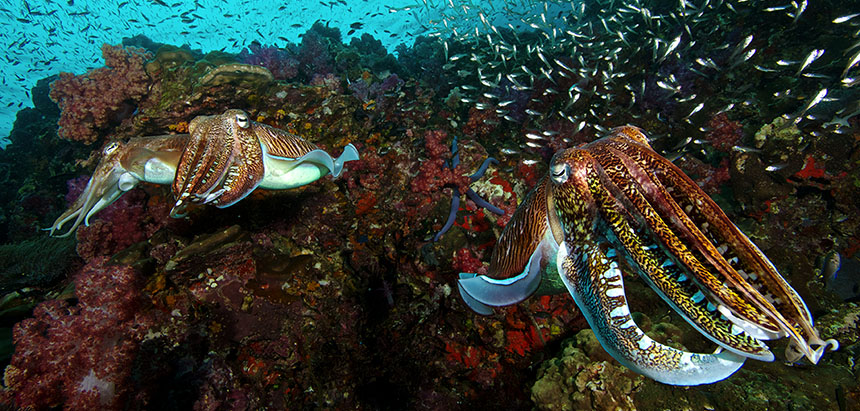 Generally, the visibility underwater is very good. On days when the water is a bit murky, this often means that the big pelagics are not far away, foraging on the plankton. Did we mention Richelieu has a reputation for whale sharks?
How Do I See Thailand's Best Dive Site?
The Phinisi and The Junk visit Richelieu Rock as part of our Similan & Surin itineraries in Thailand. The parks are open for diving tourism yearly from 15 October to 15 May.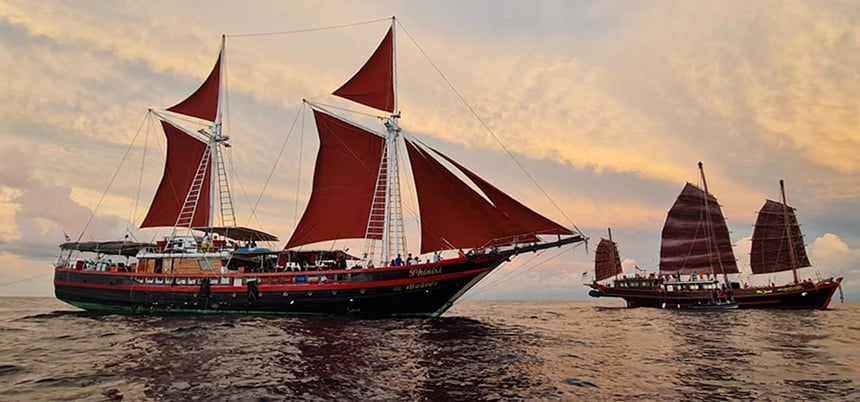 Topside, the islands are incredibly scenic with amazing white sandy beaches adorned with huge boulders. All this beauty is surrounded by crystal clear turquoise water. An island visit is part of all our itineraries.
The time has never been better to dive the Similan & Surin Islands than this year. The COVID-19 pandemic has mean very few boats around, which has meant an even richer marine environment than usual. Seize this rare opportunity now and book your space with Master Liveaboards.