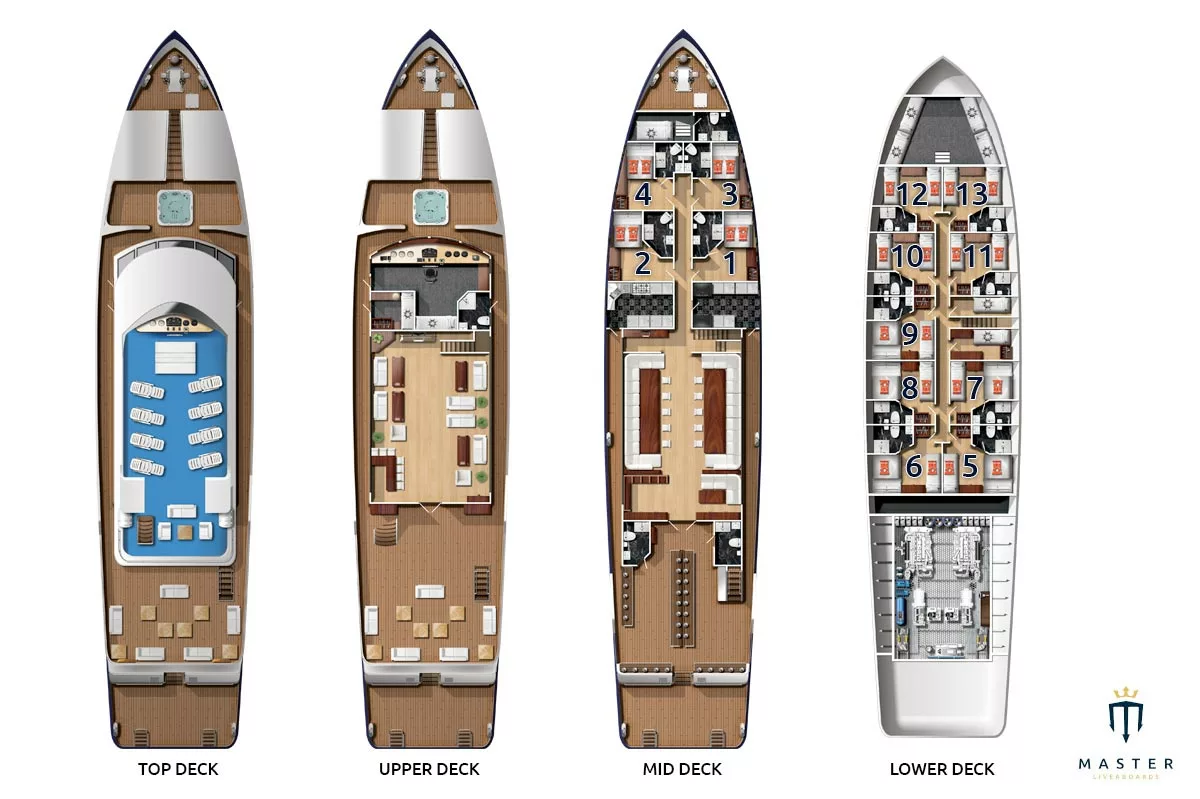 With a contemporary and stylish feel, Blue Horizon takes Red Sea liveaboard diving to a whole new level and is truly deserving of her wins as 'Best Liveaboard' in the Sport Diver awards, as well as 'Liveaboard of the Year' awarded by DIVER magazine.
With a large dining area, a totally separate sky lounge with a state-of-the-art entertainment system, a shaded deck area, and a sun deck, there is always space to relax and enjoy the beauty of the Red Sea.
King suite upgrades are available and all cabins benefit from air conditioning, en-suite facilities, mini refrigerators, and in-cabin entertainment.
Blue Horizon is equipped with a nitrox membrane and can also cater for rebreather and technical divers, upon request and subject to availability.
VHF ship to tender radios:

Engine Room Fire Control:
Master Liveaboards offers a range of services to make your stay on Blue Horizon even more enjoyable. Nitrox, equipment and cylinder rental can be pre-booked and pre-paid at the time of booking your liveaboard. For our rebreather diver guests, please complete and send us your gas and equipment requests as early as possible.
Governmental Reef Tax (per person)
The applicable Government Reef Tax for your itinerary will be added to your invoice at the time of booking your liveaboard holiday.
*14% Goods & Services Tax applies to all extras paid for on board.
Surcharges are subject to change at any time, and without notice.
Wetsuit (5mm full-length)

Back gas regulators (set of 2)

Stage cylinder regs (O2 clean)
*Full recreational equipment set includes wetsuit, BCD, regulators, weights, weight belt, SMB/reel, mask and snorkel, fins, boots and snorkel only. **Please note that all divers are required to dive with a computer.
**Full technical equipment set includes: Back gas regulators, Stage Regulators, Harness, Backplate and Wing
All equipment must be pre-booked to ensure availability and correct sizes, etc. are on board.
PLEASE NOTE: Prices listed above are exclusive of GST which will be added to onboard payments.
| | | |
| --- | --- | --- |
| | | |
| | | |
| Manifolded twin cylinders | | |
| | | |
| Stage cylinder with rigging | | |
| | | |
| | | |
Stage cylinders (40%-80%)
On-board pricing is subject to change without notice. Although we endeavour to keep information as up-to-date as possible, please be aware that, although it is unlikely, prices may be different on your cruise.
PLEASE NOTE: Cylinder rental and nitrox prices listed above are exclusive of GST which will be added to onboard payments.
| | |
| --- | --- |
| | |
| | |
| PADI Deep Diver Speciality | |
| | |
PLEASE NOTE: The course prices listed above are for completing the practical (diving) elements only; they DO NOT include course materials or certification registration. You can register for online learning for PADI Advanced Open Water and PADI EANx (Nitrox) here. For all other courses, please speak to our reservations team.
*A range of other speciality courses are available on request. Please enquire with our reservations team for more information, prices and to pre-book.
Courses are subject to availability and must be pre-booked to ensure an instructor is available. The prices listed above do not include GST which will be added to the cost if courses are paid for on board. 
Pringles/peanuts/chocolate
Onboard prices may be subject to change, without notice. While we endeavour to keep this information as up-to-date as possible, please be aware that, although it is unlikely, prices may be different on your cruise.
Items listed above can not be paid for in advance. Prices include GST which applies to all onboard payments. 
Where Blue Horizon operates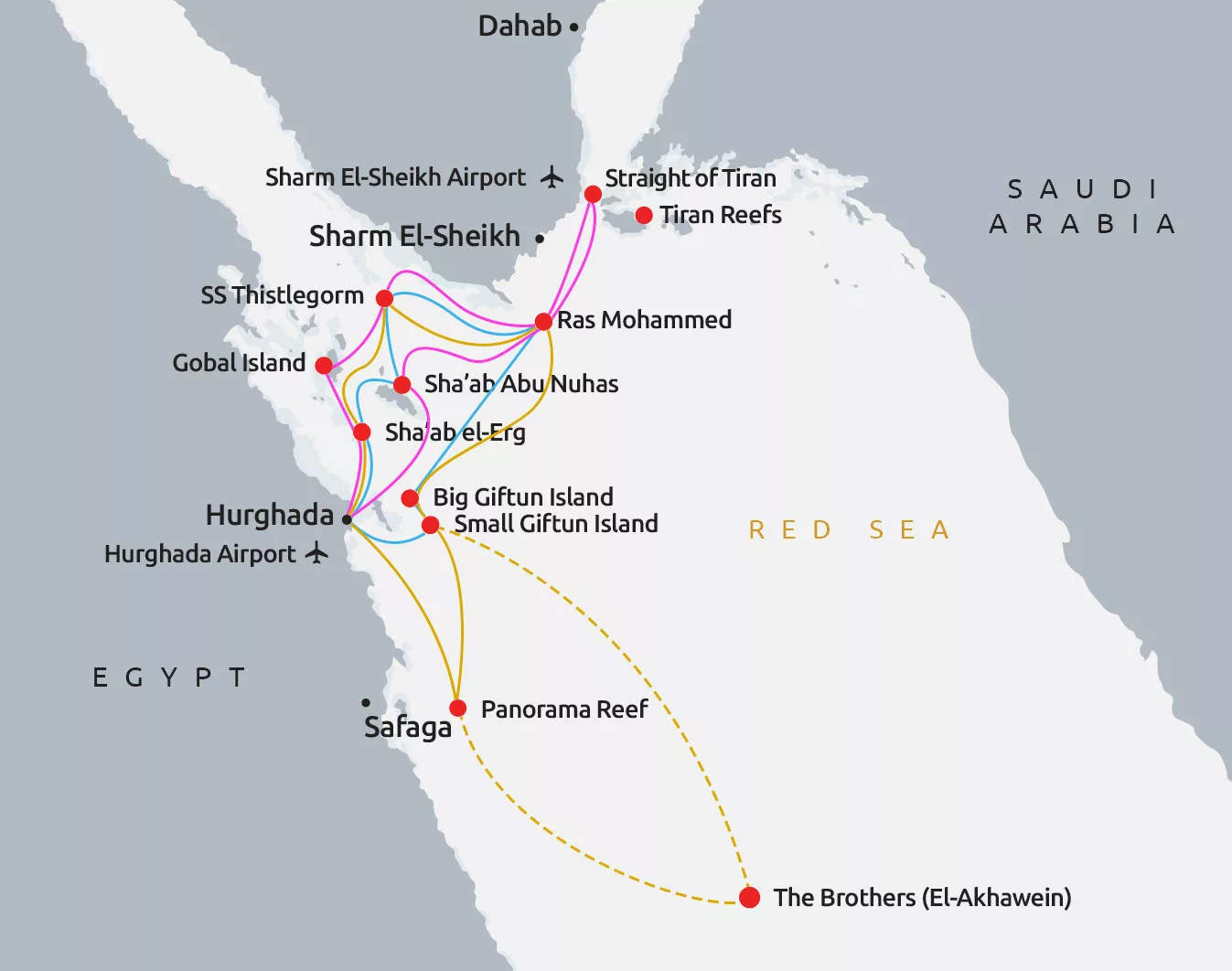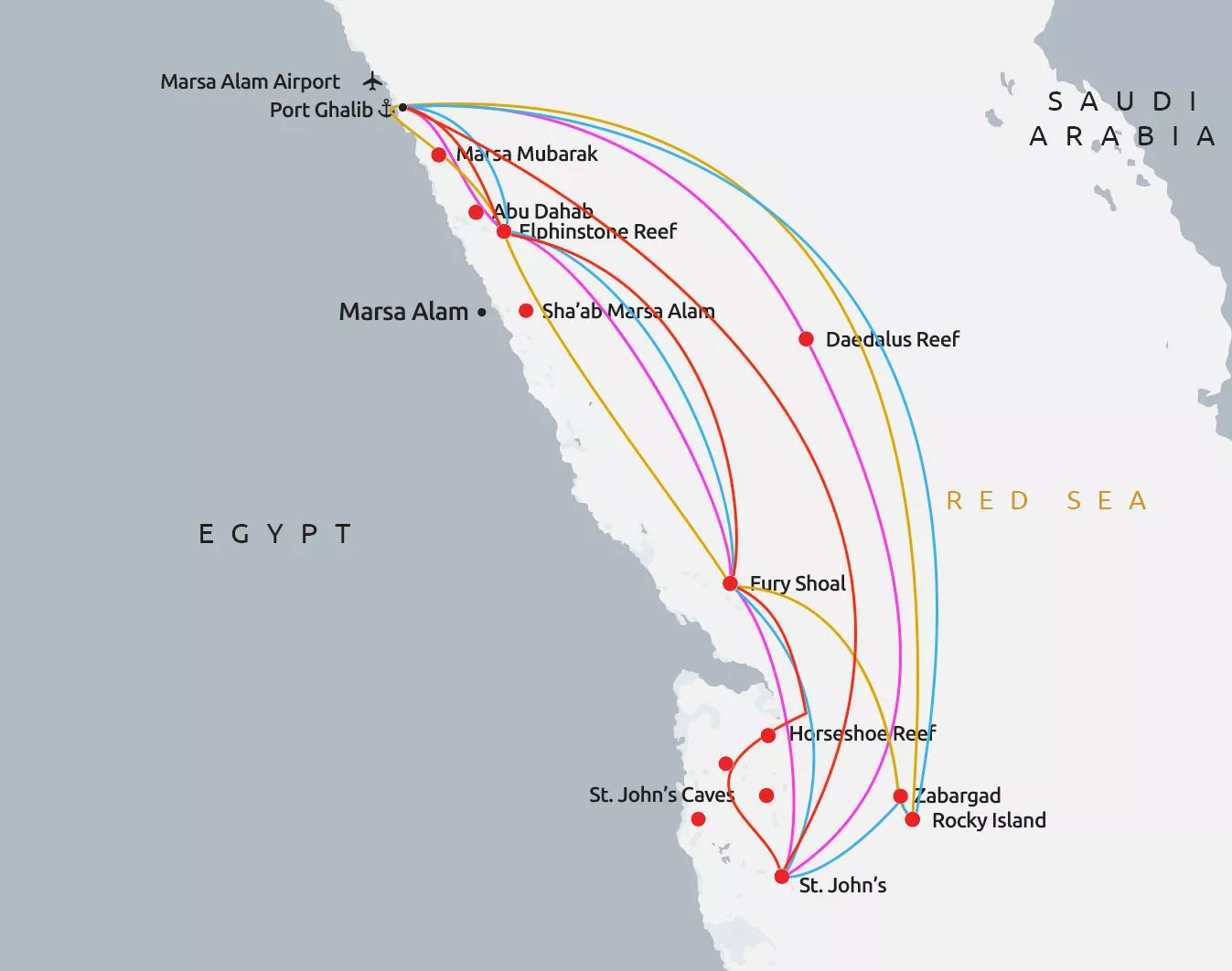 Take a look at what our customers have said about Blue Horizon

Sam Aquino
Blue Horizon, Oct. 2023
Thanks for an amazing and unforgettable experience. I enjoyed my time here so much and every single person in the crew was absolutely lovely and splendid. Thanks to all!!!

Tash Scott
Blue Horizon, Jul. 2023
All crew on this trip have been amazing. They have made my group feel welcomed and looked after. We have complex diving needs but everything was sorted with a minimum of fuss. We had 2 birthdays on board and both guests were made to feel super special for the day.

Mike So
Blue Horizon, May. 2023
Superb holiday everything catered for, amazing dives. Food was amazing, cabins kept immaculate. All guides were polite and knowledgeable. Brilliant boat staff couldn't do enough for you.

Sara Danson
Blue Horizon, Jun. 2023
The team on the Blue Horizon this week were incredible. Their hard work has made our trip so memorable. I have not been on a liveaboard before but there are many in our group who have. They have ALL said the crew this week are the best they have experienced. I cannot wait to return to a Blue O2 Red Sea trip. I hope it will be soon!

Amanda Harding
Blue Horizon, Jun. 2023
Anka was brilliant and every day went extra miles for us. I learnt so much. I came on a holiday and left more qualified, a better diver, more knowledgeable and respectful and was able to put learning into practice. I am so grateful for all the conversations and help. I had a great time, thanks know you all. This was a slick operation, so safe and fun. Great job everyone.
Join us and experience the reefs and wrecks of Egypt's Red Sea
Let our experienced and friendly reservations team reach out to you and help you plan your dream diving holiday in Egypt.