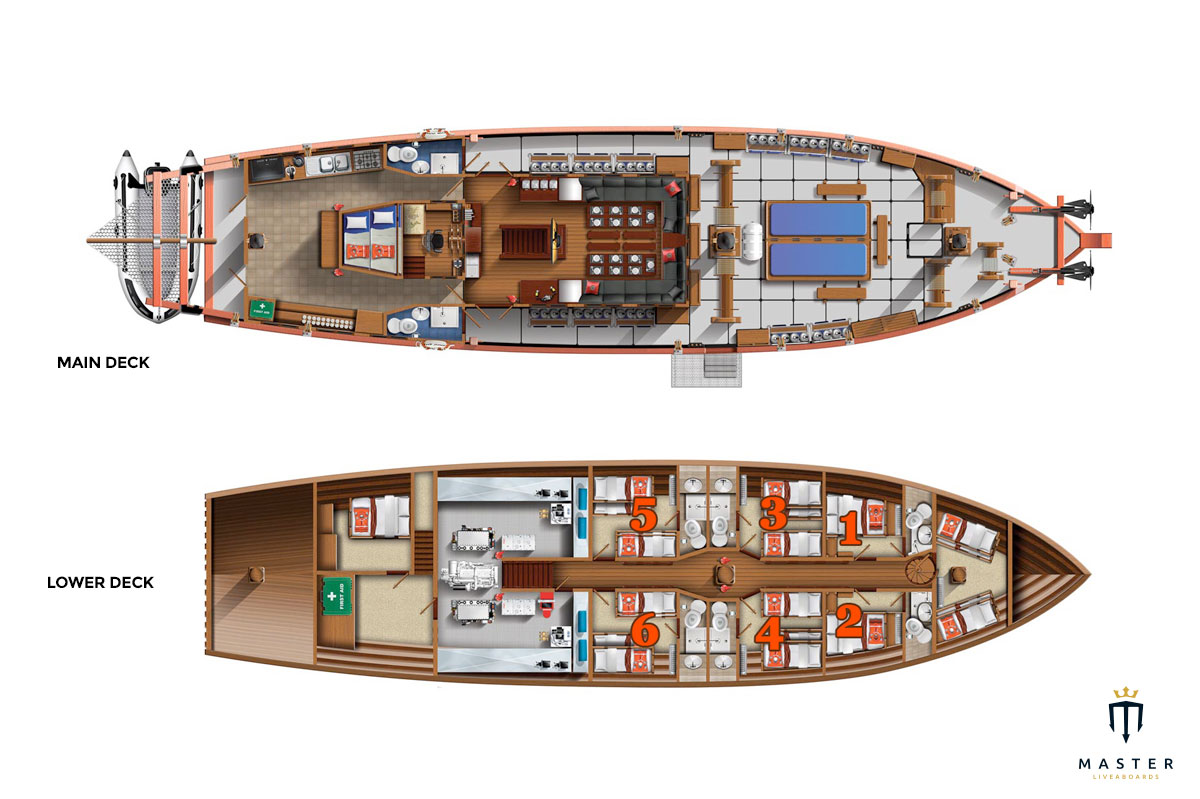 S/Y The Junk liveaboard is a stunning, historical 33m vessel that offers liveaboard diving holidays in Thailand. Originally built in 1962 as a sailing cargo vessel, she was completely overhauled and refit in 1997 to the vessel she is today. Built from the finest Asian wood teak known as Takien Tong, she is a three mast junk vessel with 330 square metres of sails that are both functional and beautiful.
S/Y The Junk welcomes 18 divers on board. Accommodation is provided in two flexible double/twin cabins, two triple cabins, and two quad cabins that can comfortably sleep up to four divers in 2 bunk beds. All cabins are equipped with air conditioneing, fan and offer en-suite facilities.
The spacious, air-conditioned saloon is decoratively fitted with hand carved shelves, drawers and cabinets, behind which is hidden the on board entertainment selection. Guests can choose from a library of books, videos and mini discs to entertain themselves when out of the water. A large flat screen TV is perfectly positioned for optimal viewing while relaxing in the saloon area.
Dining on board S/Y The Junk is truly first class. With a wide selection of dishes ranging from Asian themed cuisine to more traditional Western styled dishes, guests are spoilt for choice. Alongside the regularly scheduled meals throughout the day, fresh fruit and additional snacks are always available. Meals are served in the saloon, which with its open design and many windows offers incredible views of the surrounding oceans as guests tantalise their taste buds on the exceptional cuisine on board.
An expansive dive and leisure deck provides ample space for kitting up as well as for relaxing. Underwater photographers and videographers will appreciate the large fresh water rinsing tanks and designated areas for charging and preparation of equipment.
VHF Ship to Tender Radios:
Taxes & Surcharges

Equipment

Nitrox, Rebreather & Cylinder

On-board extras

Diver Training
Southern Explorer – 2 nights

US$35 (non-diver US$12.50)
| | | | |
| --- | --- | --- | --- |
| Kit: Full set* (excluding Computer & Torch) | | | |
| | | | |
| Kit: Fins (incl. booties) | | | |
| | | | |
| Kit: Regulator (Aqualung) | | | |
| | | | |
| | | | |
| Kit: UW Torch/Flash light | | | |
| Upgrade to 15ltr cylinder | | | |
*Full equipment set is BCD, Regulators, Wetsuit, Mask, Fins and Snorkel
We recommend that equipment should be pre-booked to ensure availability and correct sizes etc are on board.
On-board pricing is liable to change without notice. Though we try to keep documentation as up to date as possible, please be aware that, although it is unlikely, prices may be different on your cruise.
Kayaking (subject to availability)
Courses are subject to availability and must be pre-booked to ensure an instructor is available.
Please note that the course prices listed above include the required manual and PADI certification card (PIC). PADI AOW Manual and PIC is $150 USD, PADI Nitrox Specialty Manual and PIC is $125 USD.
*A range of other speciality courses are available. Please enquire with our travel team for more information, prices and to pre-book any cours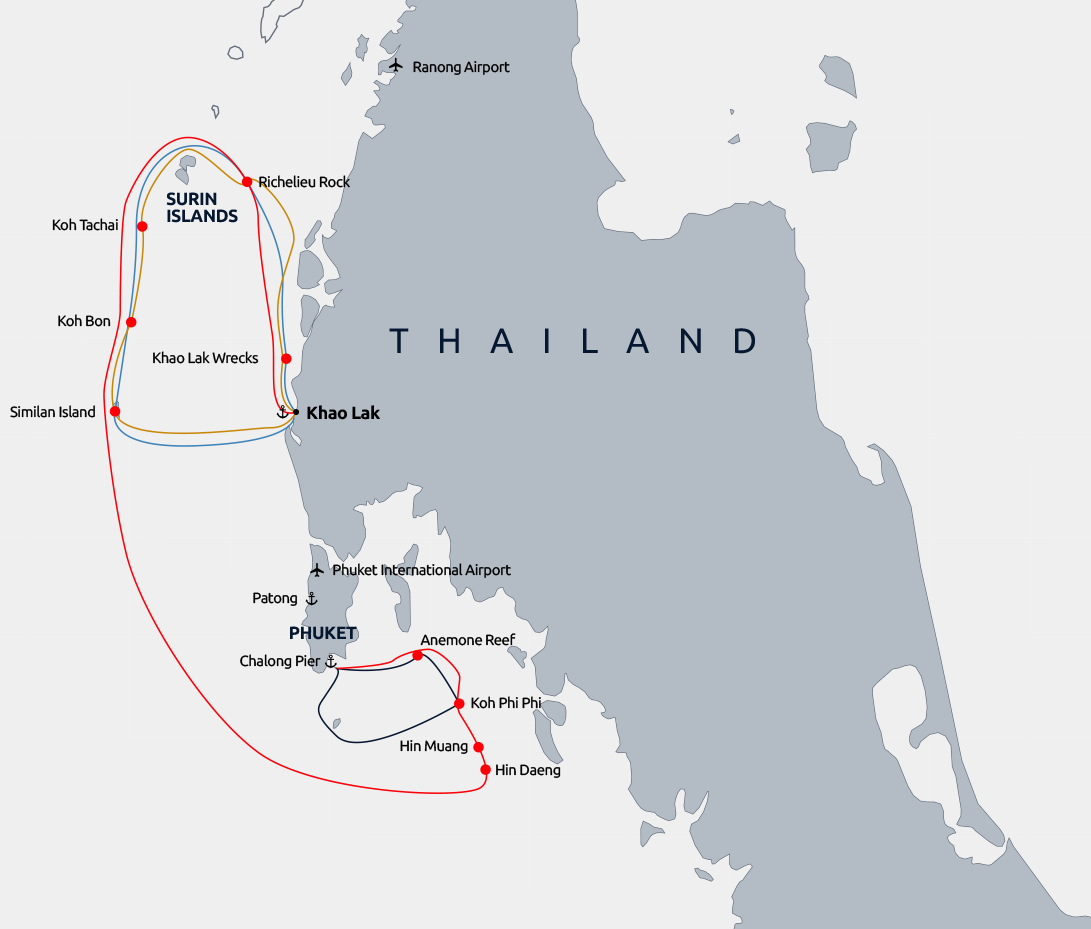 This is what our customers have said about The Junk
Experience the warm water and rich culture of Thailand
Let our experienced and friendly reservation team reach out to you and help you to plan your dream diving holiday in Thailand