When diving Bikini, Prinz Eugen is often the first dive of the trip. After all, she's right there in Kwajalein Atoll, nice and shallow, the perfect check dive for the trip ahead. But how did she get here, and what is she like to dive?
Wreck Stats
Prinz Eugen is an Admiral Hipper-class heavy cruiser. She was laid down in Kiel in April 1936, launched in August 1938, and entered service in August 1940. She carried some fairly impressive stats…
length: 697ft
beam: 77ft
draft: 21ft
speed: 33 knots
displacement: 18000 tons
crew of 2065
8 × 20.3 cm (8 in) guns
12 × 10.5 cm (4.1 in) SK C/33 guns
12 × 3.7 cm (1.5 in) SK C/30 guns
8 × 2 cm (0.79 in) C/30 guns
12 × 53.3 cm (21 in) torpedo tubes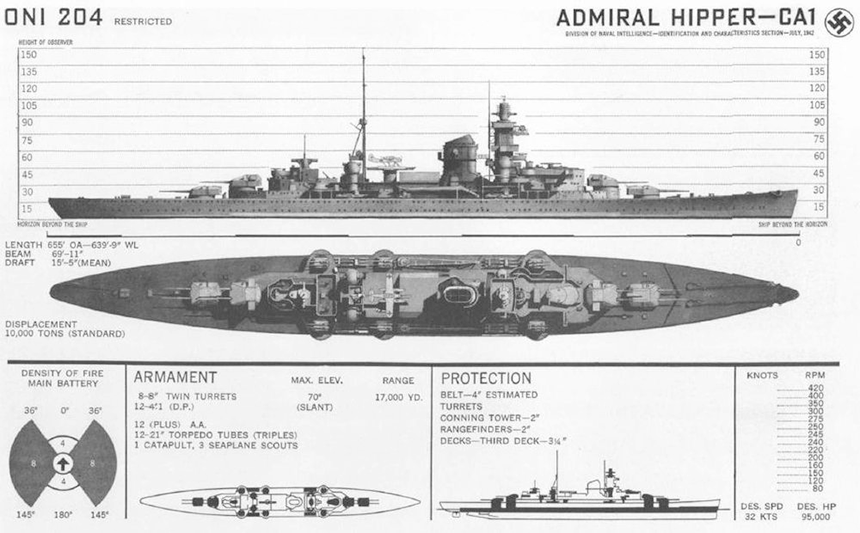 Eugen was in action before she was even completed, while still in the shipyard in Kiel. During a British air raid she was struck by a bomb dropped by the RAF but suffered only minor damage.
Prinz Eugen and Operation Rheinübung
Prinz Eugen is perhaps most famous for her first major marine engagement in WWII; Operation Rheinübung. After sea trials, several training exercises, and minor repairs after striking a mine, the boat was ready for action. The plan was that she would head into the Atlantic, along with Bismark, to stop Allied shipping. If Germany could stop British supplies, it would seriously hamper their war efforts.

On the 21st May 1941 the mighty battleships left Bergen, bound for the Denmark Strait north of Iceland. The plan was to make a dash through the strait, in order to break into the Atlantic and cause havoc. The problem was, the code breakers of Bletchley Park knew that an operation was imminent. Reports of 'two large vessels' made by both friendly Swedish and Norwegians also helped. The Royal Navy was watching.
The Battle of Denmark Strait
The boats were first spotted by the Navy on the 23rd and from there on shadowed, at a distance, through the Denmark Strait. Orders were called and both HMS Hood and HMS Prince of Wales made a beeline to intercept. At 5:52am on the 24th the battle began and Eugen started using her guns in anger for the first time. Within minutes one of her shells hit Hood that caused fire to spread through the middle of the huge battleship. Only a few minutes after this, a shell from Bismark pierced one of her magazines causing an enormous explosion that broke Hood's back. She sank with the loss of all but 3 men within 3 minutes. All 3 remaining vessels continued fighting, but by 06:09am everything went quiet as contact was broken. The Battle of Denmark Strait was over.
What followed was one of the most famous engagements of World War II: the chase and subsequent sinking of the Bismark. Following the initial battle, Prinz Eugen departed into the Atlantic in order to carry out the planned raids. However, over the following week she didn't sight any convoy ships and after developing engine trouble departed to Brest for repairs, signalling the end of Operation Rheinübung.
Prinz Eugen 1942 – 1945
Following the ignominious failure of Rheinübung, Prinz Eugen spent the rest of her war, mostly, around Norway and in the Baltic Sea. This was after a period of repairs in Brest from a bomb strike that killed 60 of her crew. In order to get to the Baltic, she carried out a daring dash through the English Channel with battleships Scharnhorst and Gneisenau, along with 6 supporting destroyers.
During this period, while in Trondheim, a torpedo struck her while on anchor. The torpedo caused serious damage to her rudder and also killed 50 crew members. Subsequently, she was out of commission for quite some months. When she returned to service, after a failed attempt to get to Norway, she was used as a training ship for the best part of 1943.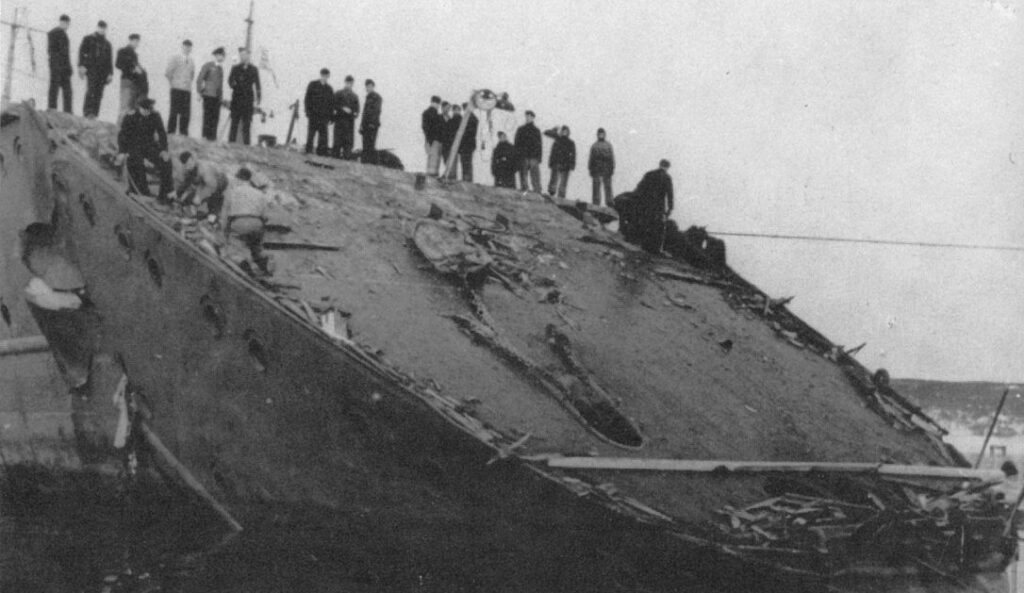 This changed in 1944 when, from August of that year until May 1945, Eugen deployed in multiple land bombardments. This was to both slow Soviet advances as well as covering retreating German troops. In this period alone she fired over 10,000 shells from her main battery. Following her final engagement she sailed to Copenhagen where, on the 8th May 1945, she was surrendered to the British.
Post war and to Bikini
After US forces won 'the draw' to take ownership, USS Prinz Eugen entered service with the US Navy on 5th January 1946. She then sailed to Boston, where the Navy removed her sonar array and fitted it to the submarine USS Flying Fish for testing. The Navy also heavily investigated her firing systems and removed the guns from her forward gun turret. German crew members were released on the 1st May and returned to Germany. Almost immediately the US crew began having trouble keeping her propulsion systems running and 11 of her 12 boilers failed.
The problems the Navy had keeping her engines running, which likely influenced the decision to use Prinz Eugen as part of the fleet of target ships for Operation Crossroads. The on-going problems were also the reason she had to be towed to Bikini, via the Panama canal, a journey that took close to 2 months.
Prince Eugen survived both Able and Baker tests of Operation Crossroads without heavy damage. She was, though, heavily contaminated. She was towed back to Kwajalein with the intention of dealing with the contamination properly.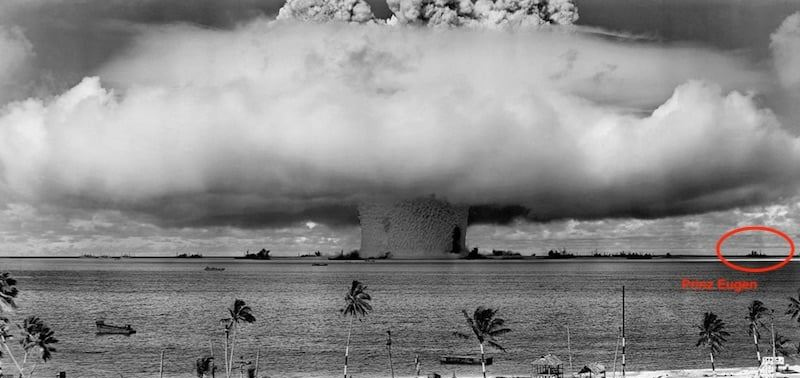 However, deciding how this should happen took some time. This wasn't the ideal situation as a 'small' leak under the waterline went unrepaired, due to her contamination. On the back of this, in December of 1946 she developed a heavy list and, though the Navy tried to beach her to keep her afloat, she capsized on the 22nd December.
Diving Prinz Eugen
Prinz Eugen has laid in her current position undisturbed since 1946, except by intrepid divers, except for a few notable events. Firstly, in August 1979, one of her propellers was removed. This prop is now outside the Laboe Naval Memorial in Kiel. Then, from February of 2018, authorities began the project of removing 250,000 US gallons (950,000 litres) of fuel from her bunkers.

In October 2018 her tanks we all but emptied, leaving us with the wreck we have today.
The upturned wreck lies just off the island of Enubuj in Kwajalein Atoll. She is in relatively good condition, considering she survived WW2, 2 nuclear tests, and has been in shallow water for over 70 years. As you enter the water over the wreck you see the bottom of the hull and realize this is not a small wreck. The bow touches the seabed at 36m (118ft). Under the bow deck you can often spot nurse sharks resting on the bottom.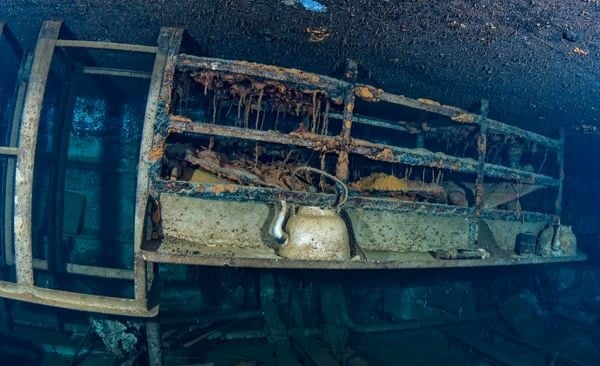 There are a number of entry points through the wreck where you can see crew quarters, galleys, bathrooms, and loads of sinks. During a dive on the Prinz Eugen you can also see, torpedoes, gun barbettes, and the seaplane crane, among other interesting features. These include the huge rudders and two of the props, which at low tide are mostly visible.
Prinz Eugen is often under-rated as a wreck dive, as she is not in Bikini Atoll itself. But be under no illusions, anywhere else she would be talked of as a world class wreck.
Dive now!
Dive Prinz Eugen along with the rest of the Nuclear Fleet with our Bikini Atoll trips aboard Pacific Master.