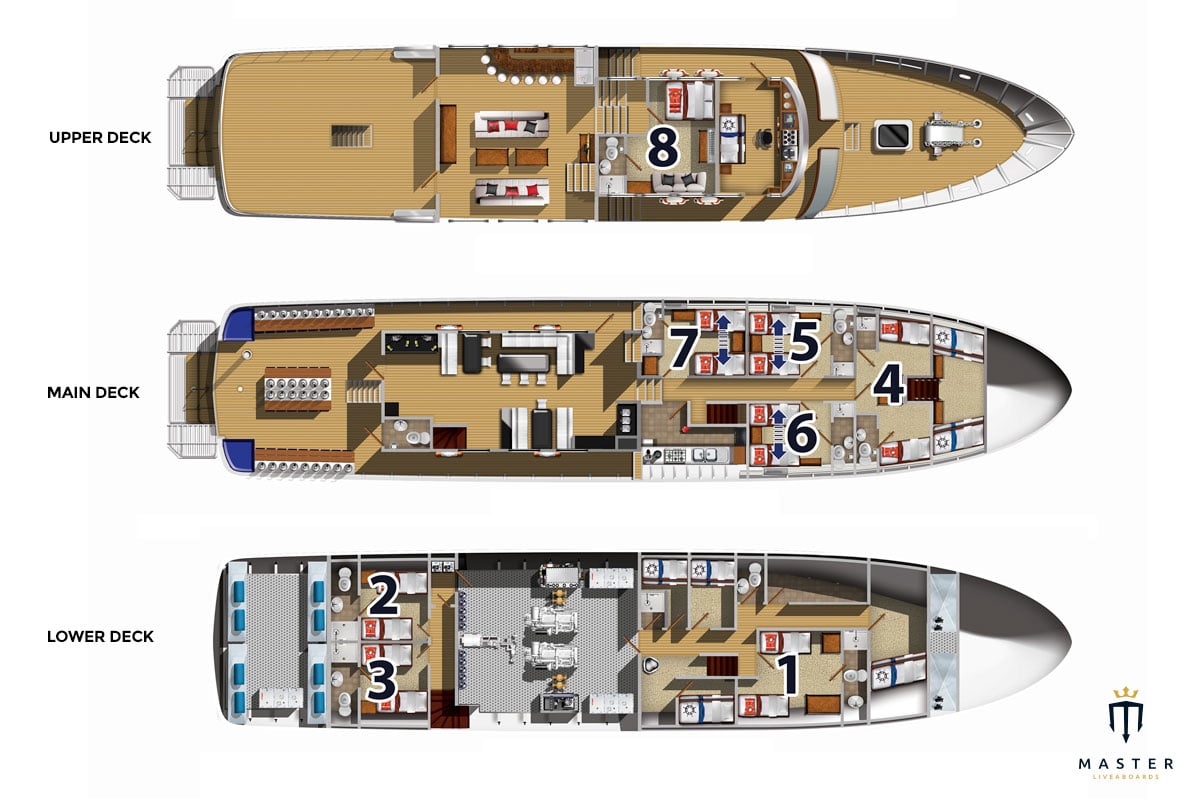 The steel-hulled Truk Master liveaboard offers a choice of Classic, Premium and Superior double or twin cabins, providing comfortable accommodation for up to 16 guests*. Each cabin benefits from individually controlled air-conditioning and private ensuite bathroom facilities with hot water.
Truk Master's main deck comprises a spacious, indoor dining room along with a camera station, complete with numerous charging points and storage space. After a fantastic day's diving, unwind and relax on the upper deck's indoor lounge and bar area which is fitted with a plasma screen for guests to watch movies or show off their photos. For those who prefer to relax with a breath of sea air, there is a shaded outdoor relaxation area and large sundeck with lounge chairs to sink into and soak up the atmosphere.
Truk Master is fully equipped to cater for recreational, technical, and rebreather divers.** The large dive deck has individual set up stations, under-bench storage, a camera preparation table and a large dive platform at the rear, complete with deco-bar.
*On Bikini Atoll itineraries Truk Master is limited to a maximum of 12 passengers due to space limitations for equipment storage. Spaces will only be available in Classic and Premium cabins No.s 2-7 located on the lower and main decks.
**On Bikini Atoll itineraries the vessel is exclusively for technical divers only.
Guests (Solomon Islands):

Twin/Double Cabins: (Amendable)
VHF ship to tender radios:
Master Liveaboards offers a range of services to make your stay on board even more enjoyable. Standard Nitrox, equipment and cylinder rental can be pre-booked and pre-paid at the time of booking your liveaboard. For our rebreather and technical diver guests, please complete and send us your gas and equipment requests as early as possible to ensure supplies are available.
Bikini Atoll 10 & 11 nights

Marshall Islands departure tax

The applicable Marine park fees for your itinerary will be added to your onboard extras to be paid on the boat before disembarkation.
| | | | |
| --- | --- | --- | --- |
| Full Tec set (Tec reg set, 2 stage regs, Harness, Backplate and Wing) | | | |
| Tec regulator set (2x Mares 25XR first stages & 2x DR second stages) | | | |
| Stage regulators (100% O2 compatible) | | | |
| Backplate and harness (Mares XR) | | | |
| Wing (Mares XR Single Donut Bladder) | | | |
| Complete Harness, Backplate and Wing | | | |
| Emergency SMB, spool and slate | | | |
| | | | |
| | | | |
| | | | |
| | | | |
| | | | |
All equipment, including cylinders and rebreather supplies must be pre-booked to ensure required sizes and quantities are available are on board.
Sofnolime (797 grade): 450 USD per 20kg tub

2L or 3L steel CCR cylinder** set

9L (63 cuft) aluminium manifolded twins

11.1L (80 cuft) aluminium manifolded twins

Stage cylinders 5.7L (AL40) or 11.1L (AL80)

Single 13.2L (100 cuft) aluminium cylinder
*Cylinder packages include: Manifolded Aluminium 80 cuft twinset or Matched Aluminum 80cuft cylinders for Sidemount divers, or Steel 3L/ 2L Cylinder set for Rebreather divers, and up to 2 x 40/ 80 cuft Stage Cylinders with rigging kits.
Most of our rebreather cylinders have 3/4 NPS neck threads although we also have a limited number of cylinders with M25 threads.. Guests with rebreathers that require M26 valves will need to bring their own adapters as there are none available on board.
*PLEASE NOTE: Sofnolime is available in 20kg tubs only and MUST requested in advance, but paid for on board. Please let us know your requirements by completing the gas and equipment request form and returning it to our reservations team as early as possible.
*Minimum Oxygen / Helium fill charge: 10 USD. 
**PLEASE NOTE: For logistical reasons, we are only able to provide Helium / Trimix for rebreathers. We are unable to supply Helium for Open Circuit divers. 
Gases cannot be banked; unused gas will be charged for.
Where Truk Master operates
World-class WWII wreck diving, whitetip reef sharks, blacktip reef sharks, schools of fish, and turtles.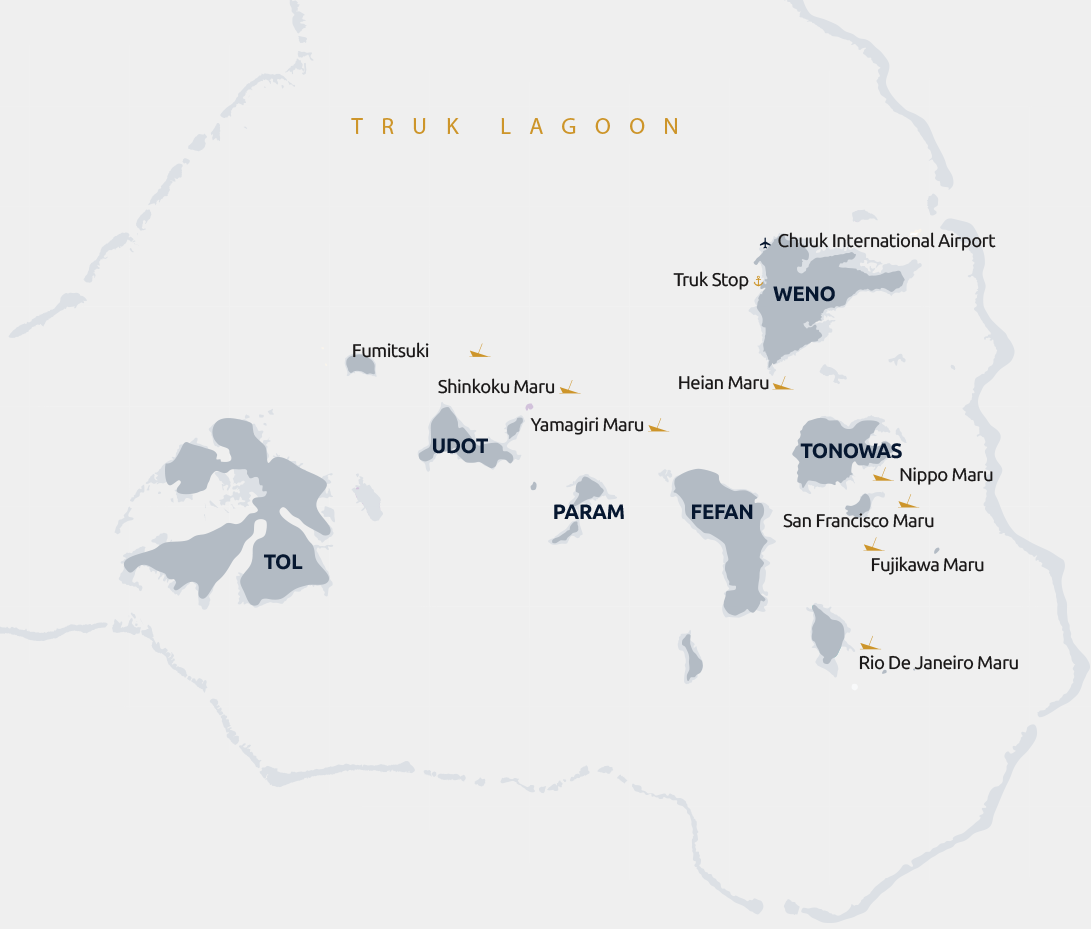 *Truk Master ceased operations in Truk Lagoon in April 2022. For diving itineraries in Truk Lagoon, see the Pacific Master.  
Iconic wrecks, also known as 'The Nuclear Ghost Fleet', and an abundance of marine life including turtles, tuna, tiger sharks, and giant clams.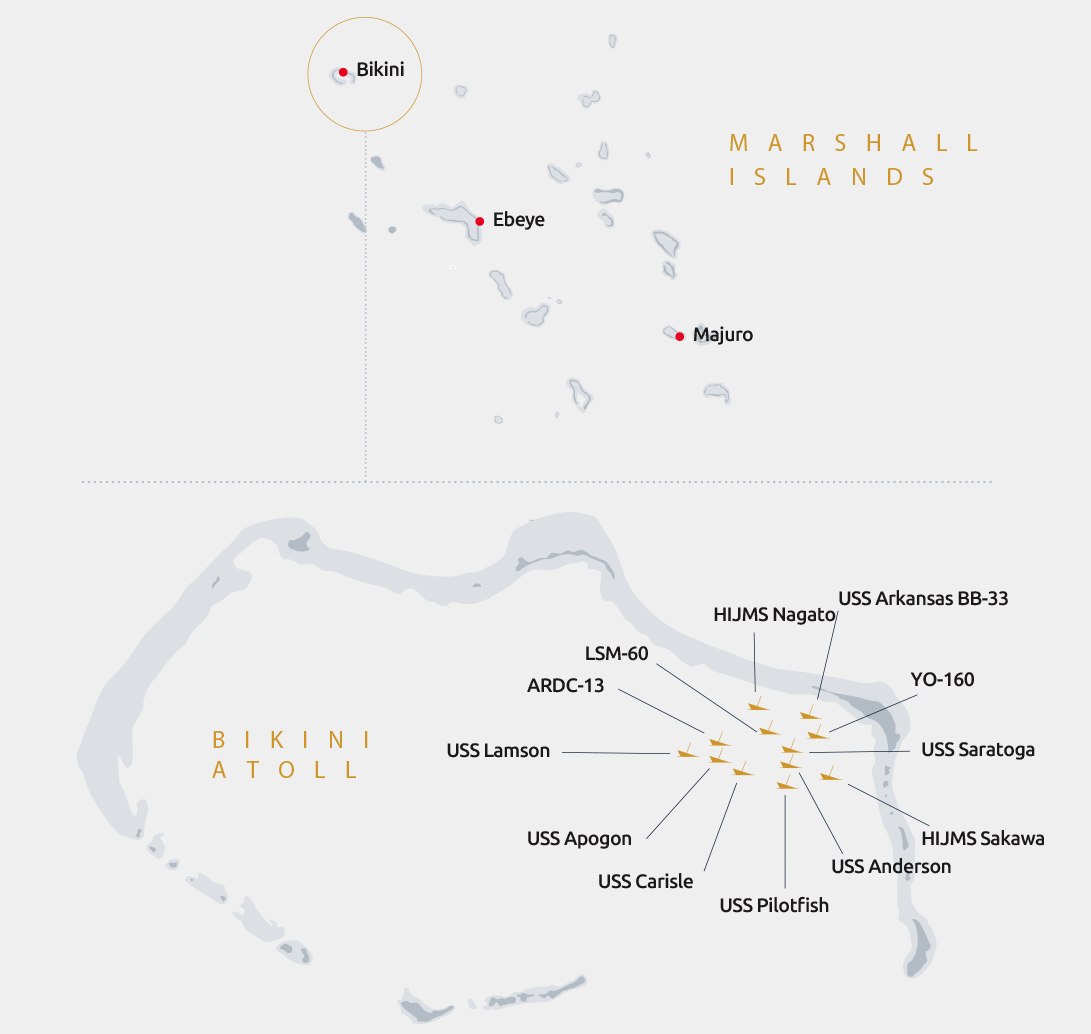 *Truk Master will cease operations in Bikini Atoll in September 2023. For diving in Bikini Atoll after this, or for alternate availability, see the Pacific Master.  
Itineraries for Truk Master
Take a look at what our customers have said about Truk Master
Experience the world class wrecks and fascinating history of Truk Lagoon & Bikini Atoll
Let our experienced and friendly reservation team reach out to you and help you plan your dream diving holiday in Truk Lagoon