The most common itinerary for guests in these times of pandemic is 7 nights in Galapagos. But what is the trip really like for a customer?
Many many moons ago, Penny Yim-Barbieri worked for a previous incarnation of Master Liveaboards. She enjoyed it so much, she continues to get aboard our vessels to this day as much as she can. Recently she was aboard Galapagos Master and was kind enough to send us a report of her trip. Over to Penny…
A destination on every bucket list
"Ask most divers if they have a bucket list. The response will be usually yes, with the Galapagos and especially Darwin and Wolf Islands at the top. Having been lucky enough to go to these pelagic hotspots on the Galapagos Master once before, I just consider it a must-dive destination. A must-dive place as in "any chance you can, you MUST DIVE there"!
Before going to these magical sites, there were many wonders I did not know about. I did not know that dolphins "piloting" a massive 15m/50ft whale shark was even something that happened. I did not know that turtles could become bit players on a stage packed with hammerheads, huge pregnant Galapagos sharks and silver clouds of jacks.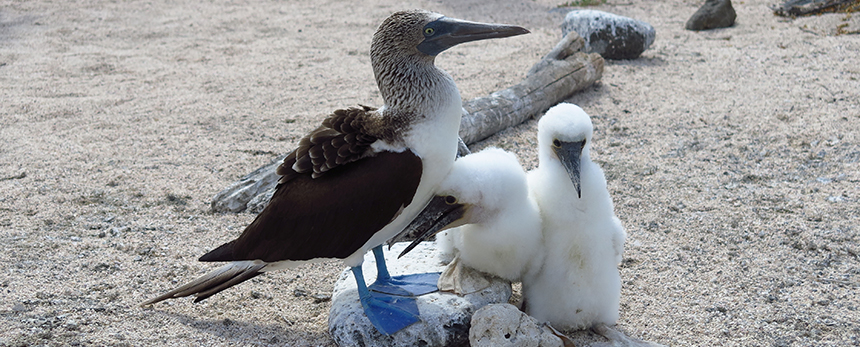 Of course, any mention of the Galapagos also usually triggers science memories. Especially of a guy named Darwin. Or unique flora and fauna that can only be found on (or under) these bits of volcanic rock in the middle of the Pacific. As soon as you start to wander around (ten minutes from the airport!), his ideas become very easy to grasp. It's easy to appreciate (even booby jokes are funnier in the Galapagos!) as you can see his theory at work all around you in 360° technicolour. Whether it's a sea lion plopping itself on a neighbouring bench or a flightless cormorant hopping from rock to rock. Even the collapse of the iconic Darwin's Arch, which took place shortly before our trip, is an example of nature showing her power. Our boat took it upon ourselves to rebaptize the remaining columns 'The Pillars of Evolution'.
All aboard
We were very fortunate to have a dive cruise director who was also a certified naturalist, not the usual practice. This meant that we benefitted from the added insights of someone who could spell out connections. Giving very informative dive briefings and linking them together with our island visits. He provided a rich cohesiveness between what we were seeing on land (animals and geological formations) and what we were discovering underwater. This enhanced the entire experience!
Although divers can expect to see more sharks in the archipelago year-round than almost anywhere else on the planet, other star Galapagos creatures are said to be more seasonal. Our trip fell just between winter/summer (at the Equator, mind you). But we still managed to see what many consider the diving 'Top Ten': walls of hammerheads and many other sharks, turtles, big mama whale sharks, mantas, dolphins, big schools of fish, eagle rays, sea lions, mola molas, and marine iguanas.

Entire dives interacting with these last three might explain why something unexpected happened. Almost everyone's most memorable dives were not necessarily at Wolf or Darwin. And even though wild dolphin encounters in the area are usually quite fleeting, we had them dancing and spinning around us or overhead on at least 50% of our dives. We also had not one but two sightings of the Galapagos batfish (have a look at this blog if you're not familiar with it). I saw my first ever pairing of mama sea robin (or papa?) and baby "walking" along the sea bottom. Like most things "Galapagueño", these fishes are found in other places but not necessarily sporting the same funhouse-mirror attire. Similarly, tuna and other pelagics can reach a massive size not often seen elsewhere.
Keep coming back for more
This explains some of the true beauty this place holds for me. Where else can you see sharks in such numbers and frequency that you (by which I mean lil' unobservant me) start to take note of different behaviours, species, and social groupings? I don't think there's a t-shirt for it, but I'm downright glad that I can now tell a female shark from a male. How did I ever miss those not-exactly-invisible claspers?! How often can divers simply drift along in the blue, just soaking up the national geographic-worthy panorama unfolding before them? Maybe three tiny juvenile hammerheads following a female with mating scars. Or a huge Galapagos female sharks getting a good scrub at the butterfly fish spa. Possibly even an oceanic blacktip cruising through a school of courting jacks (the males wearing their dark threads in anticipation) while a tuna that dwarfs the shark zips by?!
All this never gets old hat. This is because you somehow start to notice more with each dive, the smaller things. Such as the turtle feeding on jellyfish or the eagle ray hoovering up the sand in search of a meal next to the garden eels. It's the glorious sight of hundreds of sharks still fulfilling their role of apex predator on a healthy reef that makes my heart soar. But it is the mysteries of these islands first encountered by Darwin that keep me coming back. It's the realization that I never know what I will find on a Galapagos dive, ensuring that the ocean will never lose its power to amaze me with its wonders.
An inspirational diving experience
During the long sailing to Darwin and Wolf, accessible only by liveaboard, a fellow diver who had never done a week of diving asked if the trip was really worth all the travel time and expense. By the end, he had answered his own question with a resounding yes and I had to agree. My bank accounts will probably never whisper to me "go splurge on a dream trip". But that said, my time spent on the Galapagos Master, and the memories and experiences it has afforded me, change the way I look at and make my way through the world, makes it truly priceless.
My sincere thanks go to the phenomenal dive guides and crew of the Galapagos Master. They made our off-gassing times almost as nice as our sharky moments. And they treated us like royalty as well as family!"
Thanks to Penny for this wonderful trip report! You too can have an amazing 7 nights in the Galapagos aboard Galapagos Master. Why not take a look now.