The more you know about each Bikini Atoll wreck, the more you will get out of your scuba liveaboard holiday. Today, we are exploring one of the prime wrecks found in the lagoon. Dive with us on USS Lamson (DD-367).
Quick facts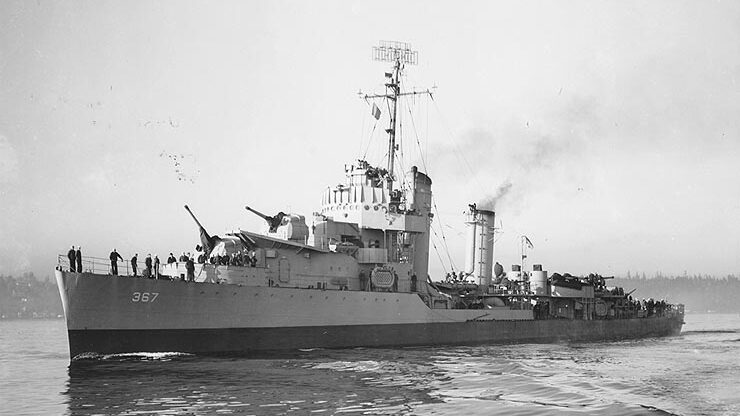 | | |
| --- | --- |
| LENGTH | 104.04 meters |
| GROSS TONNAGE | 1500 tons |
| DEPTH AT THE BOTTOM | 51 meters |
| DEPTH MAIN DECK | 48-49 meters |
| DEPTH AT SHALLOWEST POINT | 36 meters |
| ACCESSIBILITY | Technical diver – ideally CCR |
Birth of the USS Lamson
USS Lamson (DD-367) began her life in Maine in 1934 as a Mahan-class destroyer. Her name comes from Roswell Hawkes Lamson, an officer in the US Navy during the Civil War. USS Lamson was officially launched on 17th June 1936 and commissioned on 21st October of the same year.
After a shakedown in the Atlantic and the Caribbean, USS Lamson departed in June 1937 to spend 2 years in the Pacific. She took part in the search for the female aviator Amelia Earhart in the Gilbert and Marshall Islands in 1937.
Sailing to Pearl Harbour in 1939, she would continue training operations for another 2 years in Hawaii.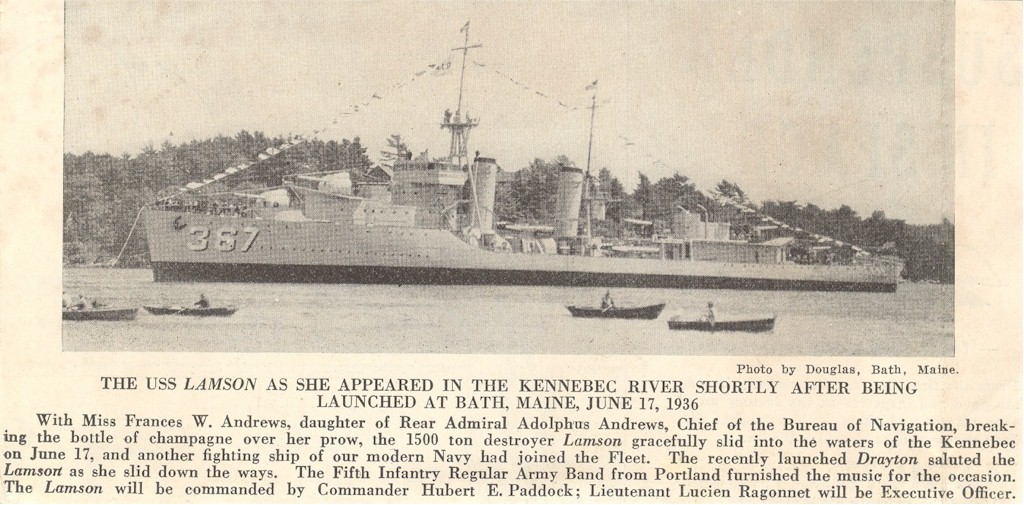 War-time
The USS Lamson escaped the Pearl Harbor attack on 7th December 1941 as she was out on patrol duty. She was directly ordered to search for the Japanese task force after the attack and was then assigned to ANZAC Squadron in the South Pacific.
After 6 months of patrol and screening operations, Lamson saw action on 22nd October 1942 when she attacked Japanese picket boats. She made a coordinated attack, beating off enemy air raids, and sank two enemy craft. On 30th November, USS Lamson assisted in the battle of Tassafaronga and ran for the next 8 months screening convoys in Guadalcanal.
In 1943, after 2 months of escort duties in PNG, the destroyer joined three other destroyers on 29th November. They penetrated 160 miles into enemy territory to bomb Madang, the main Japanese naval base on New Guinea. On 15th December she engaged in preinvasion bombardment of Arawe, New Britain.
The Philippines campaign and USS Lamson damages
In 1944, after a brief overhaul and training at Pearl Harbor, USS Lamson arrived at Eniwetok on 8th August. For the next 2 months she engaged in patrol duty. Departing on 25th October she steamed to the Philippines to support the Leyte assault. She defended the supply convoys fighting off suicide plan attacks. While screening a convoy off Ormoc Bay (in Leyte, Phillipines), Lamson downed two "Dinahs" (Mitsubishi Ki-46 Japanese planes) before a third crashed into her superstructure, killing 25 of the destroyer's crew and injuring 54 others.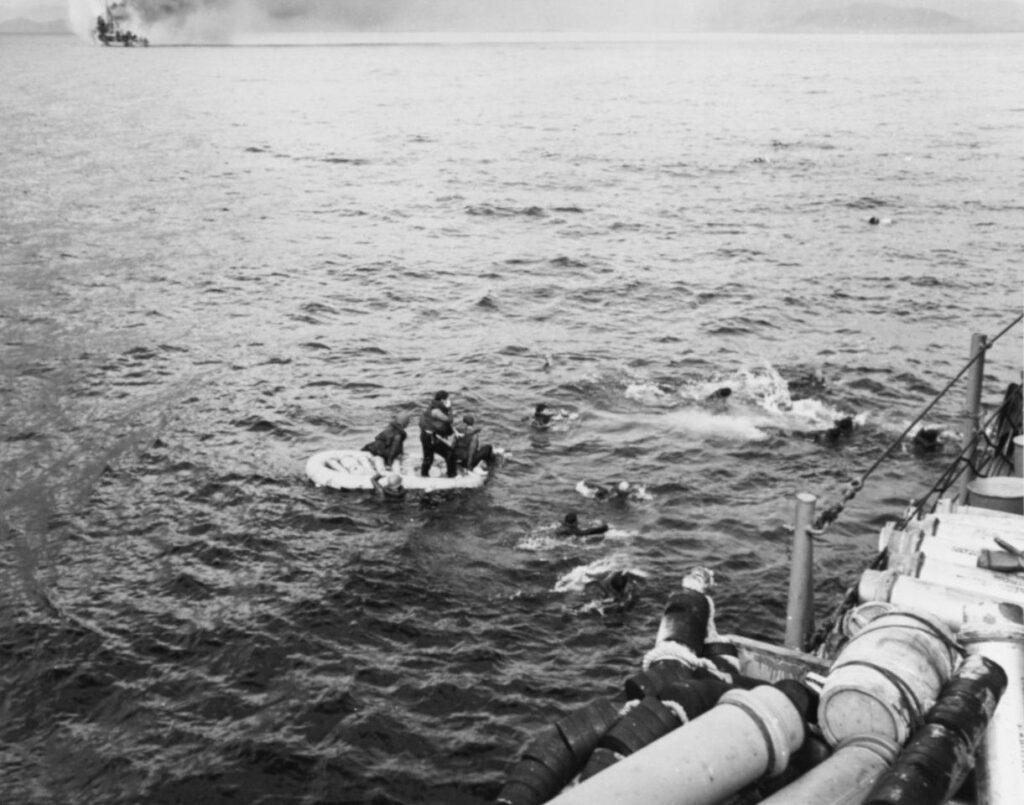 She arrived at the Puget Sound Navy Yard on the 16th January 1945 for extensive repairs. Returning to Eniwetok on 10th May, USS Lamson operated for the rest of the war on patrol and air-sea rescue work off Iwo Jima island, sailing back to San Diego finally on 29th November.
The American destroyer Lamson received five battle stars for service during World War II.
Operation Crossroads
USS Lamson was still to play a role in history. The ship was selected to participate in Operation Crossroads and arrived in Bikini Atoll in May 1946. Test Able, the atomic explosion on 2nd July 1946, unfortunately marked the end of USS Lamson and sank the destroyer.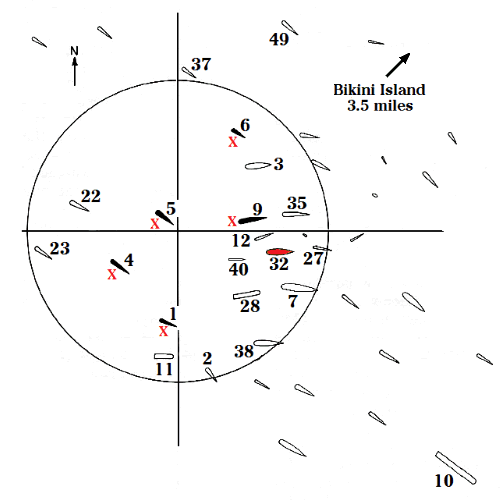 USS Lamson had a fuel capacity of 3,600 barrels and an oil capacity of 110 barrels. For the tests, the scientists decided to load her at 50% capacity on both fuels. Her hull provides a great example of the power of a nuclear explosion as it is horribly twisted and damaged.
Diving USS Lamson today
This wreck is a popular dive as it's not too big, so you can really take your time and see all of the wreck. She is sitting upright at about 55m with the deck averaging at about 48-49m. Her stern is near a depression in the reef indicating she sank stern first.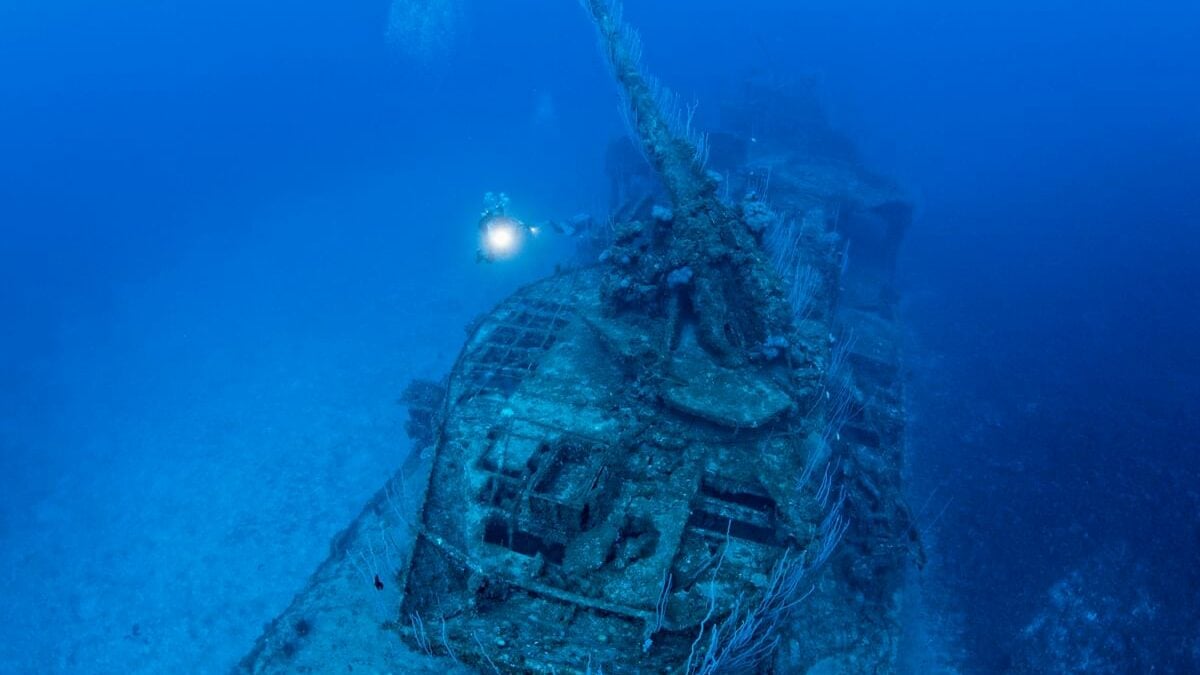 The test heavily damaged her and tore off most of the upper superstructure: stacks, masts, and bridge are all gone. This means there is not much topside to explore. But luckily you will still see the bridge telegraph and some instruments.
USS Lamson has everything you could ever dream of finding on a WW2 shipwreck: large guns, anti-aircraft guns, depth charge tracks, plus torpedo tubes (with the torpedoes hanging out!). The guns remained in their mounts and the torpedo tubes are intact. The depth charge tracks are twisted and torn but you can clearly see the depth charges in the tracks.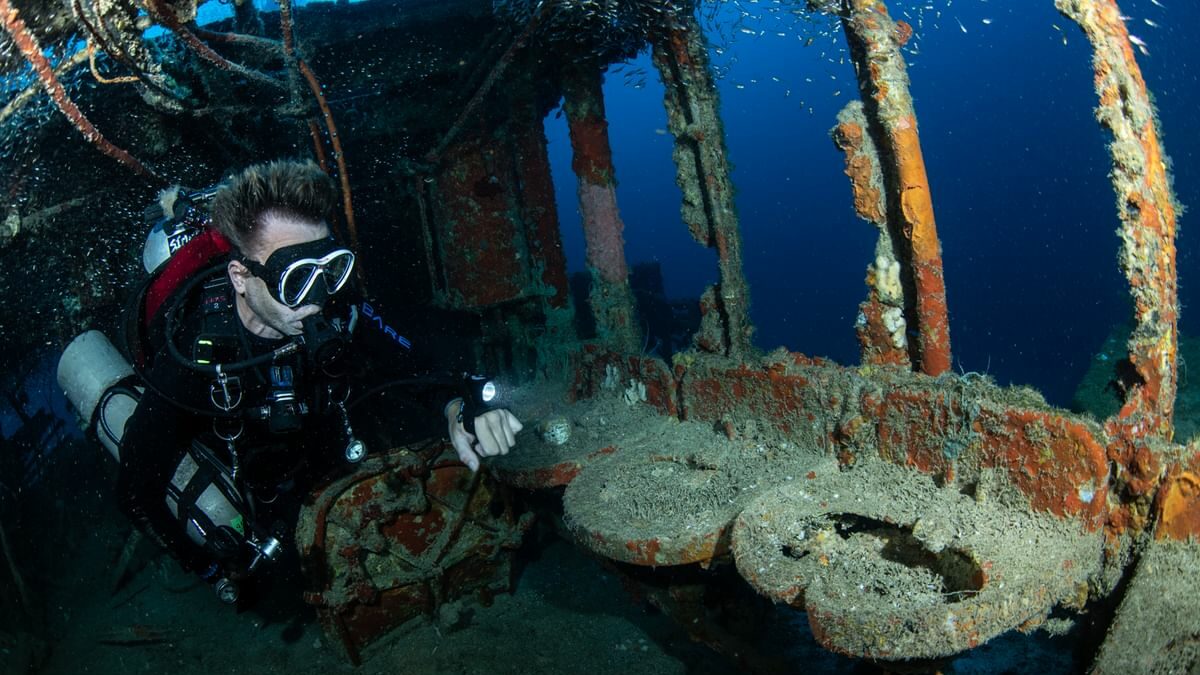 Like other wrecks in Bikini Atoll, USS Lamson is covered in whip corals, soft corals, and a few impressive table corals. Schools of glassfish are swirling everywhere and you can also spot a few groupers and wrasses.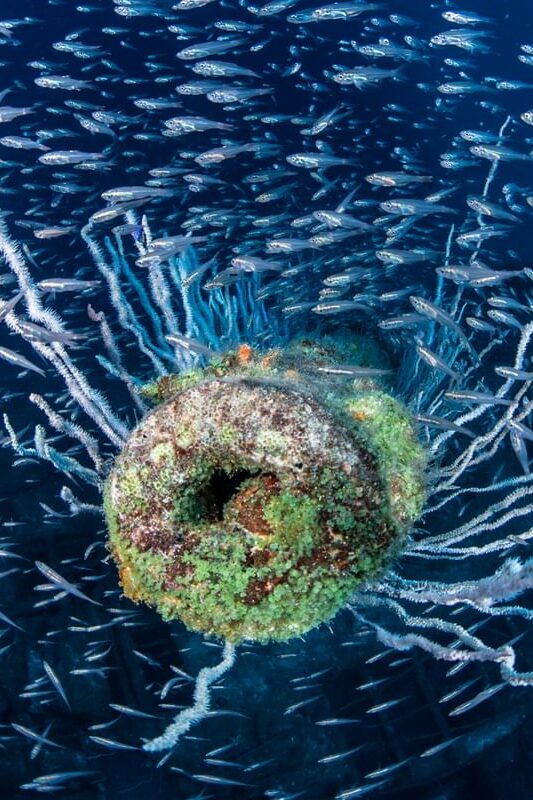 And more?
Take a dive with us on the USS Lamson:
To dive USS Lamson and the other shipwrecks of Bikini Atoll, join us on Pacific Master.