You've booked on Indo Siren. This is EXCITING. But now what? Now you obviously need to organise your travel to get to the boat. So how do you get to Indonesia to join Indo Siren? It might look complicated, but it is not.
Where is Indonesia?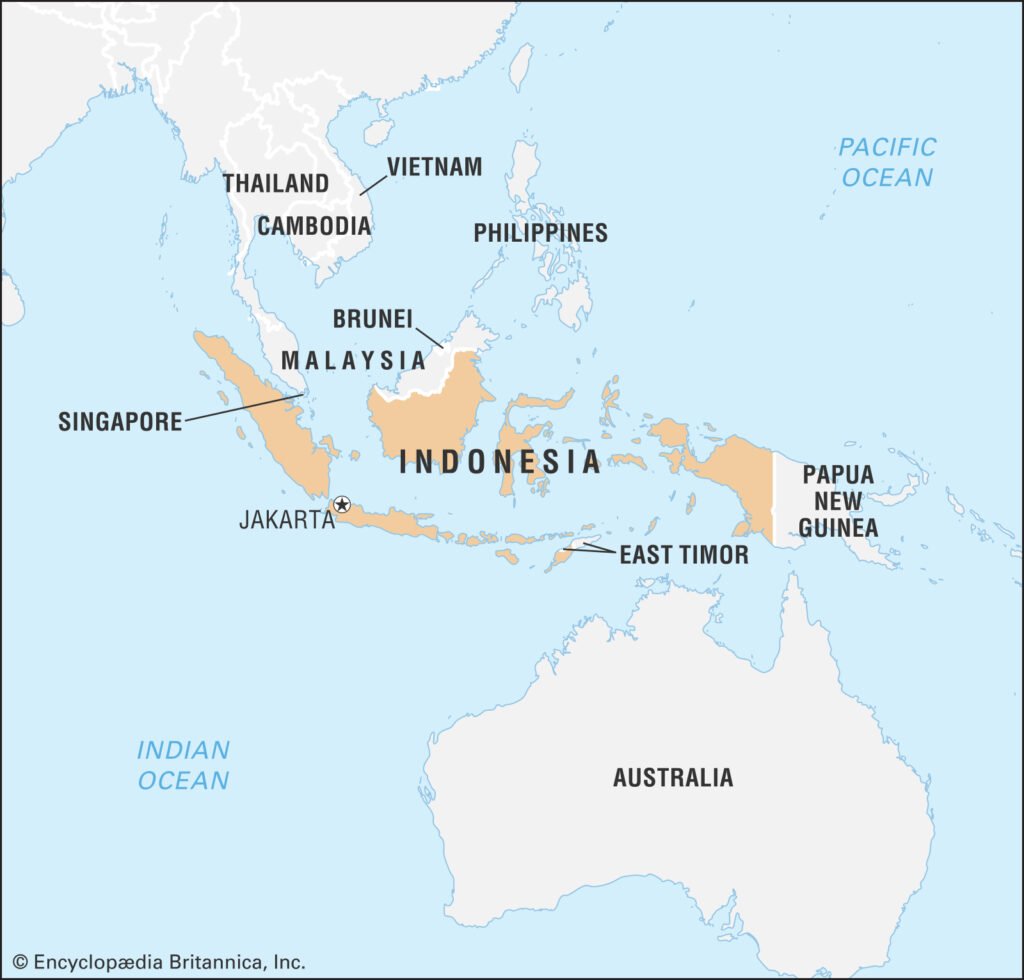 Indonesia is a country located in South-East Asia. It is an archipelago – an extensive group of islands – stretching across both the Indian and Pacific Oceans. The country lies right on the Equator.
Indonesia is also a really big country, spanning over an equivalent to one-eight of the Earth's circumference. It has many islands and many cities, which may seem daunting at first, but is actually very straightforward and easy. So, take a deep breath and read on.
We tend to group all of these islands into sub-geographical regions… which makes it a bit easier! These will be names you would have heard, but locally they may have other names (in italic below). These regions are:
The West, with Sumatra (Sumatera), Java (Jawa), Borneo (Kalimatan) and Celebes (Sulawesi)
The South with the island of Bali and the chain of islands running through to Timor
The North with the Moluccas (Maluku) which are located between the Celebes and the island of New Guinea (Papua)
The East which encompasses part of the island of New Guinea (Papua)
We hope that clears it? If not, let's look at a map and it will all make sense!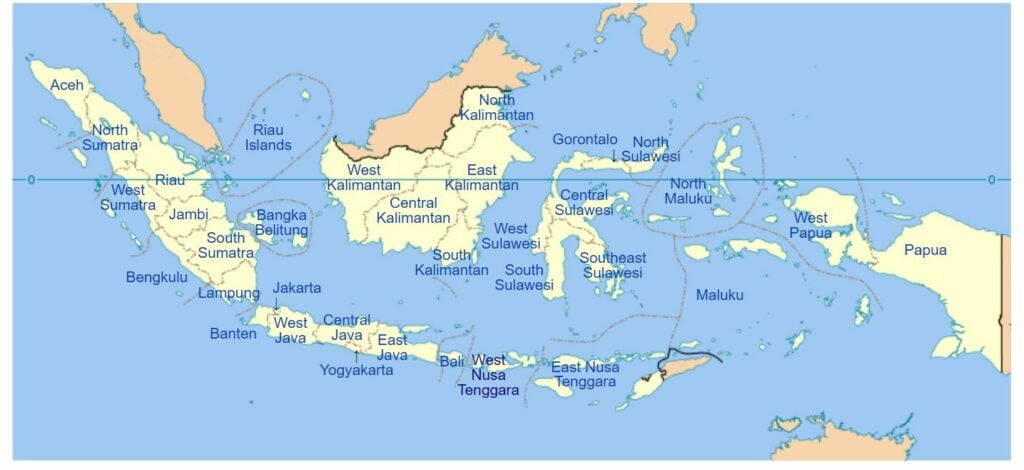 So how do you get to Indonesia?
While you can reach it by boat (plenty of islands = plenty of ports), or by road if you are coming from Brunei and/or Malaysia, nowadays pretty much everyone reaches Indonesia by plane. Most major airlines fly to Indonesia and it will be easy to find a direct flights from any of the Middle Eastern hubs or using a connecting flight from Singapore, Manila or Kuala Lumpur.
The pandemic has, of course, affected the aviation industry but we are also starting to see a lot more direct flights from Australia and Japan and, more slowly, from the US and Europe. Finding a flight will not be the challenge of how to get to to Indonesia. But wait… when you say Indonesia, which airport do you need to fly to?
Main entry airports
You can safely say that as a tourist you will use one of the two main international airports located in Jakarta or Bali. They are actually called respectively Soekarno-Hatta (CGK) and Ngurah Rai (DPS).
Soekarno-Hatta was the 25th busiest airport in the world in 2019, making it of course Indonesia's main airport. Ngurah Rai is the second main airport in the country in terms of numbers. They are not the only international airports in Indonesia, but they tend to be the entry ports when you visit the country as a tourist.
Depending on your itinerary, we will variously recommend one over the other, just because of the availability of domestic flight connections. But this is more a recommendation and in actuality you can use either.
| | |
| --- | --- |
| ITINERARY | BEST PORT OF ENTRY |
| Alor Archipelago | Bali – Ngurah Rai (DPS) |
| Halmahera & Northern Moluccas | Jakarta – Soekarno-Hatta (CGK) |
| Komodo National Park | Bali – Ngurah Rai (DPS) |
| Raja Ampat | Jakarta – Soekarno-Hatta (CGK) |
| Southern Forgotten Islands | Either |
| The Spice Islands | Either |
| Triton Bay & Raja Ampat | Jakarta – Soekarno-Hatta (CGK) |
| Triton Bay & The Spice Islands | Jakarta – Soekarno-Hatta (CGK) |
| Eastern Banda Sea | Jakarta – Soekarno-Hatta (CGK) |
So we now have a plane and an entry point, what's next?
Chill out
We advise you to spend at least one day in Jakarta or Bali at either side of your cruise to ensure you are on time for your domestic flight connections. And this also allows you to be well rested before the cruise departure. Your trip is all about enjoying your dives and being tired does not help!

Our reservations team can help to arrange hotel accommodation and any other tours you may want to do in Indonesia. Do not hesitate to ask for advice and help.
Finally make it onto Indo Siren
The last step after your long travel and lovely chill out is to finally make it onto Indo Siren. The vessel offers a lot of itineraries and this mean we operate in and out from a lot of different ports. The best dive sites are of course not right next to the international airports, so your last step is to book your domestic flights to another regional airport right next to your ports.
Grab your booking confirmation and check the operating ports. This information can also be found on the trip info sheet we send you or on our website looking at the vessel schedule

Depending on the ports of operations, book your domestic flights to the corresponding airport.
| | | |
| --- | --- | --- |
| PORT | AIRPORT | CODE |
| Labuan Bajo | Komodo International Airport | LBJ |
| Bima | Sultan Muhammad Salahuddin Airport | BMU |
| Waisai | Domine Eduard Osok (Sorong) Airport | SOQ |
| Sorong | Domine Eduard Osok (Sorong) Airport | SOQ |
| Kaimana | Kaimana Airport | KNG |
| Maumere | Frans Seda Airport (Maumere) Airport | MOF |
| Kalabahi (Alor) | Alor Island Airport | ARD |
| Saumlaki | Mathilda Batlayeri Airport, Yamenda | SXK |
| Bitung | Sam Ratulangi International Airport, Manado | MDC |
| Ambon | Pattimura International Airport Ambon | AMQ |
Domestic flights
Indonesia offers tons of choices for domestic flights and you will find several airlines online. The most famous ones are Lion Air, Batik Air, Citilink, Sriwijaya Air and Garuda. Just ensure you check the luggage allowance and purchase additional luggage if needed. A lot of the domestic airlines do not include luggage allowance as part of their fares or, if they do, it is usually very limited at 10kg. Garuda is the exception and allows 20kg checked luggage on domestic flights, plus additional free sports equipment allowance of up to 23kg.
Our reservations team can also help to arrange your domestic flight connections between your arrival airport and embarkation point.
This is pretty much all you needed to know about how to get to Indonesia. We hope to see you soon on Indo Siren.