In Palau, you will find that it's woven into the culture to conserve what you have. Now, Palauans are paving the way for all nations. They have decided to put environmental protection at the heart of their values. In 2017, this gave rise to the Palau Pledge.
What is the Palau Pledge?
Palau is the first nation on earth to change its immigration laws for the cause of environmental protection. As you land in Koror and proceed to immigration, you will receive a very special passport stamp. This stamp is the Palau Pledge and everyone needs to sign it to be allowed in.
The Palau Pledge binds you to act in an ecologically and culturally responsible way on the islands, for the sake of Palau's children and future generations of Palauans. You can read all about it on the official website.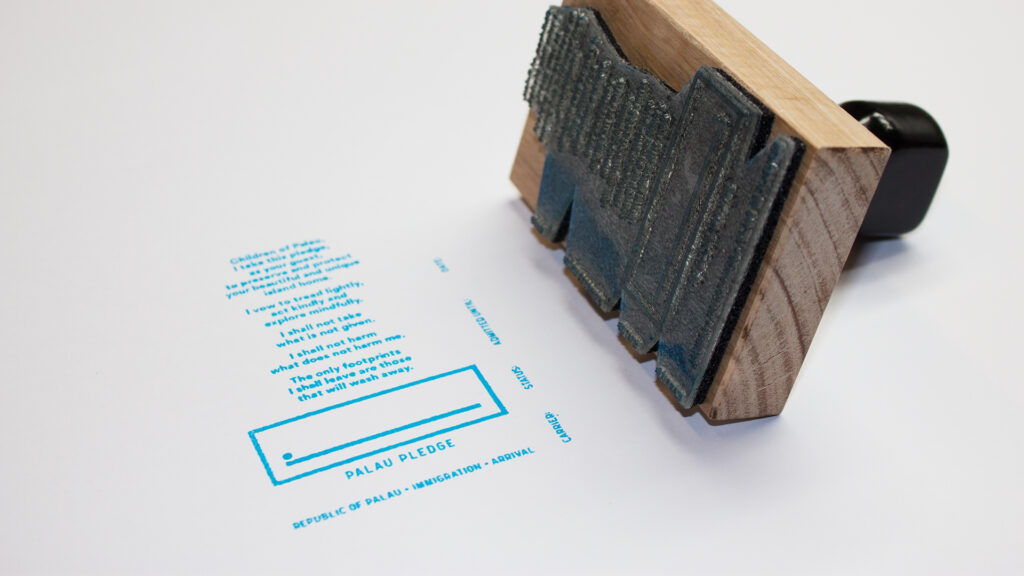 Tourism and environmental balance
While many small Pacific Islands recognise that tourism is essential for their future, they are also on the front line to understand the disastrous impact it can potentially have. Small Pacific Island nations' ecosystems are fragile and Palauans believe you cannot put a price on natural values. Tourism is one of the largest industries in the world and has been on a constant rise in Palau since the 80s. This, over time, has threatened the fragile balance that actually attracts the tourists.
Palauans understand the value of tourism, but their view is not a short-term one. They want sustainable tourism so that future generations can continue living on these beautiful islands and continue making a living out of tourism. Their views shift the decision making to their children and they have given powers to the generations who will have to live with our actions. They believe that you can have a positive impact on Palau during your holiday.
One of the core values of Palauan government now is that all decisions are made with the future of Palau's children in mind.
As tourism stewards, we need to ensure that the voices of the Pacific community and our cultures of conservation hold sway at the table when we discuss tourism development of our islands


Kevin Mesebeluu, Director, Bureau of Tourism
Strong Words
When the Palau Pledge campaign was born in 2017, the strong words did not come from government. They didn't even come from adults. School children from all over Palau helped draft the pledge.
As part of the campaign, passengers on every inbound flight to Palau watch The Giant. In this film, Palauan children befriend a well-natured giant who unknowingly threatens Palau. When they teach him to act mindfully, the Giant learns their ways and becomes kind, gentle, and considerate of the children of Palau.
So what does the Palau Pledge say?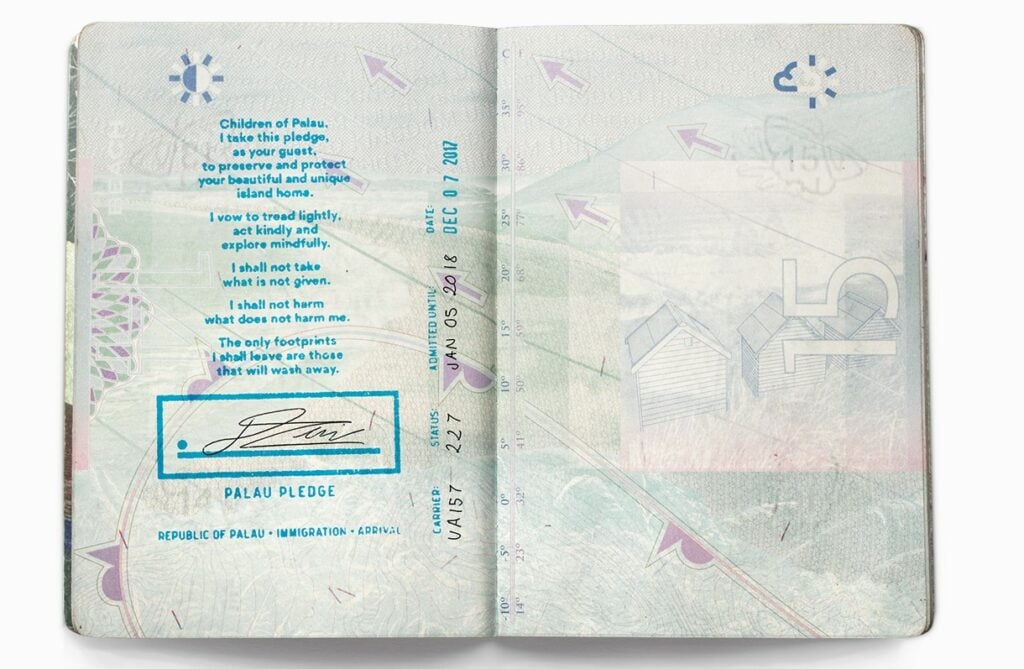 These words get stamped into your passport, as in the picture above. You then sign the Palau Pledge and vow you will abide by it during your stay. We cannot think of a more powerful entry stamp you can get in your passport.
Not only the Palau Pledge
The Palau Pledge is not the only element of their determination to look after their natural gifts.
The nation created the world's first "shark sanctuary" on September 25 2009. They formed, and are still a driving force, of the Micronesia Challenge and in 2012 successfully had the Rock Islands added to the UNESCO World Heritage list. Palau's Rock Island Southern Lagoon is now a marine sanctuary covering 80% of Palau's waters, 20% of its forests and 30% of the coasts.
Palau understands that without its natural gifts it will lose its livelihood. You cannot deny the strong spirit of Palau and its inhabitants and their willpower to protect the future of all our children.
You will experience this first-hand onboard Palau Siren and you simply have to come to experience it. If you cannot travel, please sign online to show your support for their cause!