Are you looking for an adrenalin rush?? Then The Bahamas should be your next liveaboard dive trip! With its 100% guarantee of several shark species encounters, The Bahamas aren't known as a shark diving mecca for nothing!
Three areas in particular stand out for shark encounters: Bimini for hammerheads, Cat Island for oceanic whitetip sharks and Tiger Beach for tiger sharks.
Bimini Islands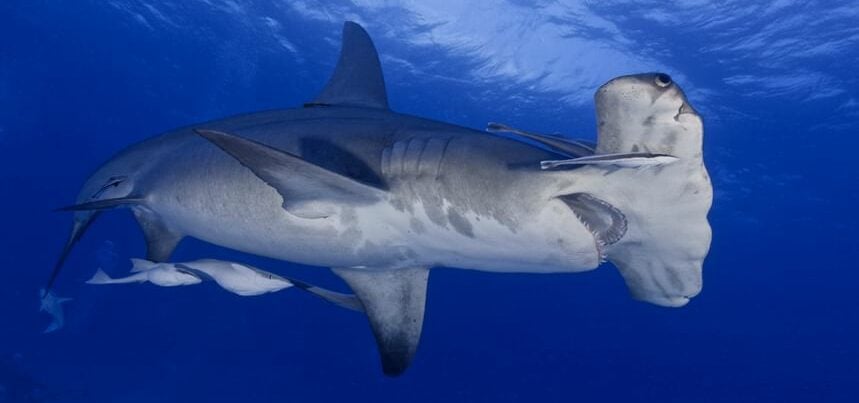 The great hammerhead should not be confused with the smaller and more common scalloped hammerhead. It is the largest species of hammerhead shark and can reach sizes up to 4.5m. Encountering the great hammerhead, with its spectacular body sharpness, its orca-like dorsal fin, and its sharp-toothed mouth, is a once in a lifetime wildlife adventure!
The Great Hammerhead season runs from December to April in Bimini, with a peak in January and February. Great hammerhead sharks gather around the Bimini Islands in large numbers drawn in by the cooler waters. Bimini Island is in fact the only place in the world where great hammerhead sharks consistently return, year after year.
Naturally shy, they come closer to the divers during the baiting. Divers can spot other shark species as well, including bull sharks, nurse sharks and Caribbean reef sharks.
Check our Hammerhead and Tiger shark Experience
Tiger Beach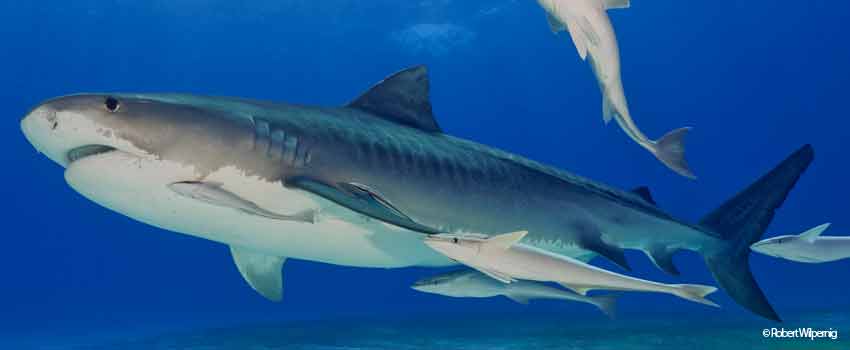 At Tiger Beach you will have one of the most unique underwater experiences of your life. Imagine yourself surrounded by tiger sharks as far as the eye can see; amidst a gorgeous backdrop of crystal blue water and white sand.
Tiger sharks come every day to this area. However, the best time to dive Tiger Beach is between October and January when the sharks use the area as a breeding ground.
While tiger sharks are the main attraction they aren't the only sharks in town. Lemon, nurse and Caribbean reef sharks are also very common in this area.
Check our Tiger Beach Experience itinerary
Cat Island
There is no mistaking the oceanic whitetip shark. For their commandeering presence, this impressive shark is one of a kind. With their over sized paddle-like pectoral fins you will not find a more endearing shark photograph. From April to June these large sharks follow the tuna migration to the area.
You might also find silky sharks, dusky sharks, bull sharks, tiger sharks, Caribbean reef sharks, nurse and lemon sharks.
Check our Ultimate Bahamas Experience.
If you want to dive with sharks then The Bahamas is one of the premier destinations worldwide. There are very few places in the world where you can see this many species in one area!
Contact us to book your next liveaboard dive trip in The Bahamas on Bahamas Master!