We love our vessels and we value their history. In honour of her 60th birthday, we are re-visiting the story of The Junk.
Every guest who has been lucky enough to spend time on board The Junk has a soft spot for this very special boat. In fact, there is a nearly an official fan club! 'June Hong Chian Lee', as she is officially known, was built in 1962 and this year will celebrate her 60th birthday!
Maintenance has been done with love and original materials and so we think she looks fantastic for her age.
The birth
Her history is impressive; in fact this lady has lived a really interesting life so far.
The Junk's keel was laid in Malaysia in 1961 and she was launched in 1962. She was one of many junks built in Penang, but among the last. For those who don't know, a junk is a traditional Chinese sailing ship with fully battened sails. The Junk measures 30 metres in length and, amazingly, still has her 3 original masts.
Hardwood used for her construction bears the name 'takien tong' (Hopea Odorata) and comes from Langkawi Island. Initially, there was no engine on The Junk. This was because according to Malaysian government rules, this kind of cargo ship belonged to the 'native sailing vessels' category. Consequently, she could not have any engines so as 'not to compete with modern motorized ships'. But, who needs an engine when you're carrying 400 square meters of sail?
For many years she carried cargo – mainly mango wood charcoal – from Malaysia to Burma, via Thailand, only under sail. However, she got her first engine in the 1970's and continued to operate, for another ten years, plying the same route until 1985.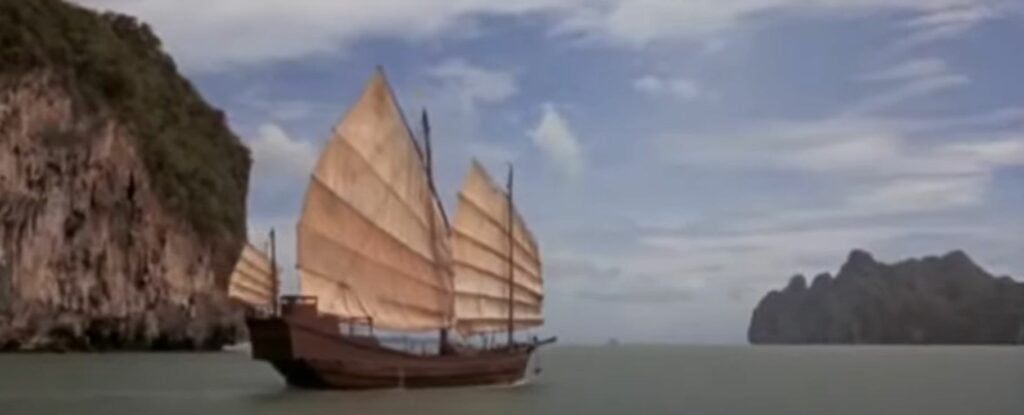 Thailand re-birth
In the mid-eighties, 2 French businessmen purchased The Junk and brought her to Thailand. Following this she was restored and redesigned to serve as a classic yacht. For the first time in her history, the Junk had a deck! On top were two master cabins and below deck a kitchen, one toilet, and many bunk beds all in one open space. Life was still very communal on the Junk.
Spending a little over ten years doing day and party cruises around Koh Phi Phi, she then changed ownership to a Thai man named Khun Suwan. His family owned the Phi Phi Palm Beach Resort on Laem Thong and continued the tourist cruises. During one of these cruises, in 1991, the next owners saw the boat as guests. Little did they know that six years later they would be the ones to change the course of the boat's history again.
The Junk as we know her now came into being in 1997. Her new owners restored and converted her into a diving liveaboard vessel. An old Chinese carpenter came out of retirement to oversee the job and it took a team of 15 carpenters more than a year to rebuild her. They used more than 60 tons of teak wood for her restoration and in December 1998 she set off on her first cruise, with friends and owners, to Myanmar.
Following her successful inauguration, from January 1999 onwards, The Junk began taking paying customers, who happily went on a truly unique liveaboard experience to the Similan Islands and beyond. In October 2014 The Junk began to operate under new ownership and became part of the Master Liveaboards fleet. Currently, you will find no other vessels of her age or heritage left in the entire world, a truly unique boat!
Movie Star
The Junk started featuring in movies as early as 1974, when she was still operating as a merchant vessel. Over the years she has appeared in several movies and has become quite the movie star over the years, with an impressive CV.
Her most memorable moment of fame was in the 1974 James Bond movie: 'The Man with the Golden Gun'. Maybe you remember, at the end of the movie, James ends up with his Bond-girl (for a change) and escapes with her on a Chinese Junk into the sunset. You guessed right, that is our Junk. You will see that she looked very different at that point in time.
Some time after this, in October 2000, The Junk featured in the ZDF documentary 'Das Weisse Gold der Tek Sing'. The director used The Junk to show what life must have been like long ago, when Junks were the main mode of transportation in South East Asia.
In 2001, she was in a Hallmark production, 'Stranded'; a remake of the famous movie "Swiss Family Robinson" by Walt Disney. The Junk features as the "Albatross", the ship used by the pirates. Following shooting in August 2001, the movie came out the same year.
Then her latest feature was in the movie 'Shanghai' starring John Cusack. Filming began in 2008 and the movie was released it in September 2009.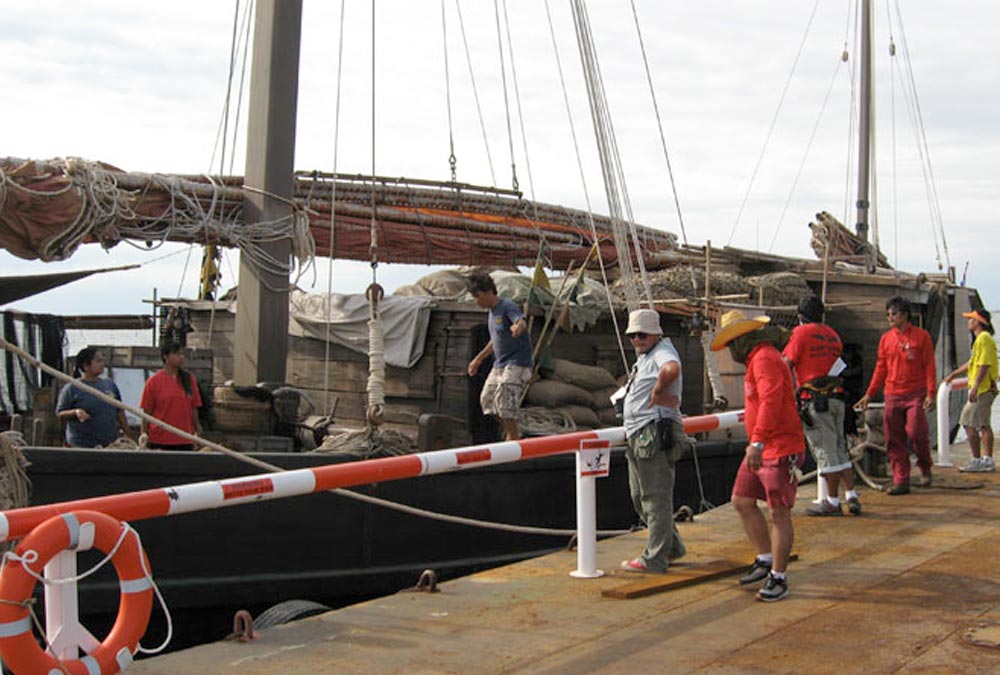 Unique features: all for your protection
The Junk has some unique features, all of which are to protect her passengers. Make sure you don't miss them when you come and visit!
The bell
The ships bell is one of a kind. This is because it It carries an important message in Mandarin: 千里顺风. The literal translation is "Smooth 1000 li". A li is a Chinese distance approximately equal to 0.5km. As such, the saying simply means "travel smoothly" or "bon voyage" and is thought to be auspicious for its passenger and crew.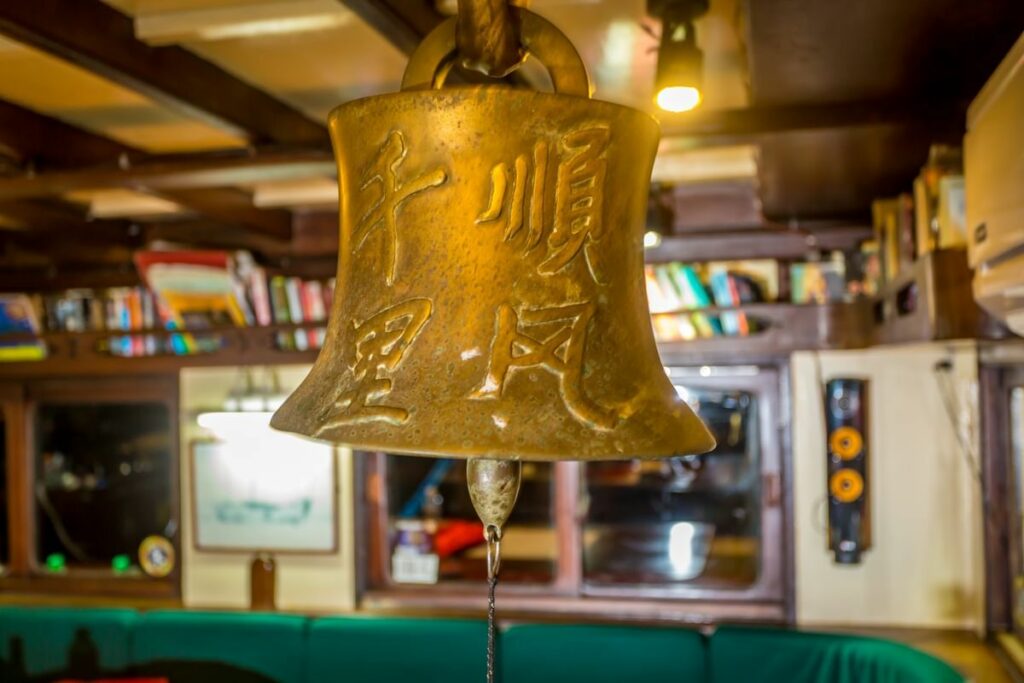 The dragons
Moving upwards, you will find two dragon heads on the upper deck of The Junk. These dragons are a homage to the traditional "Dragon Boat". A Dragon boat is normally present in religious ceremonies as a way to appease the rain gods. So all good protection to you onboard!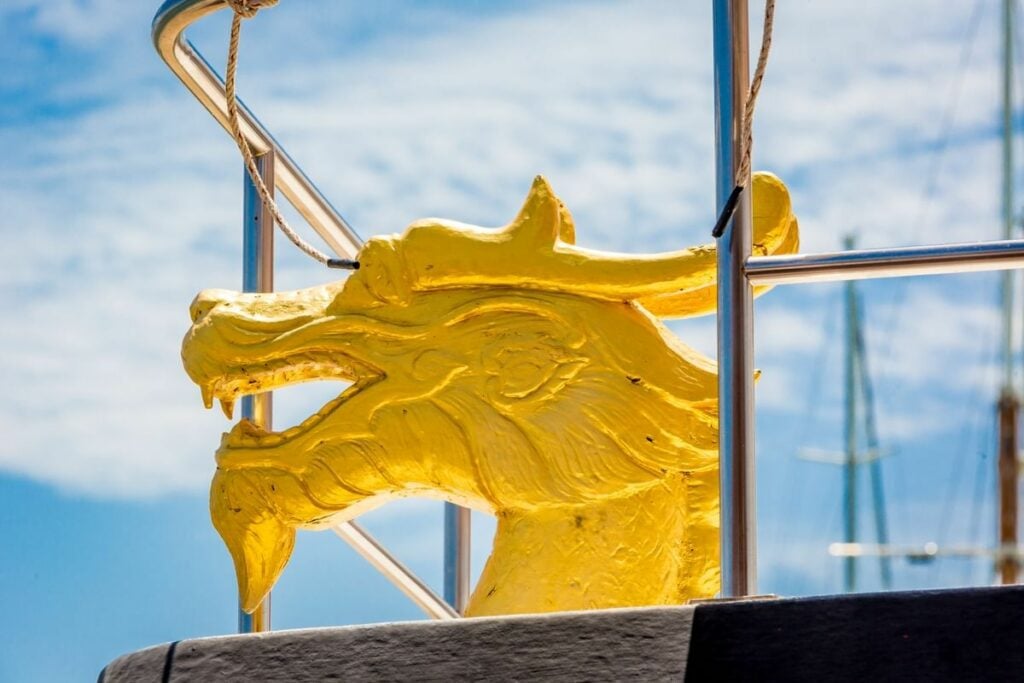 The bow sashes "ผ้า 3/7 สี" and the eyes
In Thailand, pretty much every single wooden boat will have their prows adorned with colored ribbons, sashes, and/or garlands of flowers. The reason for this is that Thai people are very superstitious. They believe that there are many spirits and deities watching over them. If spirits and deities are not treated with due respect, then protection or reward may not be forthcoming. The decoration on the prow of Thai boats is to pay respect to "Mae Yanang". Legend says that Mae Yanang is a female spirit which resides in the body of the boat. It also says that Mae Yanang is the Goddess of travel. So by paying respect to Mae Yanang, you can expect her protection and be sure to have a safe journey.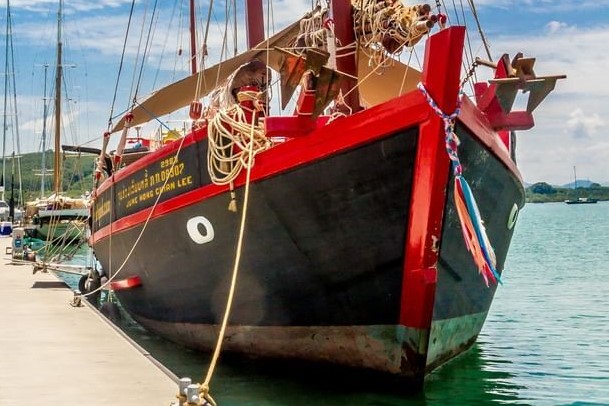 Another feature around the prow are the two white eyes painted on both sides. These are a talisman to protect the boat, crew, and passengers from evil spirits and are known as "miracle eyes". As with the bell above, this stems from traditional Chinese belief. This belief says that a junk is comparable to a fish and that by drawing eyes on both sides of the bow, the boat will be able to sail safely in the right direction. Eyes are painted on vessels in Thailand that do longer journeys (usually a minimum of overnight) and that are made from wood. They ensure you will have a safe journey.
Firecrackers and fireworks
At the start of every trip, you will hear loud bangs. Do not panic! The simple explanation is that the crew will have just lit firecrackers (sometimes fireworks). This is a tradition in Thailand when you begin a long journey. Firecrackers scare bad spirits away from the boat and ensure you have a safe trip. Again, this is all for your good luck!
What is the future story of The Junk?
Since she became part of the Master Liveaboards fleet, she has plied the waters of the Andaman Sea in Thailand. Of course, her main destination is The Similan & Surin Islands in the season: mid October to mid May. For the rest of the year she roams the Southern Andaman Sea; the tropical, lush islands south of Phuket. These islands offer some of Thailand's best diving: Koh Phi Phi, King Cruiser, Shark Point and Koh Doc Mai.
So, why not join us on The Junk for a truly unique scuba diving liveaboard in Thailand. Book online or contact us.