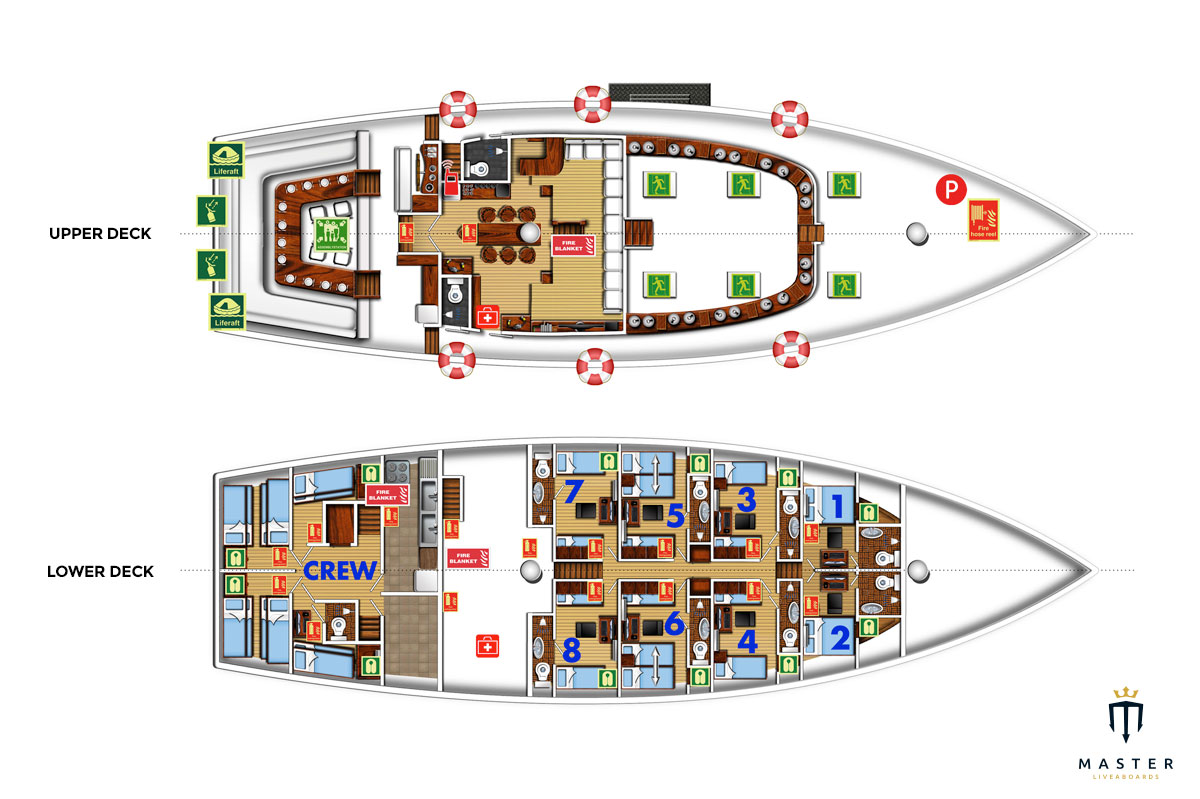 Launched in April 2011, the 40m Indo Siren liveaboard was built on the Indonesian island of Sulawesi and is handcrafted from ironwood and teak (traditional to the area). You will find no other diving liveaboard as beautiful in Indonesian waters and, being built by divers for divers, you can be rest assured that every need has been thought of and addressed.
Welcoming a maximum of 16 guests per cruise ensures that there is ample space to relax. The 8 guest cabins consist of 2 fixed doubles, 4 fixed twins and 2 flexible twin/doubles, all with air-conditioning and private ensuite bathrooms with hot water. Each cabin is also equipped with an essential oil diffuser/ humidifier; we use lemon or lavender essential oil in them but, you are welcome to bring your own if you would prefer some other fragrance.
The covered outdoor dining area provides a great setting for your meals and dive briefings. The spacious air-conditioned saloon offers a cocktail bar, comfortable seating, charging station and a large flat screen TV.
The dive deck has personal storage space for masks and other small equipment items, and is likely to be one of the most spacious and comfortable you will have come across. Designated areas for charging and preparation of camera and video equipment, as well as separate rinse tanks, make Indo Siren a top choice for underwater photographers and videographers.
The vessel also benefits from 2 high-powered Zodiacs, kayaks, laundry and massage services.
The 6 spacious twin bed cabins, of which 2 can be converted to doubles, offer individually controlled air-conditioning, plenty of storage room and private en-suite bathrooms with hot water.
VHF ship to tender radios:
Master Liveaboards offers a range of services to make your stay on the Indo Siren even more enjoyable. Nitrox, equipment, and cylinder rental can be pre-booked and pre-paid at the time of booking your liveaboard. For our rebreather diver guests, please complete and send us your gas and equipment requests as early as possible.
Marine Park and Port Fees

Triton Bay & Spice Islands

Southern Forgotten Islands

Raja Ampat, Halmahera & Lembeh
*All surcharges, including marine, park and port fees, are subject to change at any time, and without notice.
The applicable marine park fees for your itinerary will be added to your onboard extras to be paid on the boat before disembarkation.
*Full equipment set includes: Wetsuit, BCD, Regulators, Mask, Snorkel, Boots, Fins, Weight belt, DSMB & reel only. Additional charges apply for dive computer and torch. 
All equipment must be pre-booked to ensure availability and correct sizes, etc. are on board.
2L or 3L rebreather cylinders set

5.7 Litre (40 cuft), bailout / side-mount cylinder (unrigged)

7 Litre (50 cuft), bailout / side-mount cylinder (unrigged)

Additional 11 L (AL80) Aluminium cylinder

13 Litre (AL100) Aluminium cylinder

15 Litre (HP120) Steel cylinder*
All cylinders must be requested in advance to ensure availability.
*There is a very limited number of 15 Litre cylinders available to rent on Indo Siren. Please contact our reservations team to check availability and pre-book.
| | |
| --- | --- |
| | |
| PADI Enriched Air Nitrox (EANx) | |
| PADI Deep Diver Speciality | |
| | |
Please note: The course prices listed above do not include course materials or certification registration. You can register for online learning for PADI Advanced Open Water and PADI EANx (Nitrox) here. For other courses, please contact our reservations team.
*Other speciality courses may be possible on request, depending on itinerary and instructor availability. Please enquire with our reservations team for more information and prices. All courses are subject to availability and must be pre-booked.
Massage & foot reflexology
On-board pricing is subject to change without notice. While we try to keep information as up to date as possible, please be aware that, although unlikely, prices may be different on your cruise.
Take a look at what our customers have said about Indo Siren

Marika (Alisa) Garcia
Indo Siren, Sep 2023, Alor Archipelago
The ✨ extra ✨ things on this trip I really enjoyed/appreciated: flowing fizzy water, bathrobe, delicious homemade peanut butter, loose-leaf tea station, having so much space on the boat, and a really nice yoga session taught by Alexa... all of that to say, I REALLY enjoyed the trip, so much so that I booked the next trip! Thank you to all the crew for a fantastic time

Trevor Hunter
Indo Siren, Aug 2023, Komodo
The very best liveaboards I have experienced in 25 years of diving .. nothing is too much trouble.. everything is individualised to meet the needs of the client .. smooth professional operation that copes with any and every contingency.. you guys set the benchmark in my humble opinion!!!

Elle McLaughlin
Indo Siren, Aug 2023, Komodo
I truly enjoyed my experience with Master Liveaboards. Alexa is so through and patient with guest it is inspirational. The level of expertise of Ghee, Marif and Alexa is exceptional and the eye of spotting sea life is brilliant. I truly enjoyed getting to know and experience diving with the guides. I cannot say enough good things about Alexa, she works very hard and uses all her energy for the guest to maximize their enjoyment. Regardless of the detours needed we never missed a beat on the trip and that alone is enough to applaud the crew for their endurance for change and shifting things around to accommodate all and make everyones experience as maximized as possible. Knowing the dive professional world and watching them all handle each situation with care and attention was overwhelming positive. I cannot say enough good things about my trip to Komodo, thank you thank yoo

Kimberly Giardino
Indo Siren, Jul 2023, Komodo
We had a fantastic trip. Thank you! Some of the things that stood out to me: The safety protocols and briefings were excellent. Best of any liveaboard I've been on...Our cabin was nice and we had everything we needed...Dive guides were amazing! Garth and Ghee were above par and truly excellent. Meals. As someone with an allergy I was super impressed by how my circumstance was addressed right away by Alexa. And in addition the chef was able to make so many things accessible to me! ...I love the "welcome back" after every dive. Made my heart soar...Last note to Alexa and Garth who really went above and beyond to make it a great experience as cruise directors. Thank you.

Ken Standford
Indo Siren, Jul 2023, Komodo
This is my 8th Master Liveaboard / WWD&S cruise and I have no problems looking forward to another eight sometime in the future hopefully. I do sincerely hope I can manage that. I love these beautiful Siren boats and feel great affection for each and every crew member who has been so very helpful in making this a truly memorable voyage. I knew it would be a good trip. No question at all in that regard. As it turned out, it has gone beyond being just a good one. This has turned out to be a great trip! I'll effort to hurry back for a future 2nd Raja trip as this was my 2nd Komodo trip. Please kindle acknowledge Alexa for her tireless hard work and constant great attitude and involvement with us. What a joy to have her fulfill the CD role. Plus, plus! A great dive master and good to be around in the water. I need to feel safe, and she does that. All your guys too, Ghee, Marif and Garth also took great care of us. Well done Chef Denny, the dingy guys, deck hands,… the whole boat. All good. All very, very good. So, excellent work headquarters. Thank you for putting this all together for your guests to enjoy. I shall see you again no doubt.

Jonathon Field
Indo Siren, Jul 2023, Komodo
Fantastic trip. Excellent trip leader. Fabulous crew. A real sense of joy, fun and professionalism on the boat. Great job on choosing dive sites for currents etc and no other dive boats where possible. Liked the safety aspect. Have a real sense from the first minute that this was a professional crew who knew what they were doing. Great variety of dives. Excellent cabin and dive deck. Loved the space and how the boat is set up for divers. We will try and be back.
Where Indo Siren operates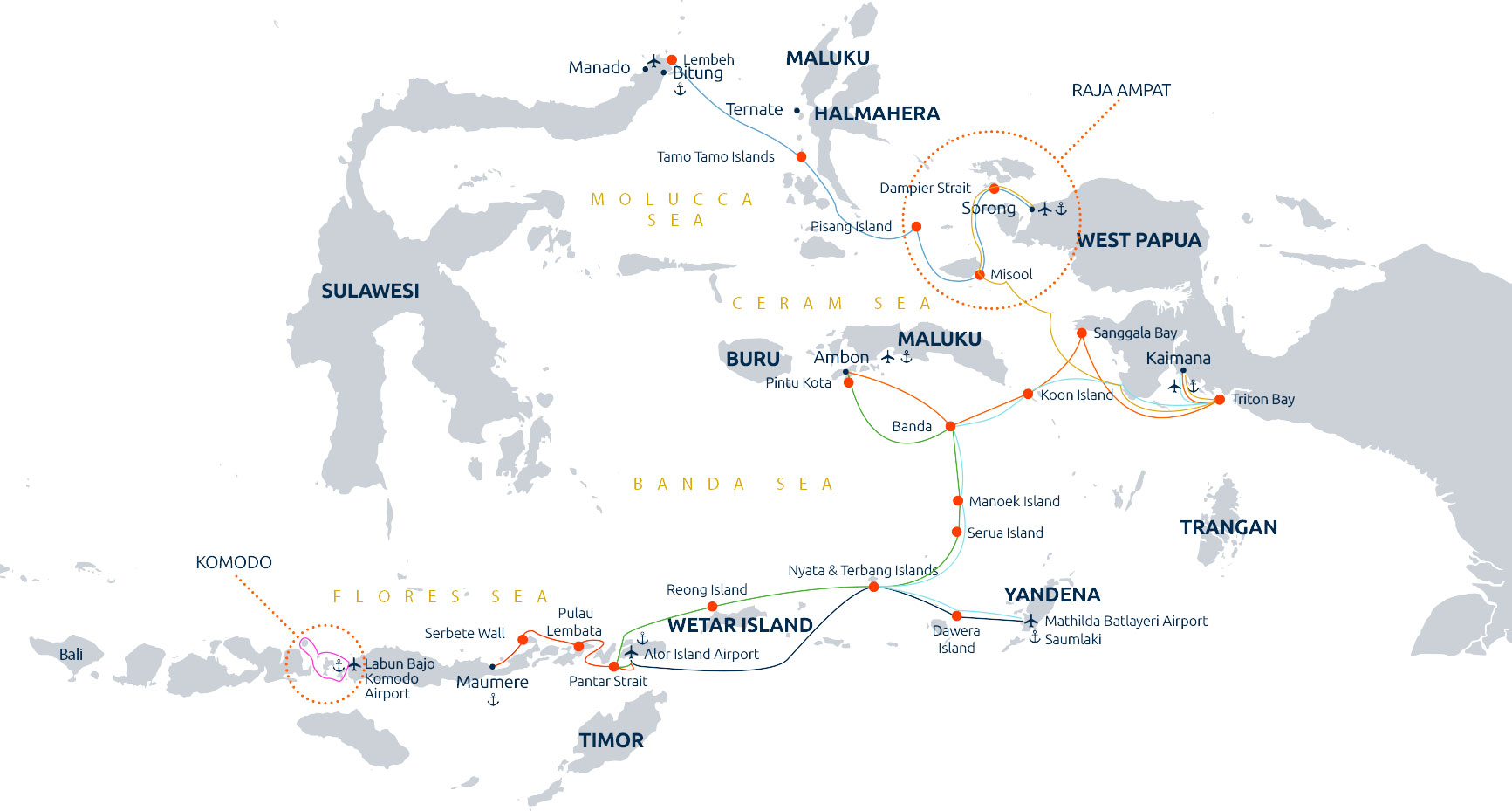 Experience the amazing biodiversity of Indonesia
Let our experienced and friendly reservations team reach out to you and help you to plan your dream diving holiday in Indonesia onboard Indo Siren