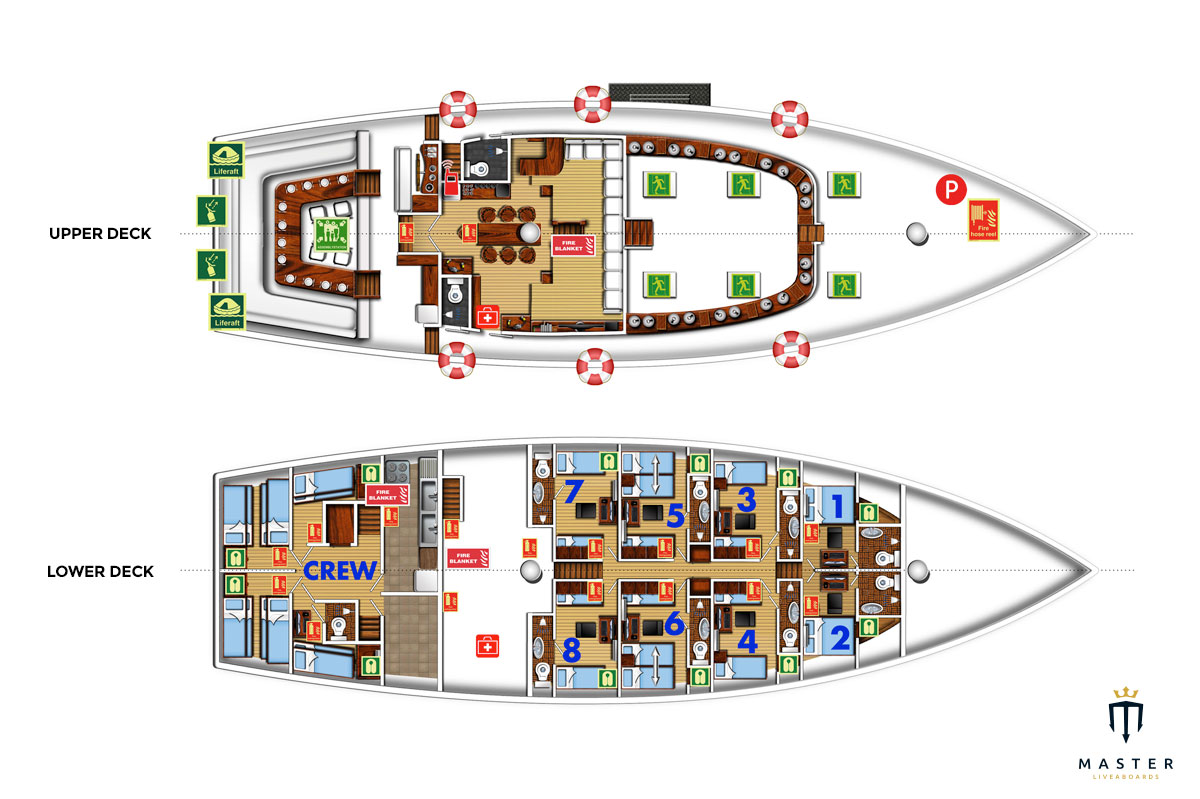 Launched in April 2011, the 40m Indo Siren liveaboard was built on the Indonesian island of Sulawesi and is handcrafted from ironwood and teak (traditional to the area). You will find no other diving liveaboard as beautiful in Indonesian waters and, being built by divers for divers, you can be rest assured that every need has been thought of and addressed.
Welcoming a maximum of 16 guests per cruise ensures that there is ample space to relax. The 8 guest cabins consist of 2 fixed doubles, 4 fixed twins and 2 flexible twin/doubles, all with air-conditioning and private ensuite bathrooms with hot water. Each cabin is also equipped with an essential oil diffuser/ humidifier; we use lemon or lavender essential oil in them but, you are welcome to bring your own if you would prefer some other fragrance.
The covered outdoor dining area provides a great setting for your meals and dive briefings. The spacious air-conditioned saloon offers a cocktail bar, comfortable seating, charging station and a large flat screen TV.
The dive deck has personal storage space for masks and other small equipment items, and is likely to be one of the most spacious and comfortable you will have come across. Designated areas for charging and preparation of camera and video equipment, as well as separate rinse tanks, make Indo Siren a top choice for underwater photographers and videographers.
The vessel also benefits from 2 high-powered Zodiacs, kayaks, laundry and massage services.
The 6 spacious twin bed cabins, of which 2 can be converted to doubles, offer individually controlled air-conditioning, plenty of storage room and private en-suite bathrooms with hot water.
VHF ship to tender radios:
Master Liveaboards offers a range of services to make your stay on the Indo Siren even more enjoyable. Nitrox, equipment, and cylinder rental can be pre-booked and pre-paid at the time of booking your liveaboard. For our rebreather diver guests, please complete and send us your gas and equipment requests as early as possible.
*All surcharges, including marine, park and port fees, are subject to change at any time, and without notice.
The applicable marine park fees for your itinerary will be added to your onboard extras to be paid on the boat before disembarkation.
*Full equipment set includes: Wetsuit, BCD, Regulators, Mask, Snorkel, Boots, Fins, Weight belt, DSMB & reel only. Additional charges apply for dive computer and torch. 
All equipment must be pre-booked to ensure availability and correct sizes, etc. are on board.
2L or 3L rebreather cylinders set

5.7 Litre (40 cuft), bailout / side-mount cylinder (unrigged)

7 Litre (50 cuft), bailout / side-mount cylinder (unrigged)

Additional 11 L (AL80) Aluminium cylinder

13 Litre (AL100) Aluminium cylinder

15 Litre (HP120) Steel cylinder*
All cylinders must be requested in advance to ensure availability.
*There is a very limited number of 15 Litre cylinders available to rent on Indo Siren. Please contact our reservations team to check availability and pre-book.
| | |
| --- | --- |
| | |
| PADI Enriched Air Nitrox (EANx) | |
| PADI Deep Diver Speciality | |
| | |
Please note: The course prices listed above do not include course materials or certification registration. You can register for online learning for PADI Advanced Open Water and PADI EANx (Nitrox) here. For other courses, please contact our reservations team.
*Other speciality courses may be possible on request, depending on itinerary and instructor availability. Please enquire with our reservations team for more information and prices. All courses are subject to availability and must be pre-booked.
Massage & foot reflexology
On-board pricing is subject to change without notice. While we try to keep information as up to date as possible, please be aware that, although unlikely, prices may be different on your cruise.
Where Indo Siren operates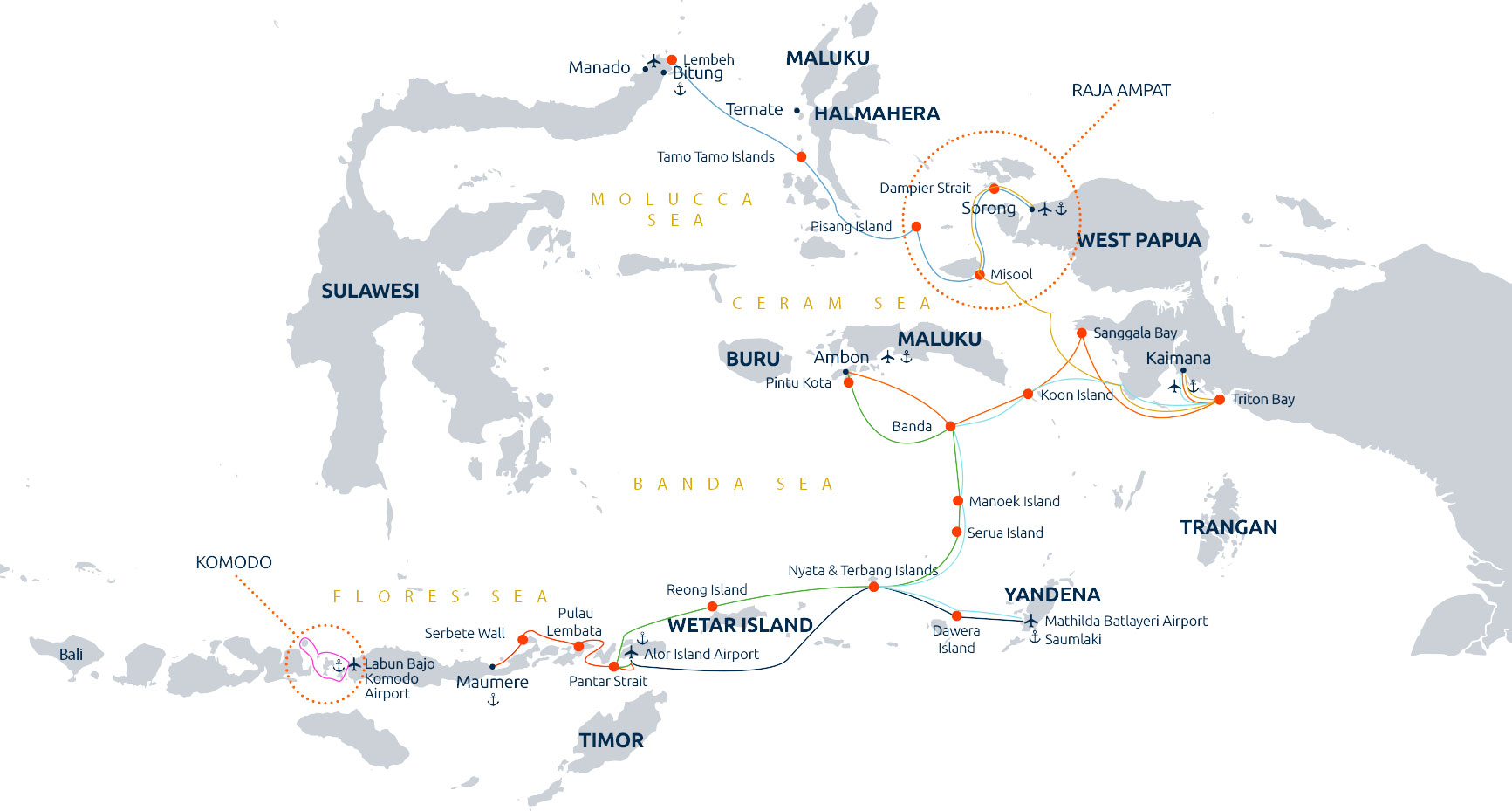 Experience the amazing biodiversity of Indonesia
Let our experienced and friendly reservations team reach out to you and help you to plan your dream diving holiday in Indonesia onboard Indo Siren