The most famous wreck in Bikini Atoll that you have to get diving is USS Saratoga CV-3. She is the signature dive of Bikini Lagoon. She is also one of the largest diveable wreck in the world one of the only three aircraft carriers you can dive.
Your trip to the Marshalls would just not be complete without seeing what her crew called the Sister Sara or Sara Maru.
Quick facts

| | |
| --- | --- |
| TYPE | Aircraft carrier |
| LENGTH | 270 meters |
| GROSS TONNAGE | 6,000 tons (43,055 tons full load) |
| DEPTH AT BOTTOM | 51 metres |
| DEPTH MAIN DECK | 27 metres |
| DEPTH SHALLOWEST POINT | 18 metres |
| ACCESSIBILITY | Technical diver CCR only |
The birth of "Sara"
USS Saratoga (CC-3) started her life in New Jersey in 1920. She was originally a Lexington class battle cruiser, but the Washington Naval Limitations treaty suspended her construction in 1922. As the treaty allowed it, she was converted to an aircraft carrier, one of the first that ever existed. She launched on 7th April 1925 to finally enter service in 1928 as USS Saratoga (CV-3).
With her sister ship, Lexington, she joined the US Pacific Fleet. Before WW2, the US navy used both vessels to develop and refine carrier tactics in a series of annual exercises. Ironically, on more than one occasion, these exercises included successful surprise attacks on Pearl Harbor. In general, both vessels contributed enormously to aircraft carrier techniques and doctrines.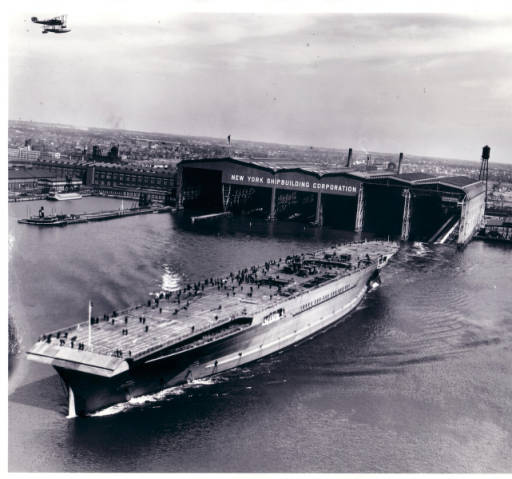 For more in-depth details and reference on her design, consult the Booklet of General Plans.
Wartime
1941
Along with Enterprise and Ranger, Saratoga is one of the three pre-war US fleet aircraft carriers to have served throughout WW2. Not many vessels can claim that title.
Saratoga was luckily in San Diego when the Japanese attacked Pearl Harbor on 7th December 1941. Following the attack, she became the flagship of Carrier Division One and headed straight back to Hawaii. She then took part in the abortive Wake Island relief expedition later in that month.
1942
While operating in the Hawaiian area on 11 January 1942, a Japanese submarine struck her, killing six sailors. The damages necessitated several months of repairs. During that time, her eight-inch guns were replaced by the more useful 5″/38 dual purpose type. Generally, the US Navy replaced all her weaponry with more modern versions.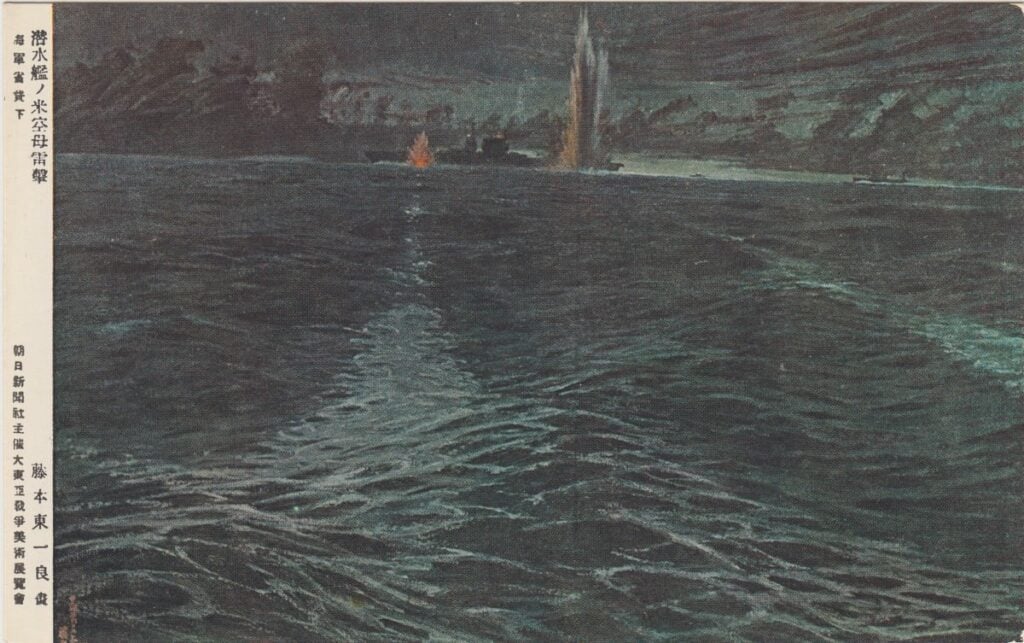 Saratoga returned to action in June 1942, just in time for the reinforcement operations that followed the Battle of Midway. Her next engagement was to support the Guadalcanal Operation in August 1942, including participation in the Battle of the Eastern Solomons. Another enemy submarine torpedo hit on 31st August put her again in the repair yard for two months.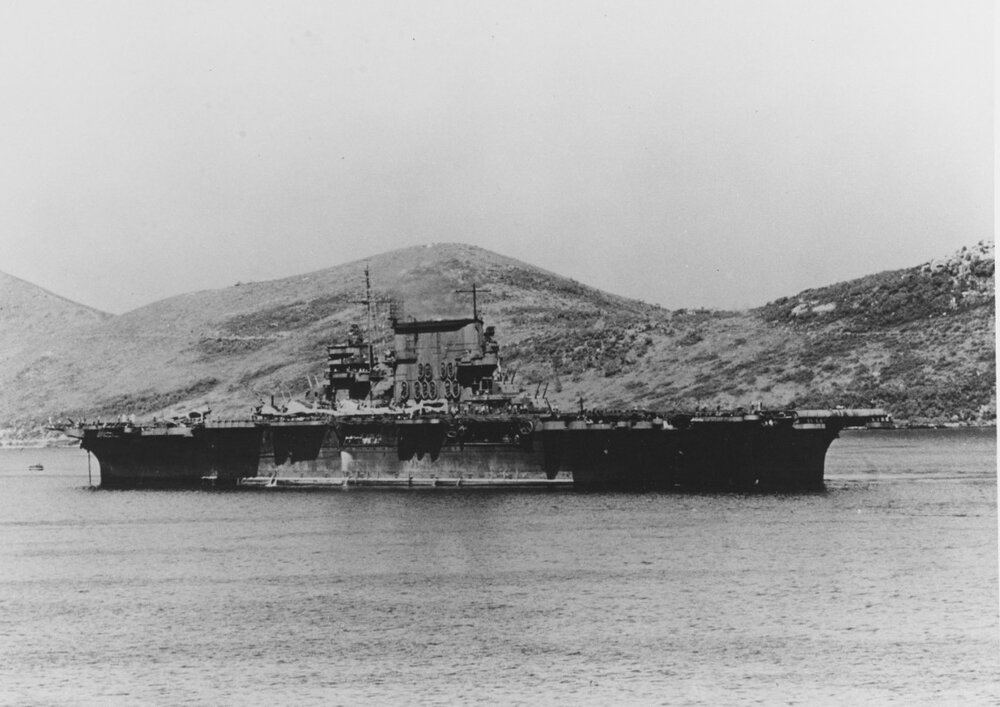 The carrier was then back in the South Pacific war zone in December 1942, spending the next year in that area.
1943-1944
In November '43, Saratoga's planes made devastating raids on the Japanese base at Rabaul and supported the Gilberts operation later in the month.
In January and February 1944, she then took part in the invasion of the Marshall Islands. Following this, she joined the British Eastern Fleet in the Indian Ocean and participated in raids on Japanese positions in the East Indies during April and May 1944.
An overhaul from June to September prepared her for employment training aviators for night operations.
1945
In February 1945, Saratoga was back in action, carrying night fighters during the Iwo Jima invasion and raids on the Japanese home islands. Several Kamikaze suicide plane hits on 21 February caused serious damage and casualties, sending her back to the U.S. for yet another session in the shipyard.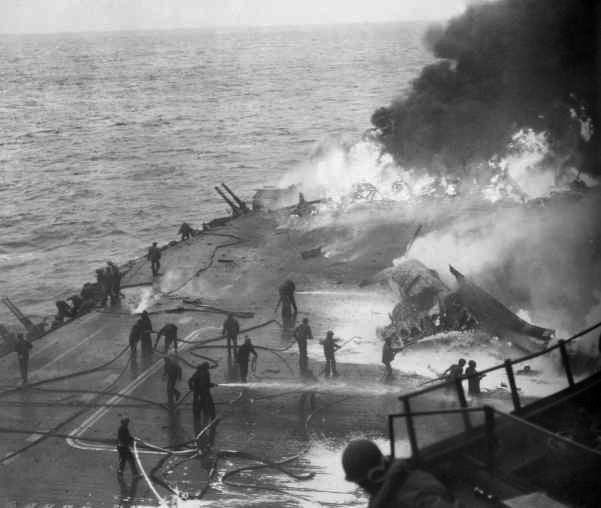 Saratoga returned to service in May of 1945, again taking on a training role that lasted until Japan's surrender. Beginning in September that year, she transported servicemen from the Pacific back to the United States as part of Operation "Magic Carpet". In the course of the operation, she returned a total of 29,204 veterans, the highest total for any individual vessel.

Sara's career
Over the course of her 17-year career:
Saratoga's aviators landed on her deck 98,549 times

This was the record at the time for the most carrier landings

129 confirmed crew members died onboard during her service
Saratoga received eight battle stars for her World War II service.
Operation Crossroads
Post-war, Saratoga was just too old for retention and so the army chose her, in January 1946, as one of the target ships for Operation Crossroads.
Sara had one more moment of fame while floating. She hosted comedian Jack Benny's radio show on 21st April, while she was in San Francisco. She then departed from the famous pier 33 and headed out the Golden Gate on the 1st May 1946.
Test Able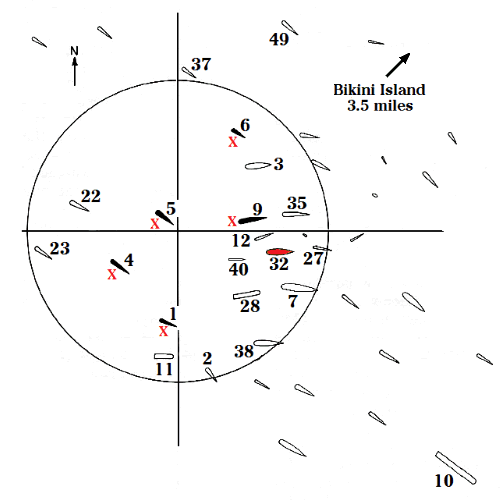 Operation Crossroads began with the first blast (Test Able) on 1st July 1946. Saratoga was over 2,000 meters from ground zero and survived the explosion. She suffered some minor, yet at the same time serious damage, including the ignition of the teak of her flight deck. It was surprising to the scientists as she was well outside what they thought would be the damage zone. The reason was that for test purposes, all the ships carried sample amounts of fuel and ordnance, plus airplanes. Most warships carried a seaplane on deck, but Saratoga carried several airplanes with highly volatile aviation fuel, both on deck and in the hangars below. The fire was extinguished with a skeleton crew who boarded the following day and the Saratoga was kept afloat for use in the Baker test.
Test Baker: the end
For Test Baker, an underwater explosion, Saratoga was positioned 410 meters from ground zero. The force of the explosion lifted the vessel stern over 40 meters out of the water, rocked it side by side and the wave crashed over her. This knocked all five moored airplanes off the flight deck and crashed most of her funnel onto the flight deck.
She stood proud though, remaining upright on the surface. She was, however, contaminated by radioactive water which prevented the Navy from rescuing her. They wanted to tug her and beach her, but instead she sank 7.5 hours after the blast and settled forever at the bottom of Bikini Atoll lagoon.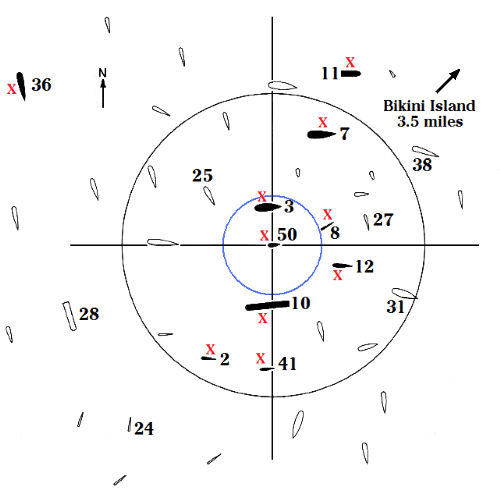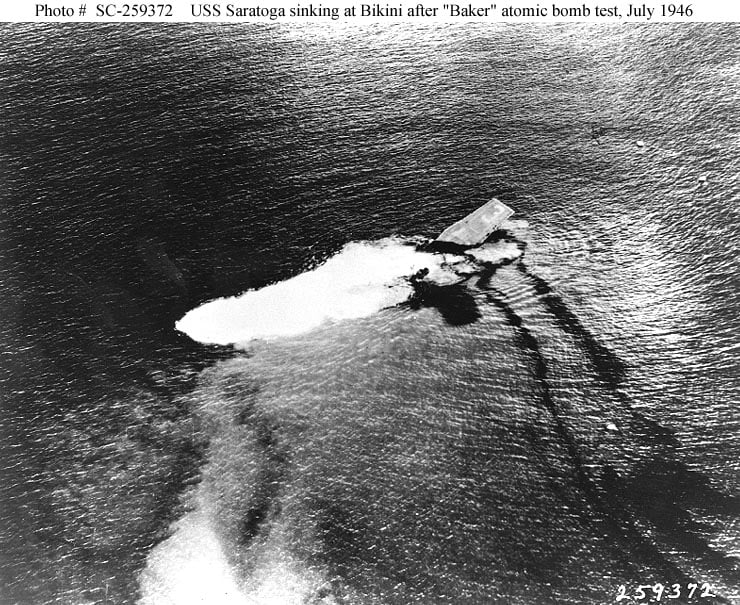 Diving the Saratoga wreck in Bikini Atoll
Diving the Saratoga is an amazing experience. As she is a very large wreck, we normally conduct several dives on her while in the atoll. It will take several dives to just get your bearings. Let's face it, you came all the way to see her and Sara is the star of the lagoon!
Today, the wreck lies upright in 51m of water. The shallowest point is 18m, however most of her main decks start at 27m. In order to get the most of your dives, we recommending holding a tech qualification allowing you to dive until 50 m and to do all dives on CCR.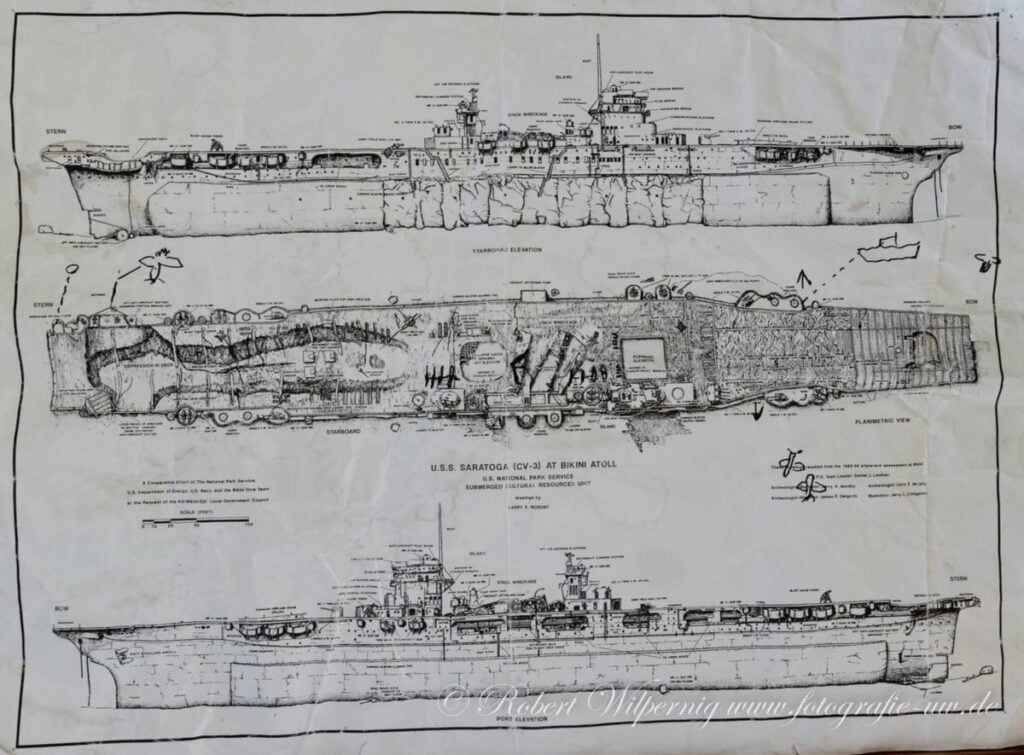 Wreck condition
While she might be big and mighty, the toll of time (75 years underwater!), two nuclear bomb, massive tidal waves, and the war have all affected Saratoga. As such, she is starting to show her age.
Most of the damage you can see now was due to test Baker. As you read above, Saratoga was lifted out of the water at the point of the explosion. 36,000 tons of metal does not do this without major effects. The massive tidal waves also smashed into her sides causing further damage to her side plating. And this was without counting the two million tons of coral, sand, and water that was flying around. All of this came came crashing down onto her flight deck. We think having gone through what she has, she is looking remarkably good!
Another culprit is, of course, time. You don't leave metal 75 years under water without showing some issues. Over recent years, we have noticed changes to certain parts of her superstructure. Her hull and flight deck have slowly started collapsing.
Even if this sounds bleak, it's not! She is big, she is massive, she is mighty, and she is fascinating. To us, she can show her age, but we will still enjoy immensely diving Saratoga.
An aircraft carrier would not be an aircraft carrier without a flight deck
The flight deck should definitely be on your to-see list. Saratoga was built with an unarmored flight deck. This maximized hangar space and meant she could be repaired more easily. But the issue is that it was not as strong as an armored deck.
The original reports by Navy divers after Saratoga sank said that the flight deck was largely intact. All suspect that it was untrue and that the damages were running from the aft elevator to the stern over the hangar deck area. It's likely that it was so serious that it would have been unusable. Now, large parts have collapsed onto the hangar deck below.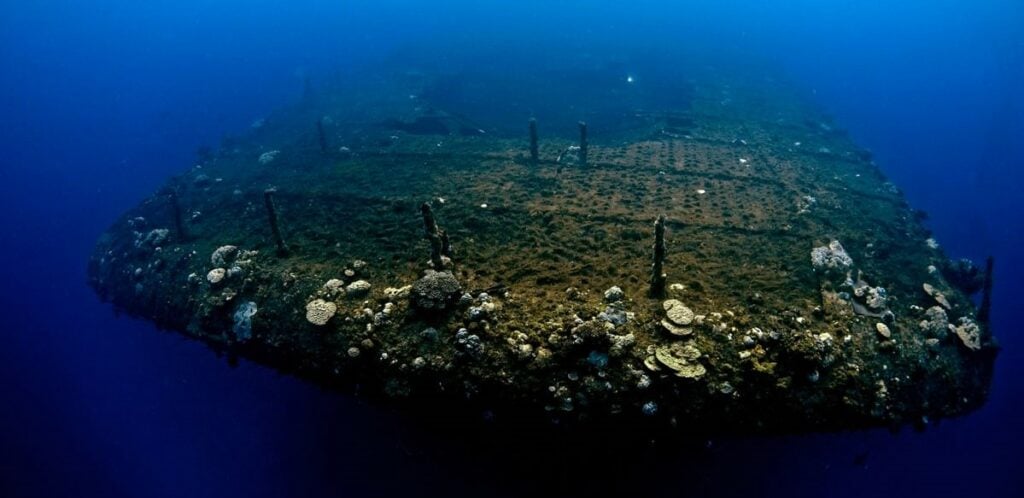 Forward of the forward aircraft elevator, the flight deck is still largely intact apart from a small area towards the bow. This is one of the areas where Saratoga was hit when she was off Iwo Jima in February 1945. They repaired the damage at the time hastily. Luckily for us! This botched repair weakened the vessel and this damaged area allows access to the bow area under the flight deck.
Another cool feature you may encounter on the deck is weird crane structure. Scientists added these on the flight deck to take measurements after the nuclear testing.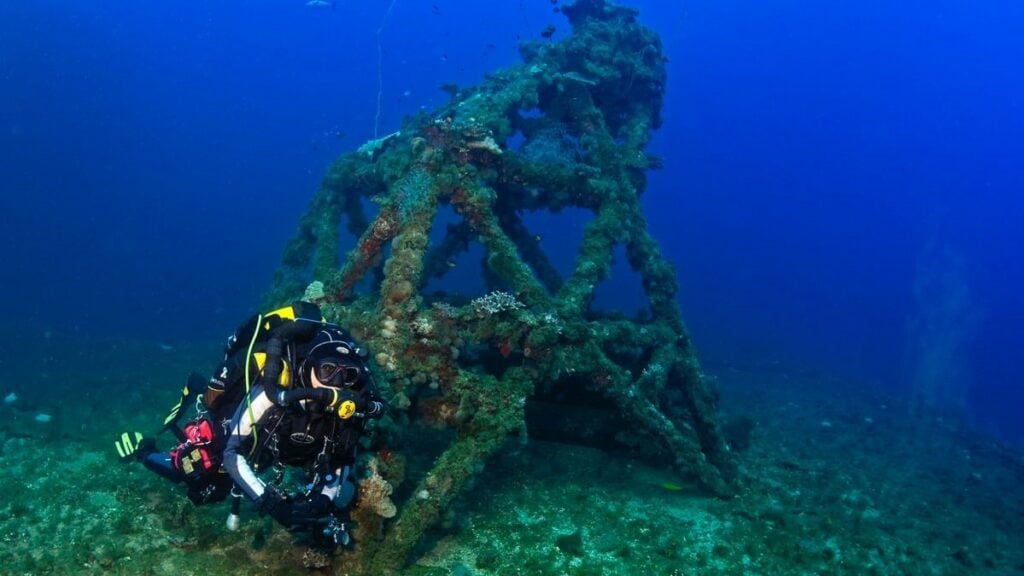 Diving Saratoga 's planes
The army had installed various pieces of military equipment, including a number of planes on the flight deck. Of course, the planes were all swept off the deck during the Baker test. You can now see the remains of some of them around the Saratoga on the seabed. They are definitely worth it as some of them are in pristine condition.
They also stowed planes on the hangar deck. These planes are now mostly inaccessible due to the collapse of the flight deck over the hangar. It's still possible to see into the cockpits of some of them, but these planes are now, sadly, in poor condition.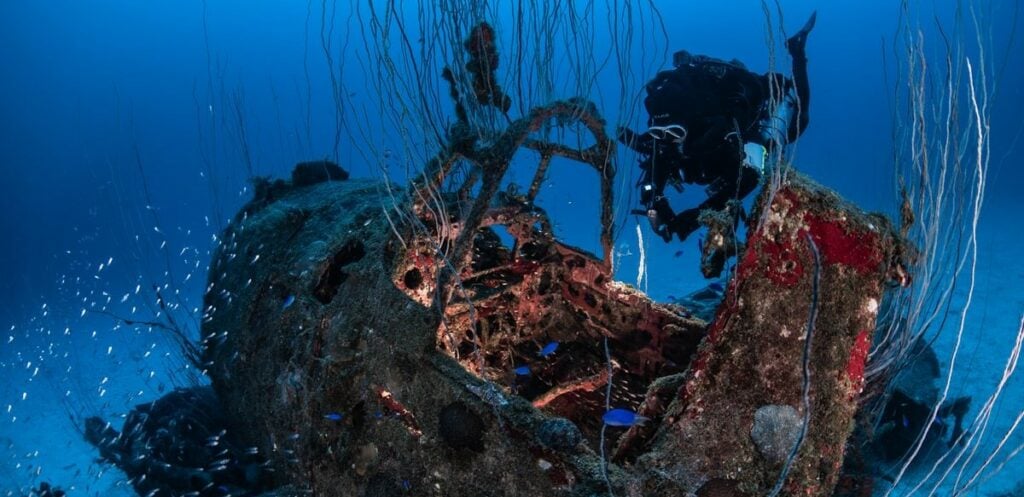 The guns
The army had of course removed some of Saratoga's main ship armaments before the nuclear tests. But, they still left quite a large amount onboard, wanting to study the effects of the nuclear testing. This includes:
2 twin 38-caliber 5″ dual purpose gun mounts
A number of single 5″ dual purpose gun mounts on the sponsons down each side of the ship
Several 40mm Bofor and 20mm Oerlikon guns.
Lots of munitions were also onboard when Saratoga sank. These include:
159 kg/350 lb and 227 kg/500 lb bombs,
Air drop torpedoes
Rockets
5" gun cartridges
Depth charges
Basically, you will come across weaponry and ammunition on pretty much every dive. They are scattered all around the wreck nowadays.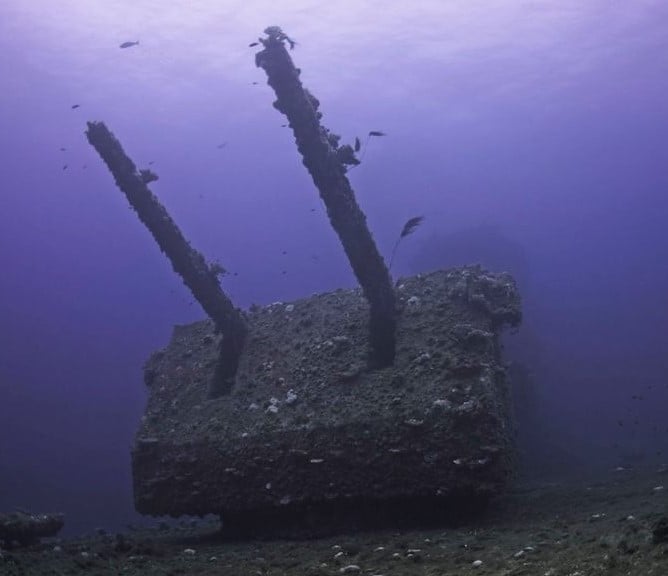 Diving into the belly of the Saratoga
Now we are coming to the most interesting part of diving Saratoga. Diving into her belly is a true exploration. We reckon that no more than 10% of the ship has been properly explored since her sinking. And remember, she is a HUGE ship. The interior is vast, with 7 decks of passageways, rooms, storerooms, accommodation, and galleys.
Saratoga was heavily compartmentalised. This was for obvious reasons on a warship. The majority of her watertight doors and hatches were closed when she sank. This makes it a bit harder to explore, but there are generally other ways in! Most of the penetrations start from the forward elevator shaft that allows you to access all her various levels.
In some areas, we have installed permanent lines to guide you in. You will still need to be extremely careful with the silt. It is very fine inside the wreck, so you can stir it easily. In short, move slowly, constantly looking around. Being aware of your surroundings and having excellent buoyancy skills will help you have great dives in her belly.
There is so much to see inside and a maze of passageways will lead you in all directions to storerooms, workshops, galleys, pantries, mess decks, accommodation decks, and bathrooms. We are still exploring her but have already found several not-to-be missed features.
The highlights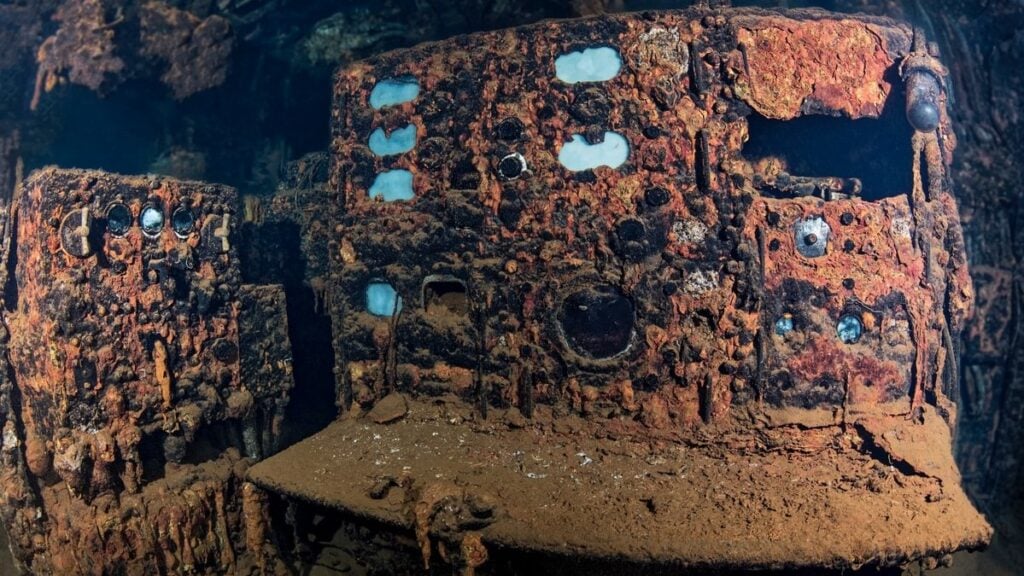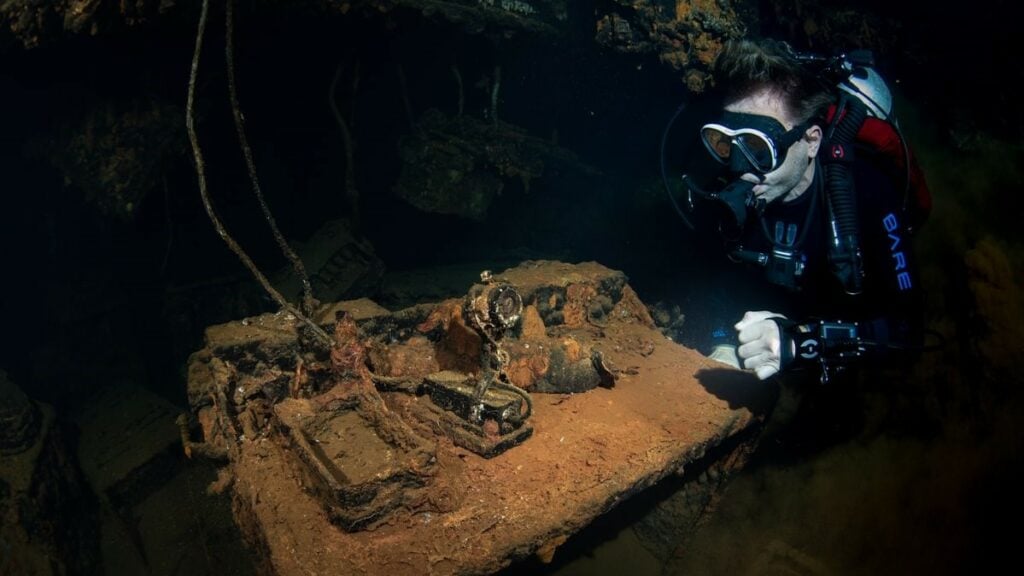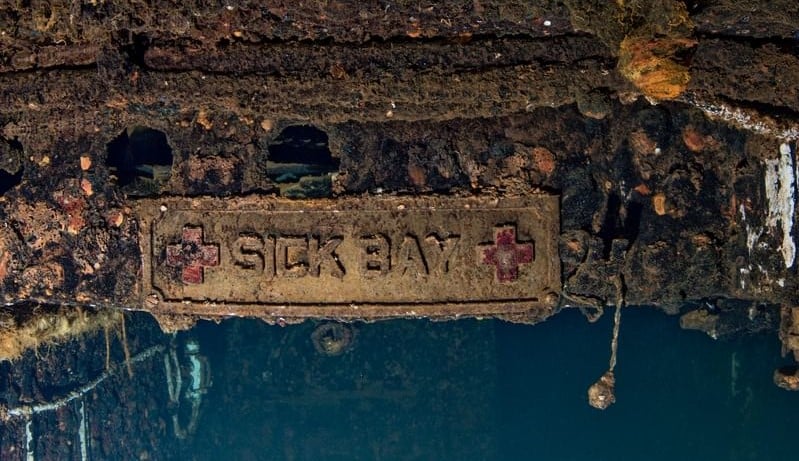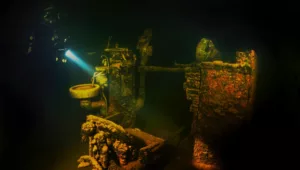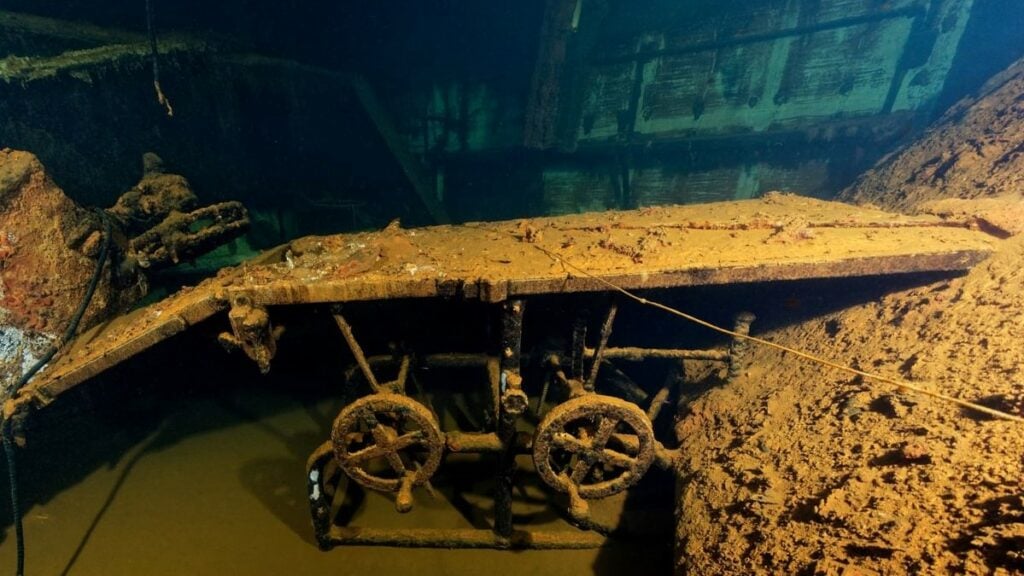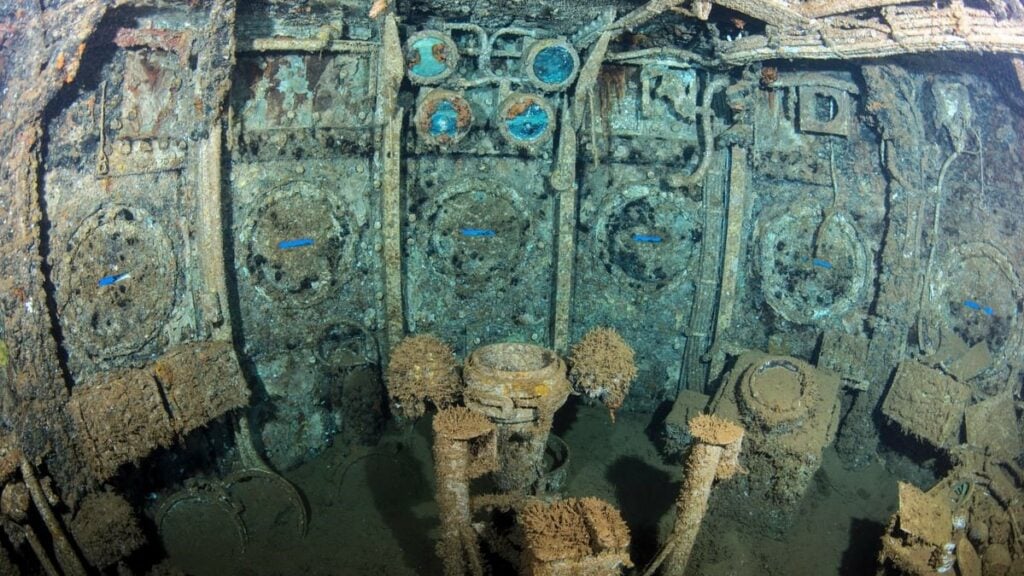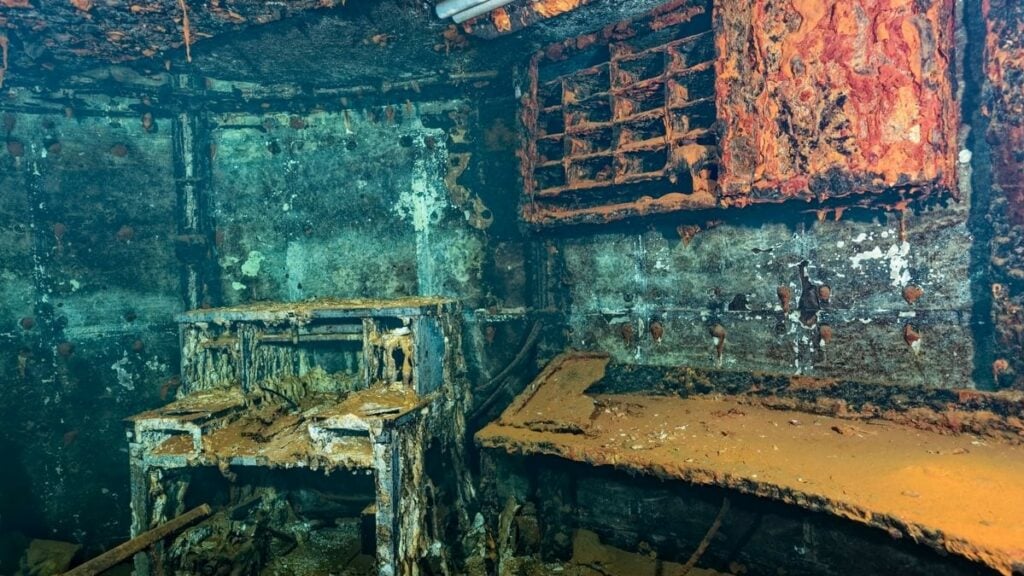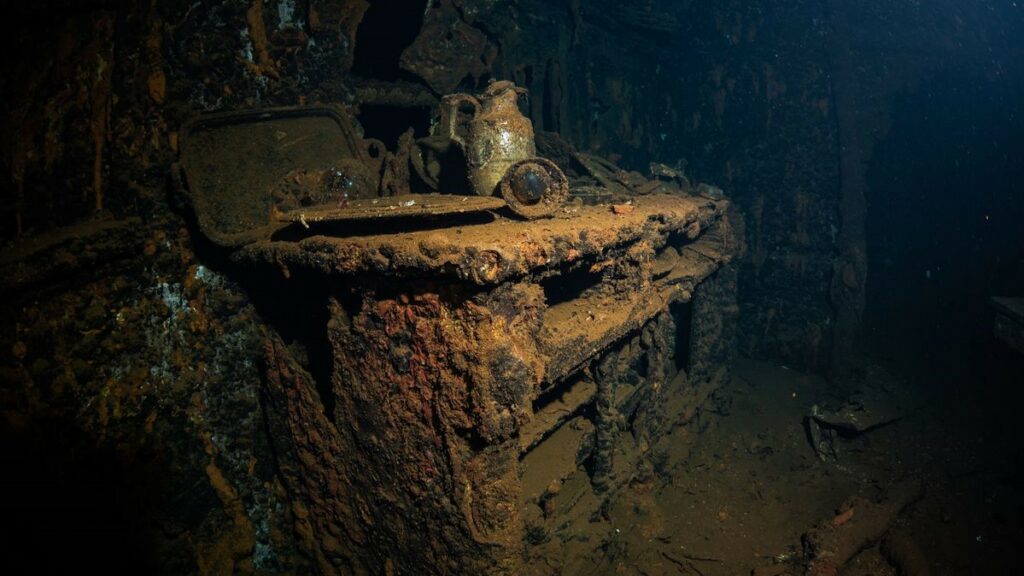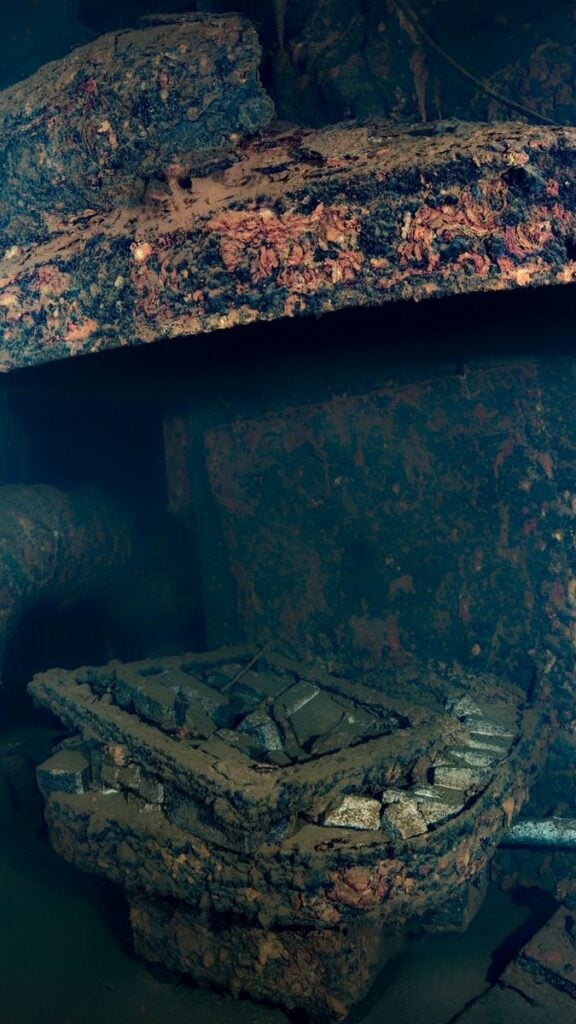 These are just a few of the highlights you can discover inside the Saratoga. We do look forward showing you more of the wreck.
Artifacts
You will see artifacts everywhere on Saratoga. These are like time capsules, untouched since the carrier went down in 1946. To name a few, you can encounter plates, bowls, jugs, Coca Cola bottles, spare parts, gauges, thermometers, valves, phones, radios, and fittings. Light bulbs are still in their sockets, cables hanging.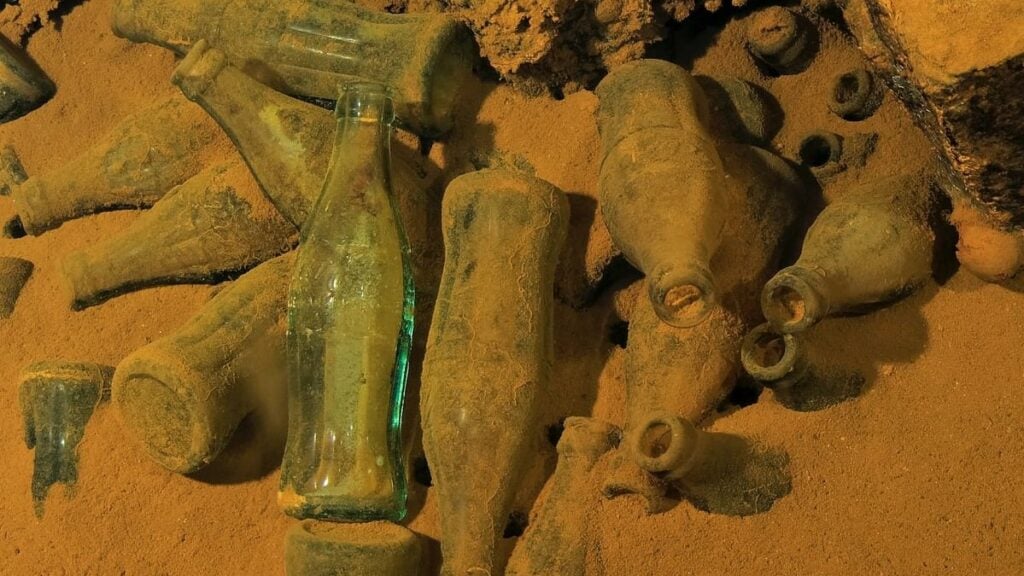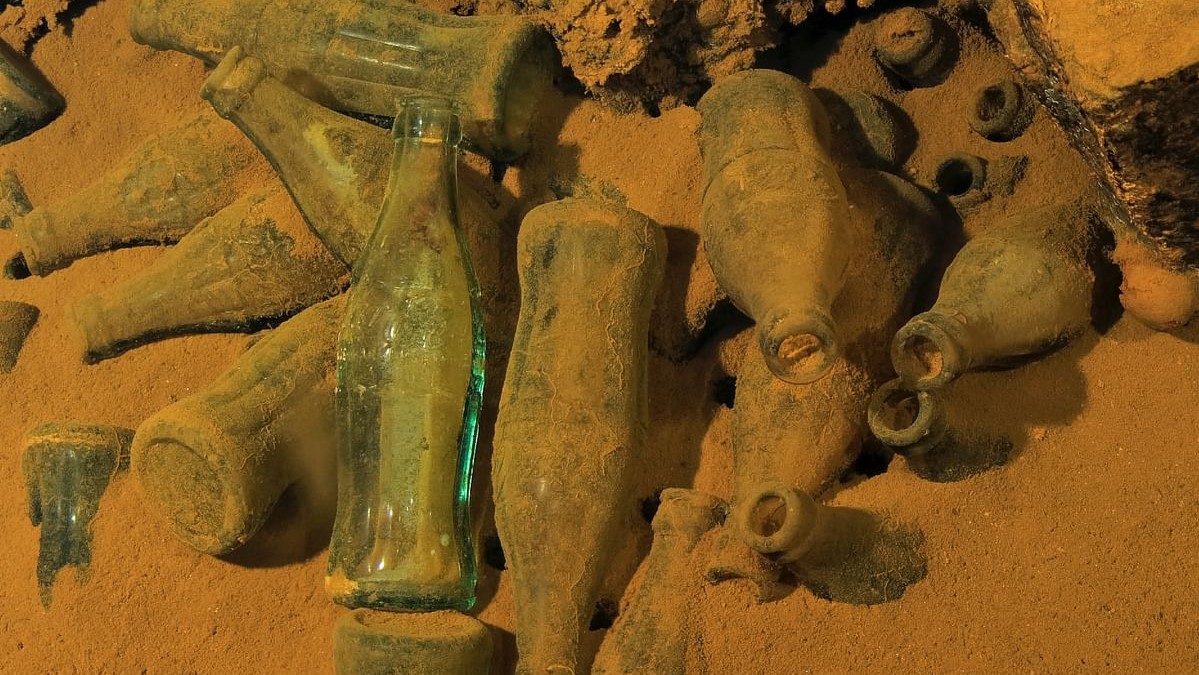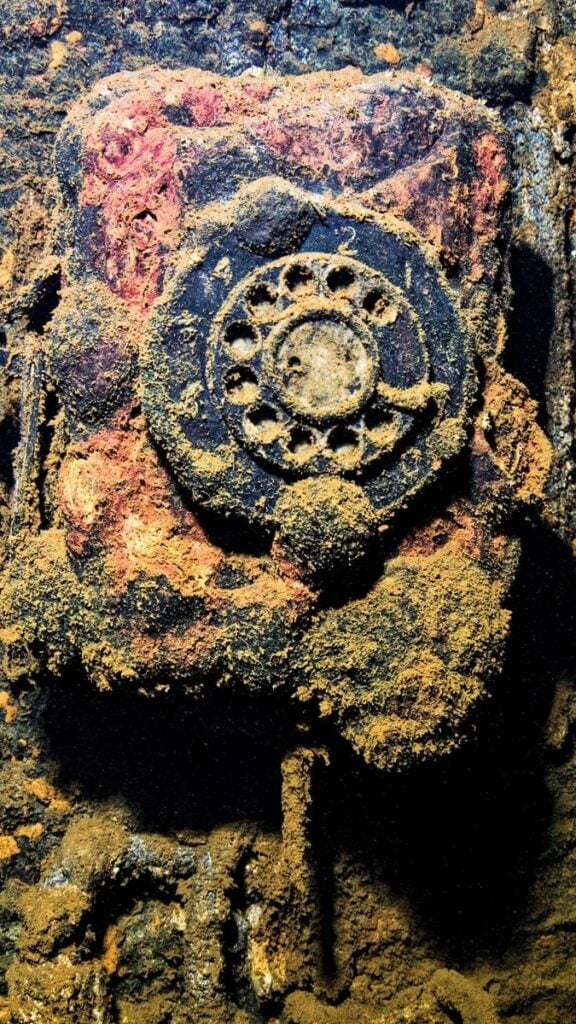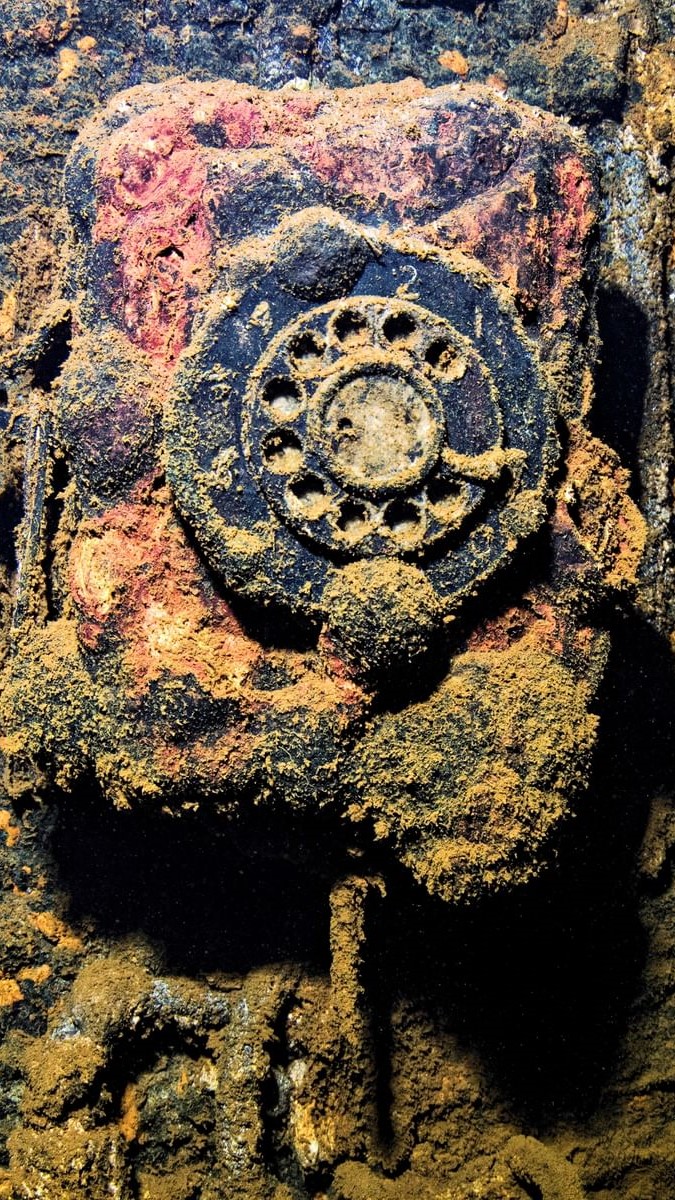 Two of the more interesting and unique items for divers to see are the U.S. Navy Mark V diving helmets and standard dress dry suits (see above photo). The US Navy Mark V diving helmet is one of the most well-known diving helmets in the world and you can still buy one today. The navy actually used them until 1984, after it was launched in 1916. A sturdy piece of kit.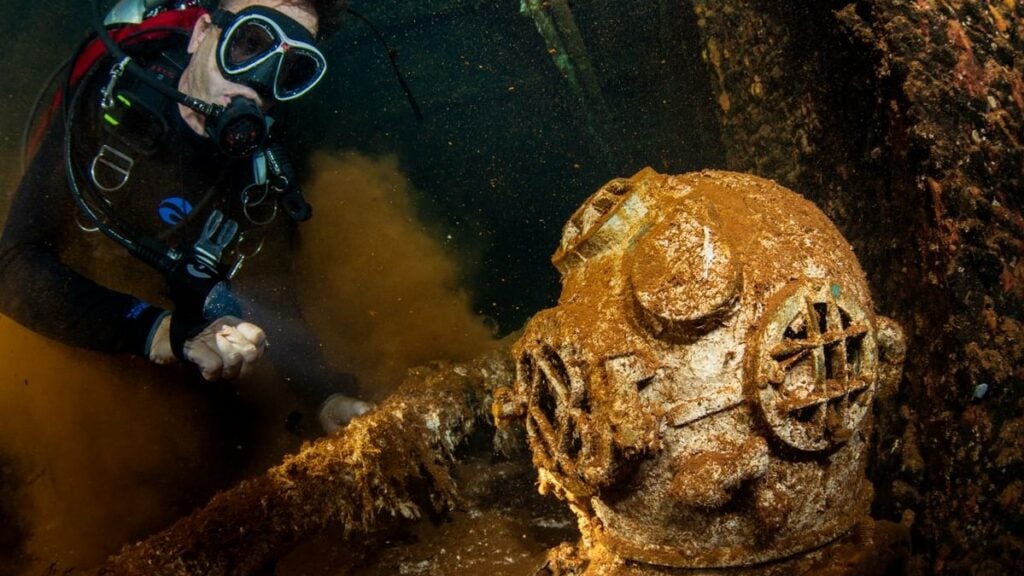 It gives you a strange feeling seeing all these artifacts. They give you a real connection on what life onboard would have been. They are a time stamp of an era, locked in time forever.
Deco stop after diving on Saratoga
As you slowly ascend and make your way back, keep your eyes open. We have seen, on many occasions, larger pelagics, like schools of rainbow runners and jacks, but also tiger sharks. They are a frequent sighting and certainly make for an exciting decompression stop.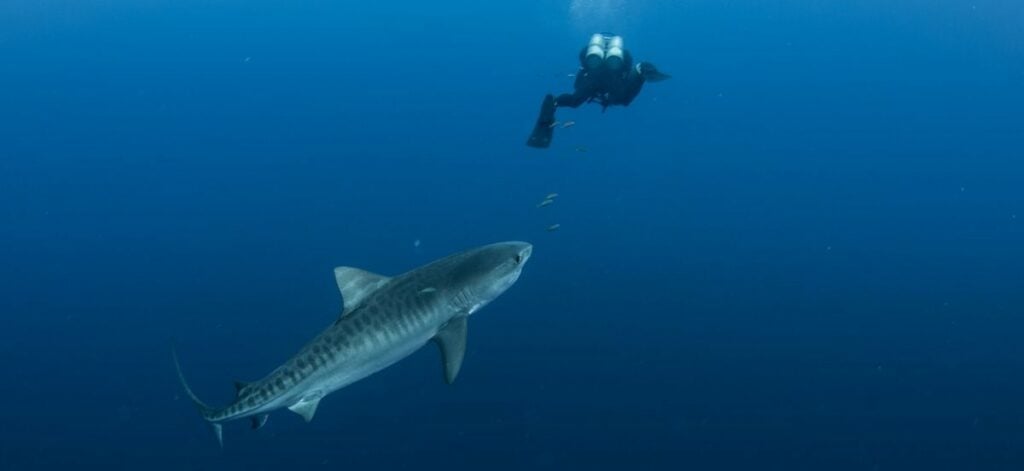 Dive right into the Saratoga
Note
Thanks to Martin Cridge for his photos and detailed account of diving Saratoga. Unless specifically credited to someone else, Martin took all the photos you see in this article. He also provided his first-hand account of what is like to dive on the Sara.
Diving the Saratoga wreck in Bikini Atoll is a unique experience. She is truly one of the wrecks you have to see before you quit diving, and there is still so much to discover ! To dive on Sister Sara and the other shipwrecks of Bikini Atoll, join us on Pacific Master.