[vc_row][vc_column][vc_column_text]
The more you know about each Truk wreck, the more you will get out of your dives on board the Truk Master Liveaboard…. Today, the Fujikawa Maru wreck.
[/vc_column_text][vc_gallery type="flexslider_slide" interval="3″ images="79070,79062,79060,79061,79063,79064,79066,79067,79068,79069″ img_size="large"][vc_column_text]
This 2 mast boat was built in 1938 and covered routes between North America, South America and India until it was seized in 1940 to transport Japanese war materials and aircraft. In 1944, she sunk after being hit by a torpedo on the first day of Operation Hailstone.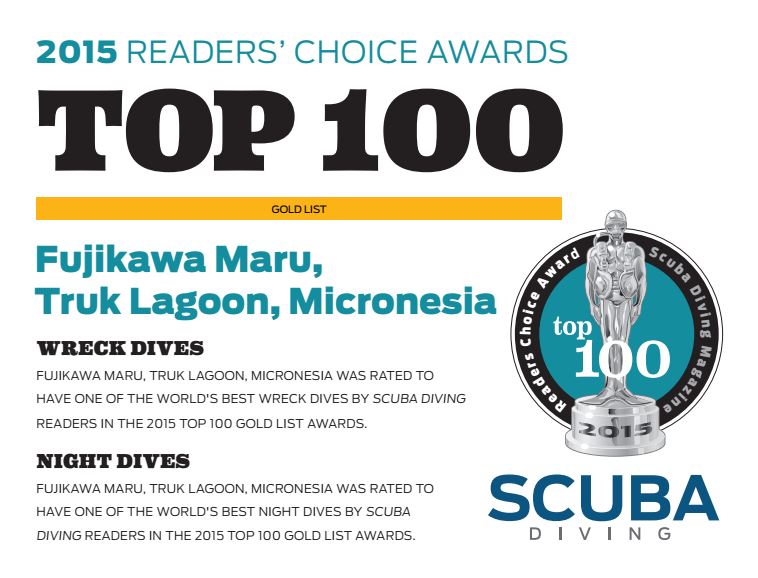 This 132 m (430 ft.) armed cargo ship lies close to Eten Island. She is known as "the wreck" among the divers of Truk since she is almost the perfect wreck. While other wrecks may be larger or better armed, few can be compared to the beauty of this dazzling shipwreck, covered with amazing macro marine life and colorful soft and hard corals. All of this patrolled by large schools of jacks, mackerel and barracuda.
She rests upright on the sandy bottom at 34 m (110 ft.), rising up to within 5 m of the surface making her suitable for most divers.
Her decks and bow are encrusted with soft corals and sponges, as are her stern guns on the aft deck, whilst hold 6 contains a plethora of artifacts from the war, including Mitsubishi aircraft wings and Zero fighter propeller blades. Once inside, the engine room is an absolute blast with its compressor, winch, workbench and shelves with spare parts such as propeller blades, wheels and glass. You can also see ammunition, gas masks, and boots.

For more information about diving the Fujikawa Maru, and other shipwrecks of Truk Lagoon, please contact us.
[/vc_column_text][vc_btn title="Contact us" color="danger" align="center" link="url:http%3A%2F%2Fwww.masterliveaboards.com%2Fcontact-us%2F||"][/vc_column][/vc_row]