We could not be prouder: our baby has flown off the nest! Galapagos Master had her maiden trip from 18th to 28th May 2015. Lucky Mark Shandur, owner and director, was on board to tell us all about this amazing adventure.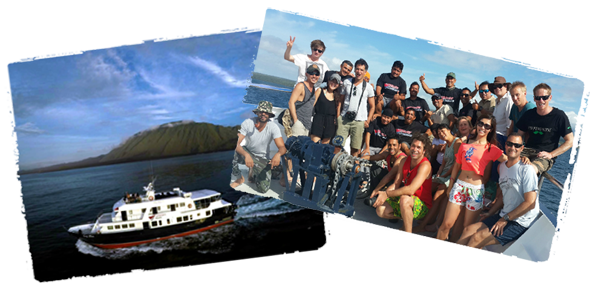 ©Marcel Wilpernig
Located at the junction of three ocean currents, the Galapagos are a spectacular melting pot of marine species. Our excitement could not be contained as we made our way to the Galapagos Master. She has just spent 8 months in the shipyard where the refit and refurbishment was overseen by my business partner and Worldwide Dive and Sail founder, Frank Van Der Linde.
The trip was a special one as my wife, Hanako, and I were joined by old school friends Ben Shrimpton, Mark Upson and Alec & Lucy Birkbeck. The maiden voyage also hosted world-renowned photographer, Aaron Wong, and his wife Lynette Ang and Marcel Wilpernig from WIRODIVE. Daniel Brinckmann came on assignment from Underwasser. Then we were also joined by Renee Wong, and four guests who have now become friends, who were on the Fiji Siren with us last year including Mauro Resnitzky, Ramone Gonzalez and Raj & Vijay Vaswani.
So let's go diving and get this maiden trip on Galapagos Master underway!
The diving in the Galapagos is some of the most unique in the world, and we were anxious to jump into the water and experience Darwin's playground.
Our first dive of the trip was at Punta Carrion, a boulder strewn reef,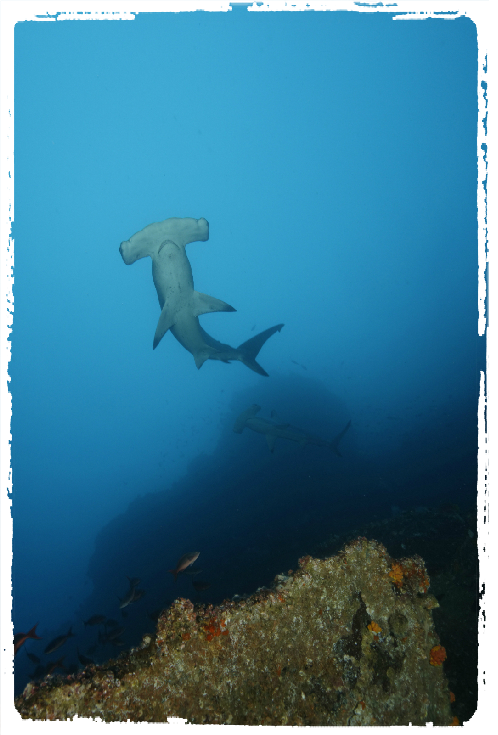 where we saw many hammerheads, white tip reef sharks, and schooling fish. During the second dive at Punta Carrion, I noticed a skeleton underwater at approximately thirty metres. Bewildered, I thought to myself, "Who'd thrown their dog overboard?" Upon surfacing, and speaking to one of the dive masters, I realized that we'd seen the skeleton of a sea lion. Doh! Towards the end of the second dive, we experienced a really strange vertical thermocline current coming in. The water temperature dropped by at least 3-5 degrees and the visibility went down to less than 5m. However, this cold, nutrient rich water seemed to bring in many fish and we experienced sightings of huge groupers, who seemed to enjoying appearing from the depths and scaring us!
North Seymour Island was our next stop. We went ashore and experienced some of the amazing wildlife that the Galapagos offers. We saw blue-footed boobies, frigate birds and scores of land iguanas.

The famous northern islands: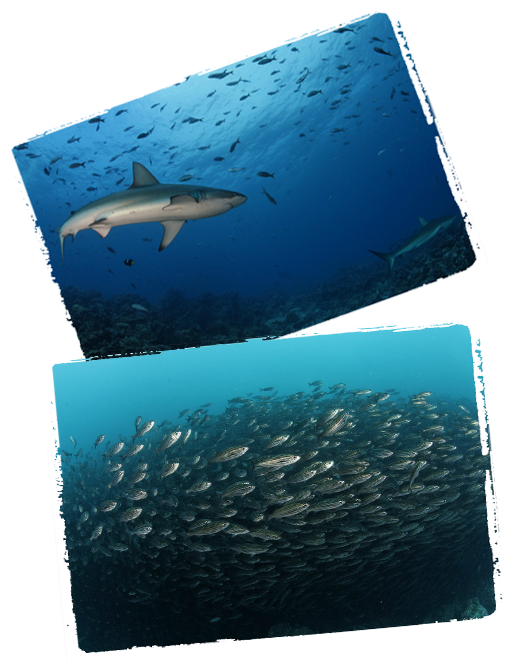 Darwin Island was the next stop on our itinerary, and it was absolutely unbelievable. Although no land permits are allowed here, the extinct volcano that reaches 165 metres above sea level is a sight to behold. Darwin's Arch provided an amazing drift dive with a medium to strong current and loads of schooling fish.
Wolf Island, without a doubt, offered the best dive of the entire Galapagos Master trip. Another massive, extinct volcano that pushes 253 metres above sea level, here our group had the pleasure of hundreds of Galapagos sharks and a frenzy of 40-50 hammerheads. At Wolf Island, we also had the opportunity to meet some local fishermen. Regulated by the park, the fisherman hand catch yellow fin tuna that has already been bitten by sharks. These fishermen had some stories to tell, and we bartered with them. We swapped their yellow fin tuna for water and other supplies, and had a great dinner that evening.
Living up to its nickname "The Ice Box," Punta Vicente Roca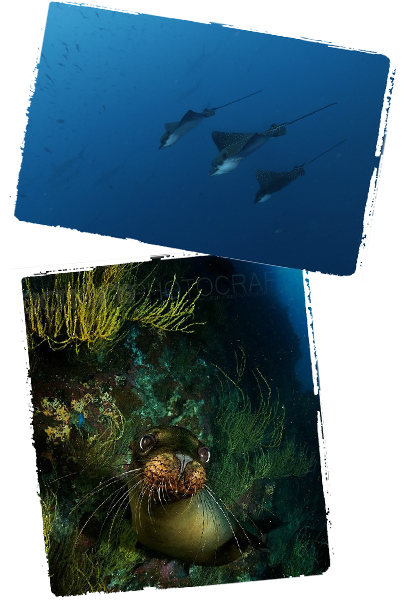 was extremely cold. However, this dive gave us a good chance to see some big marble rays. We looked for penguins, but only encountered sea lions. Diving with sea lions is fun as they are naturally curious and provide some underwater laughs.
The last stop of our Galapagos Master trip was at Cousin's Rock, the beautiful, photogenic coral covered rock and lava flow. Here, we saw lots of enormous turtles, more playful sea lions and spotted eagle rays. Cousin's Rock was a great way to wrap up our trip.
There will be only one Galapagos Master maiden trip
As we headed back to Guayaquil, we all prepared for our long, sad goodbyes. It was amazing to be able to experience a destination such as this with such close friends and colleagues; it definitely was a trip of a lifetime.
Marcel used his drone, so we are really looking forward to showcasing some of the breathtaking scenery of the Galapagos through his footage.
©Robert Wilpernig & Aaron Wong