The more you know about each wreck in Truk Lagoon, the more you will get out of your dives. In a series of articles around the specific wrecks in the lagoon we will give you a little extra history. In this edition, the Rio de Janeiro Maru.
Quick facts

| | |
| --- | --- |
| LENGTH | 140 meters |
| GROSS TONNAGE | 9626 tons |
| DEPTH AT BOTTOM | 35 meteres |
| AVERAGE DEPTH | 23 meters |
| DEPTH AT SHALLOWEST POINT | 9 meters |
| ACCESSIBILITY | All levels of divers – nitrox recommended |
Birth of the Rio De Janeiro Maru
The Rio de Janeiro was a large, 8-deck luxury passenger-cargo liner. She started her life in 1929 in Mitsubishi Shipbuilding in Nagasaki. She was delivered to Osaka Shosen Kaisha (OSK) Line and was used primarily on routes between Japan and South America. This might seem an odd route, but at the time there was quite a large migration of people searching for a better life than they had in Japan. The migration demand so was big that her sistership, Buenos Aires Maru, soon joined her.
Three quarters of all Japanese prewar immigrants to Brazil arrived between 1925 and 1935, when Japan was preparing for its military and territorial expansion in Asia. Their numbers were so big that in 1933, immigrants from Japan numbered 24,494 or 53.2 percent of all immigrants entering Brazil that year. Most hoped to return home when they had made enough money as plantation workers to start over in Japan. Often, they were not paid the agreed upon wages and living and working conditions were far worse than expected. They were forced to buy their food and other supplies at exorbitant prices at stores owned by plantation owners.
She could carry 1140 passengers and did several voyages forth and back until 1937.
OSK Line launched that year an around-the-world service and the Rio De Janeiro was one of the vessels doing that route. Imagine: Yokohama to Hong Kong to Singapore to Colombo to Durban & Cape Town, across to Rio de Janeiro & Santos, on to Montevideo, Buenos Aires and round back to Belem, Cristobal, Balboa to finally reach Los Angeles. That must have been a trip!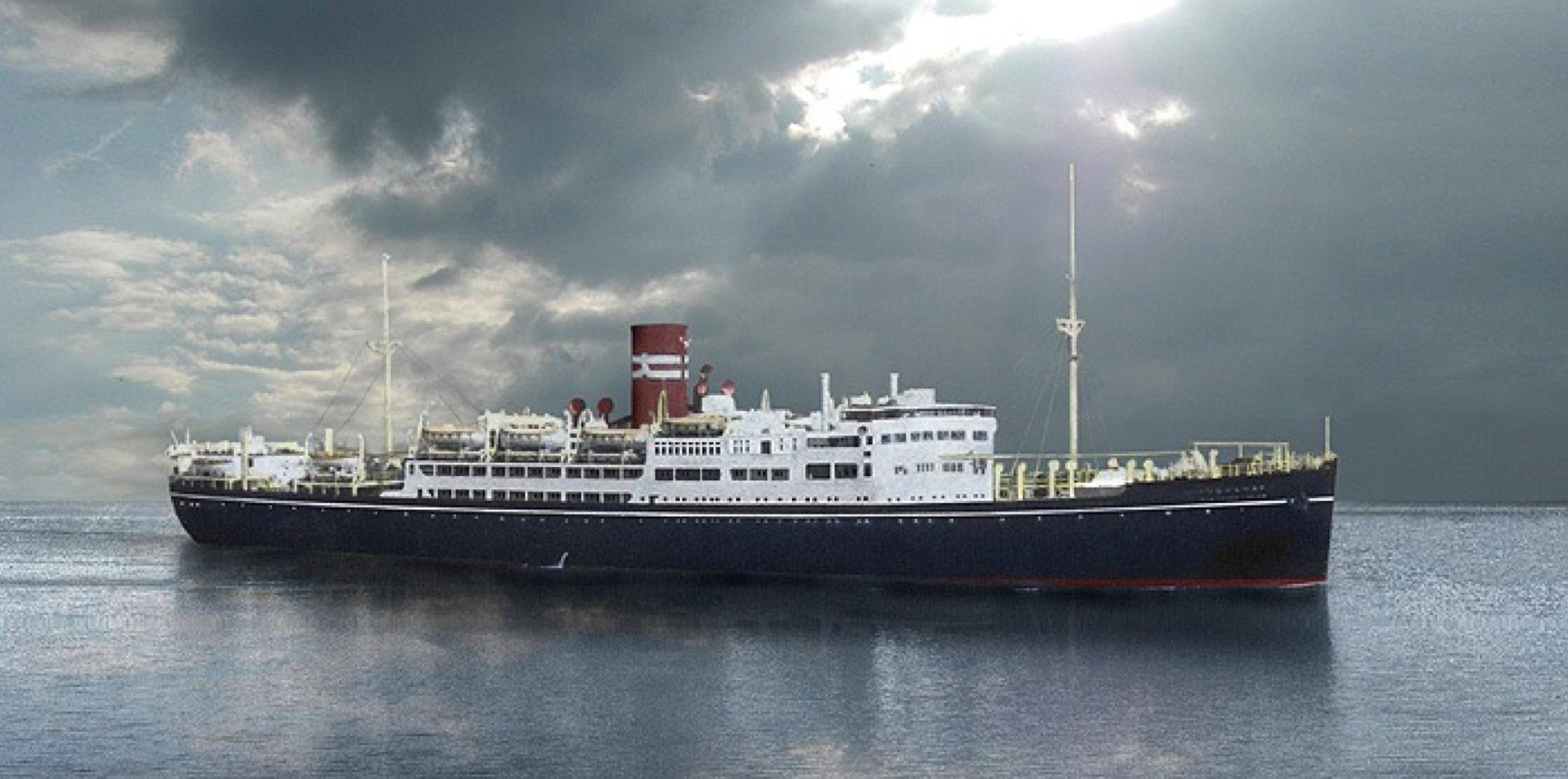 Military Service
She sank due to a bomb hit on the first day of the attack. Ask guide to take you on tour of insides and huge engine room. Bow shows evidence of internal explosions from stored ordnance. Old 6" guns from scrapped cruisers in hold, probably destined to coastal battery. Crates of beer bottles in hold. Very large props and rudder. 
The Imperial Japanese Navy requisitioned the Rio in 1940 and initially converted her into an auxiliary transport ship. At this point she became an armed vessel with the installation of anti-aircraft guns. Her new designation would only last 6 months. The Navy decided in 1941 that she was to become a submarine tender ship and she began another conversion. This meant more weaponry and facilities. Four 5.9 inch guns, a range finder, anti-mine coils, a hangar for torpedoes and depth chargers, medical facility and storage to be exact.
She stayed around South-East Asia for duty until 1942 when she finally deployed in the Pacific. She unfortunately suffered a hit and ended up with a massive hole of 15 meters by 10 meters. Six courageous sailors entered the leaking compartment and she managed to go back to Singapore for repairs.
Afterwards, she remained again in South East Asia and was mainly supporting the Japanese war efforts in the Philippines and Indonesia. POW knew her very well and due to the terrible conditions for the prisoners onboard, she was considered one of many 'hell ships'.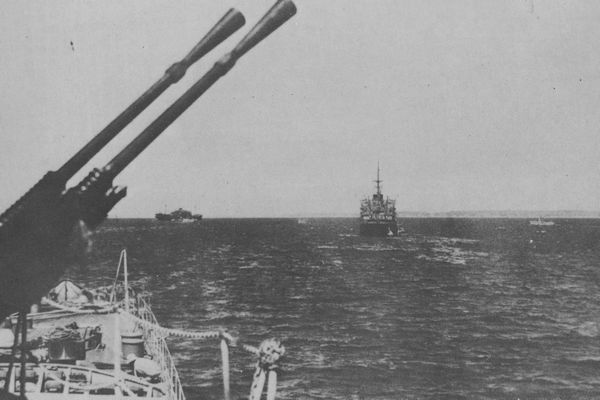 Battle Wounds And Loss
During her military service, and even before she entered the lagoon where she now lies, Rio was on the receiving end of battle action. In May of 1942 she was hit by a torpedo north of Borneo that ripped a 46 feet long hole in her side. After repairs, and only 2 months later, she was hit by more torpedo's off the coast of southern Vietnam, suffering 'medium damage'. Following this, for two years, though she was attacked multiple times, she suffered no further damage. That was until the 17th February 1944.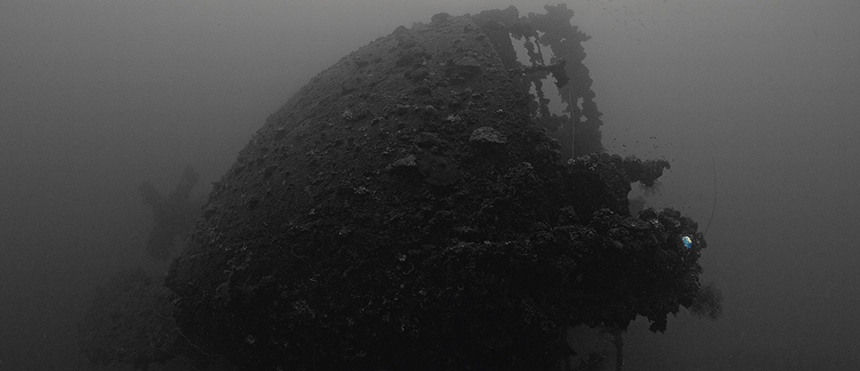 During the first phase of Operation Hailstone, Rio De Janeiro Maru was anchored east of Uman Island. She was hit by multiple 1000 lb bombs, probably dropped by aircraft from either USS Yorktown and/or USS Bunker Hill. During the attack, hear skipper, Captain Kanemasu, was killed. He was subsequently promoted to Rear Admiral, posthumously.
Several hours alter, at 0030 on the 18th February, Rio gave up and sank with the loss of two further crewmen.
Diving the Rio de Janeiro Maru today
The 141 meter (461 ft.) wreck of Rio de Janeiro Maru is now resting on her starboard side at 30 meters (90 ft.). It is not a deep wreck, nor a shallow one. In order to maximise your time on it, we do recommend diving on nitrox to avoid any deco. Many consider her pretty similar to the Heian Maru. However, you can easily do 2 or 3 dives on it to see it in its entirety.
You would normally descend on the bow first and just follow the wreck until the stern before heading back. As she sank, massive fires burned in the fore part of the ship causing the shells there to explode from the inside. The intense heat greatly weakened the bow section which is now starting to collapse. A cool feature though no to miss is that you can still read the vessel name! Even so long afterwards, it is truly a humbling moment.

The stern and the mast near it are iconic though. The stern of the Rio De Janeiro has an impressive gun set on a large platform and a docking telegraph. But as you swim a bit away, you will see her iconic propellers and single rudder. There is a photo to snap here!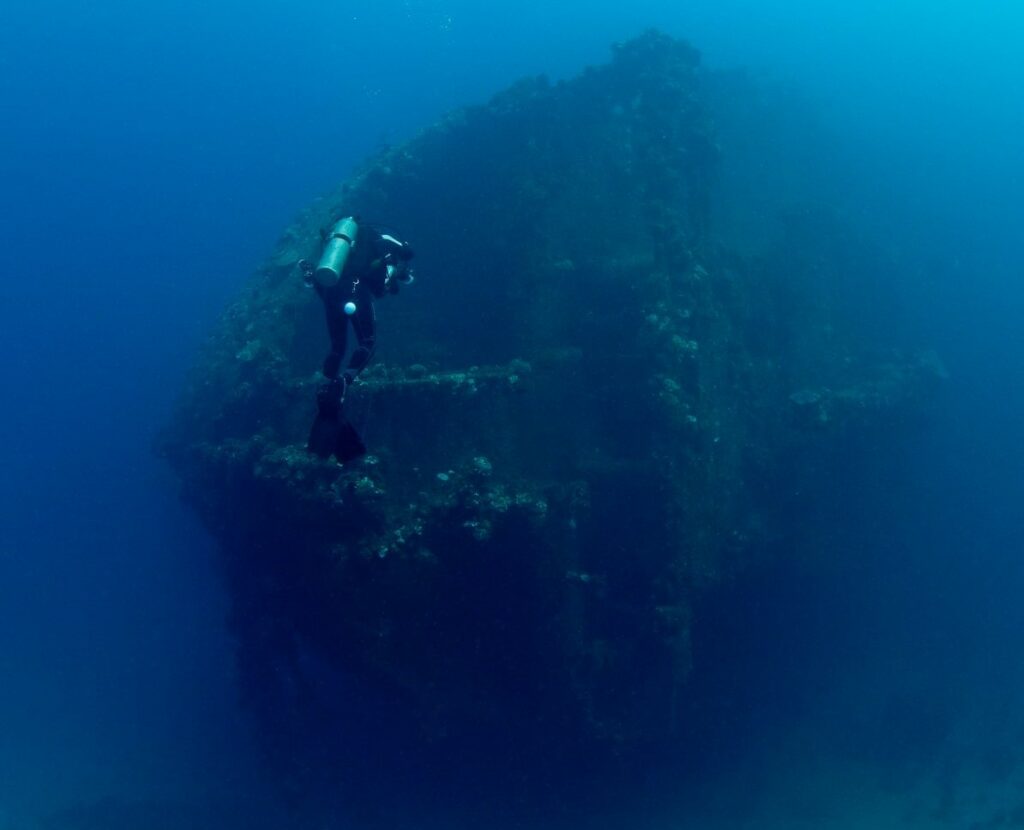 The outside is also covered with coral and marine life.
Inside
The interior is quite in bad shape but the engine room is definitely worth a visit. It is one of the highlights of this wreck. You can still see all the electrical panels, the different engines, and tools.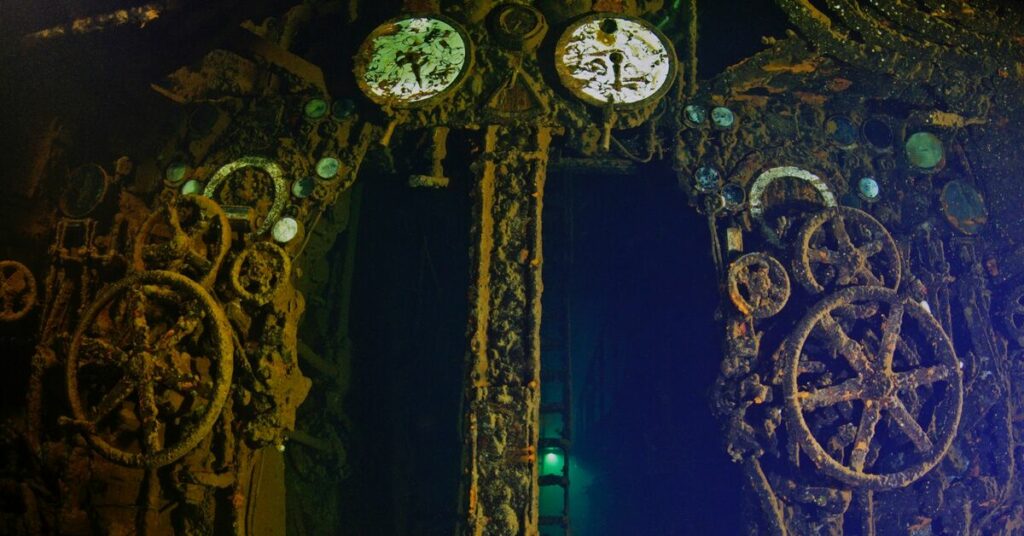 In the holds, especially the ones at the rear, you can find a 5m (16 ft.) machined wheel turret covered with corals, gun barrels, and stacked boxes of beer bottles. Some of those are still in their cases.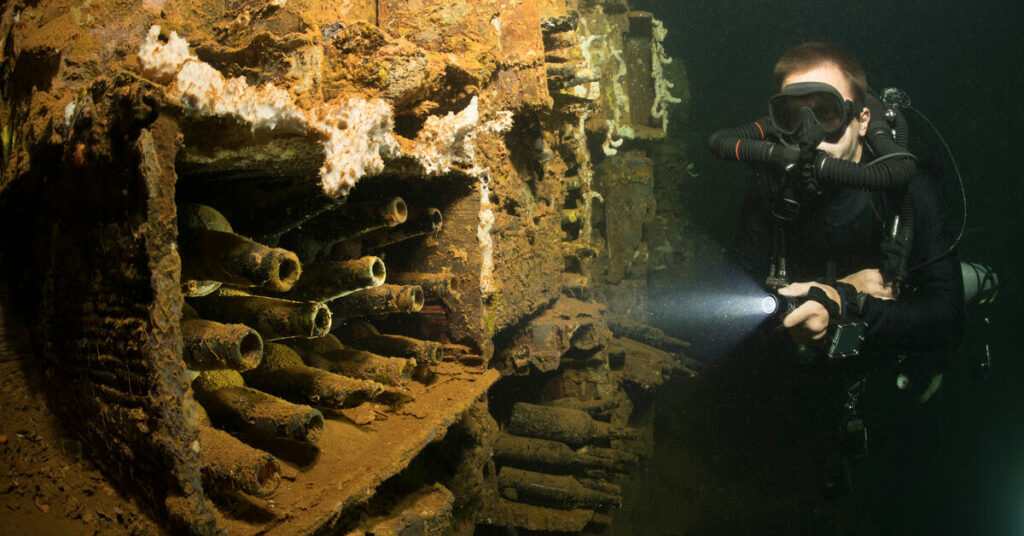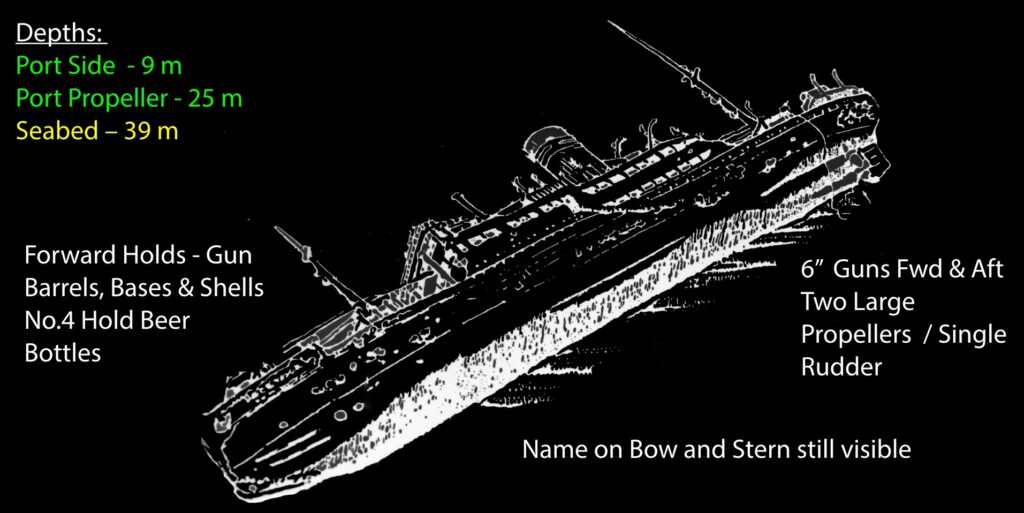 For more information about diving the Rio de Janeiro Maru, and other shipwrecks of Truk Lagoon, do not hesitate to contact us. Alternatively, if you need to see Rio right now, you can book online.