Master Liveaboards has two boats operating in Thailand. The country has enjoyed relatively low COVID numbers and was tentative to open but now allows quarantine free reentry for many travellers. But how how easy is it entering Thailand with the Thailand Pass?*
*Note that this article was written in December 2021. Test and go was suspended at the start of 2022 so please ensure you check the current regulations before travelling
What is the Thailand Pass?
At the beginning of July, Thailand was at the forefront of opening to tourism in Southeast Asia. For the first several months, quarantine was relatively restrictive compared to the rest of the world. This was intentional from the government in order to allow them to accurately track and record any increases in COVID-19 cases and to better plan for the future.
The next phase of opening to tourists began on the 1st November with the 'Thailand Pass' system, sometimes known as 'Test and Go'. For this phase, the process is designed to allow you to upload the required documents in advance. Once accepted, you know that entry to Thailand is secured without the onerous quarantine requirements.

Several of the Master Liveaboards team recently left Thailand for the first time since early 2020 and so have had to go through the whole process to come back home. So, what was the experience of entering Thailand with the Thailand Pass actually like?
Applying for the Thailand Pass
"Having not travelled for nearly two years, the application process was slightly stressful. Not quite knowing what to upload and then having to wait an unknown period of time makes it quite nerve wracking"
Mik Jennings – Master Liveaboards Business & Commercial Manager

The application process, as generally the case with most processes, is not particularly difficult. At least not once you know what is needed. The most stressful part is not quite knowing if you have is what is required. Also, the process keeps changing, to keep everyone on their toes. In fact, at the time of writing, visitors arriving after 15th December cannot apply. This is because the rules are changing again, hopefully for the easier. That said, right now you will only need digital photos (PDF's are not accepted) of your documents to upload to the Thailand Pass application website.
Required Documents
Details page of your passport
Visa if required (although it's worth noting that our staff did not need to provide this even though they have work visas)
Your proof of vaccination (if it has a QR code it speeds the approval process, but is not essential)
Proof of at least 1 night's accommodation, with a 'SHABA' certificate, in a SHA+ hotel. This is probably the most confusing part. You can book any SHA+ hotel directly or through sites such as Booking.com and Agoda and so on. Be sure it is SHA+ before paying and then ask for the SHABA certificate. As a note, you can filter SHA+ hotels on Agoda and Booking.com shows the status to help you.
Proof of payment of your PCR test on arrival. The test can be booked and paid for at http://thailandpsas.com or alternatively your hotel can add it to your invoice. Both are acceptable and different hotels seem to offer different advice.
An insurance policy covering at least $50,000 USD. As a note, this does not need to specifically show coverage of COVID-19 as it did previously
"The Thailand pass registration is easy to follow, and relatively quick, as long as you have already booked your hotel and have photos of your passport ID page, vaccination QR code and insurance details ready to upload. The worst bit is waiting for confirmation that your Thailand Pass has been approved which, for me, was a 5 day wait although it can take longer."
Sue Horwood – Master Liveaboards Business & Systems Administrator
Travelling to Thailand
"Everything was far simpler than I expected. The efficiency at Phuket airport was very impressive and I was in my taxi faster than I have been on the many occasions I arrived prior to COVID"
Mik Jennings – Master Liveaboards Business & Commercial Manager

As with any travel through the last two years, things are running slightly slower. We would advise arriving at the airport a little earlier than you might usually. This allows for the extra time it takes to check everyone in and check their documents. That said, if you are prepared with what you will need then you can help speed things along.
Prior to travel
Obviously you need you need your Thailand Pass QR code before you can travel. Processing can take up to a week or so and our advice is to start as soon as you possibly can in order to reduce stress. For our team members, processing time was between a few minutes and six days. Then the only other thing you need is a negative PCR test. The test needs to be carried out less than 72 hours before your first flight departure and must have your name and passport number on the result. Once you have this, you are ready to go.
Check-in
You can expect that you will need to show hard copies of your Thailand Pass QR code and proof of your negative COVID test. You may also need to show proof of vaccination, though this may depend on your airline. In theory your Thailand Pass is proof in itself that you have already shown you are vaccinated. That said, it's always best to be ready for the unexpected.

Arrival
Now the fun bit starts. All of our staff arrived into Phuket, though arrival into Bangkok is apparently very similar. Our staff reported that the process is like a well oiled machine and even with multiple flights passes very quickly. So what will you actually need now you are entering Thailand with the Thailand Pass?
A hard copy of your Thailand Pass
A hard copy of your negative COVID PCR test result
Your completed immigration card (this will be given to you onboard your flight)
Your passport
Proof of payment for your PCR test on arrival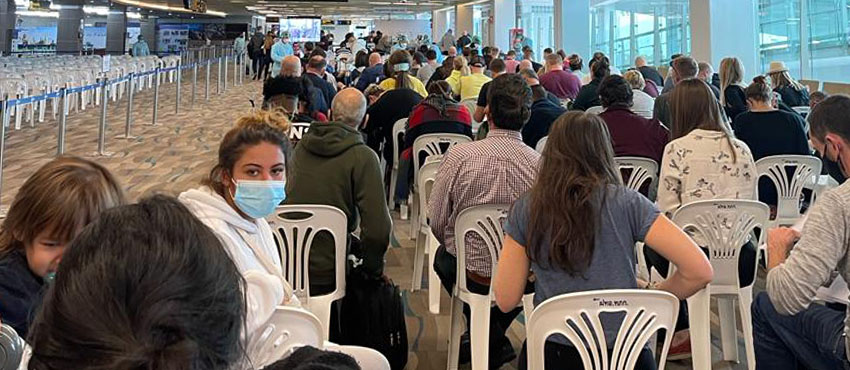 If you do not have hard copies of the two documents above then you can have them printed at the airport. However, this will obviously slow your processing as you have to start queuing again once you have your printouts. If all goes smoothly then the following will happen…
Entering Thailand with the Thailand Pass
After leaving the aircraft you will be seated until someone comes and checks you have the first 4 items listed above
Once checked and approved you move to a counter where staff will enter your details from the documents into their systems
Then it's immigration as normal
Keeping with the normal theme, next is entering the baggage hall, buying your duty free, collecting your bags, and passing through the customs checks
The next thing you need to do is show your proof of payment for your PCR test. This can be a hard copy or digital
PCR test next, so be ready for the stick up your nose at this point. You will also be given a rapid test kit to take away. There are no instructions on what to do with this but we would advise using the test between 3 to 5 days after entry just for your own piece of mind
Head outside and get in your SHA+ taxi. Your hotel can arrange this for you. This can be arranged at the airport, however, we advise having your hotel arrange in advance
Check into your hotel and wait for your negative test result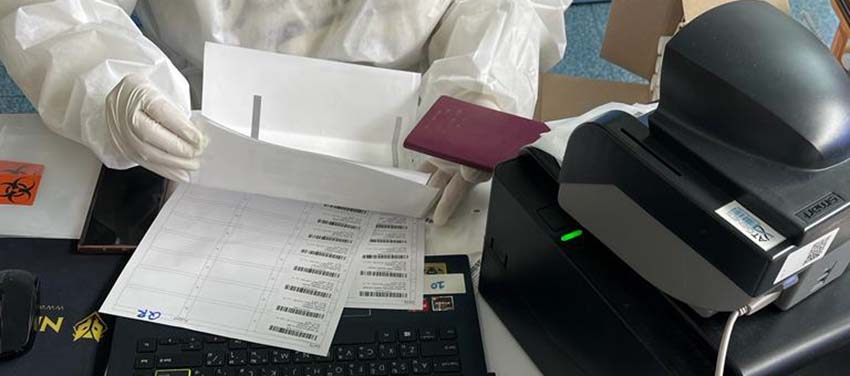 "My test was at 1pm and I received my result at around 8pm. All generally very smooth."
Mark Shandur – Master Liveaboards Owner
Once you have your negative result, you are free to travel Thailand at will. It seems like you have a lot to do, but if you take the time to prep your documents and print out what you need to travel then it's actually not. Our team all reported that quiet airports and the lack of crowds actually make for a more relaxed travelling experience.
It's all good
Always keep in mind…you have a dive trip on an amazing boat ahead of you! Read more about diving in Thailand on our Thailand Destination page.