The diversity of dive sites will wow divers, but is Palau really a great diving destination? well, it is certainly an all-in-one diving destination that has it all. Whether it is the strong currents at Blue Corner, the beautiful hard coral gardens of big drop-offs, the mysterious WWII wrecks, or the visually stunning cave of Blue Holes; everyone will find something they like.
With underwater creatures ranging from the smallest nudibranch to the larger manta rays, in Palau, we can guarantee you will not get bored!
Pelagics
Ask most divers what brings them to Palau and they will reel off a long list of enticements. Topping that list is likely to be the schools of grey reef and white tip reef sharks. They typically congregate in the currents at Blue Corner or Ulong Channel.
There is also the insane amount of fish! You will have the chance to dive with large schools of many species such as snappers, jacks, and barracudas. Napoleon wrasses and turtles are also common visitors at sites such as Dexter's Wall, Sandbar, or New Drop Off. And last but not least, the dive site "German Channel" will blow your mind! You will likely spot manta rays while they are feeding, getting cleaned, or are just leisurely cruising the channel itself.
If you are lucky , you will also see whale sharks, bull sharks, hammerheads and guitar sharks cruising by.
Macro
It's strangely not talked about, but for macro lovers, there are many odd-shaped species to keep a look out for in Palau. A few examples are: frog fish, crocodile fish, cleaning shrimps, nudibranchs, dart fish and the mandarin fish.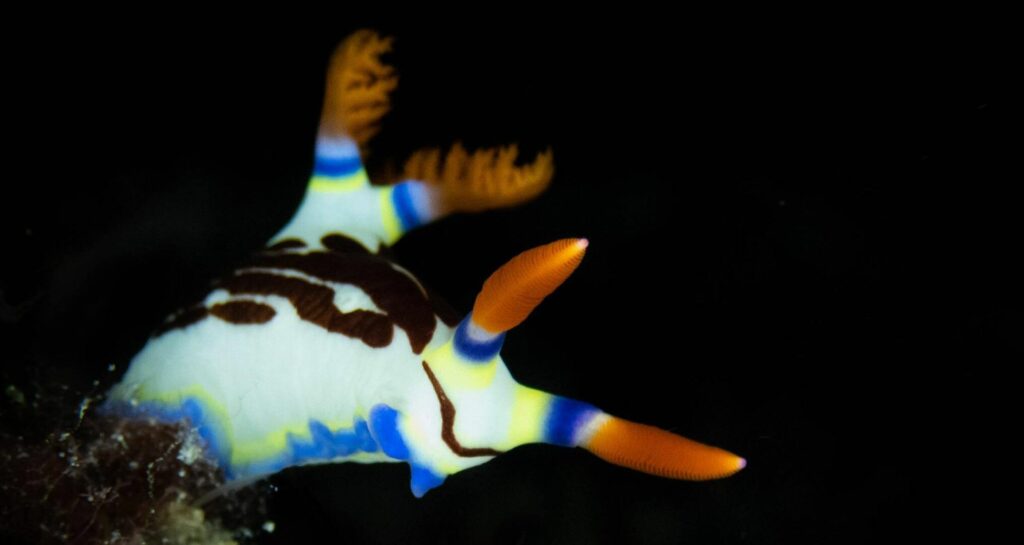 Caves and caverns
In the mood for an otherworldly experience? Then dive Palau's caves. Chandelier Cave is one of the most amazing and surreal places to be! It features stunning stalactites piercing the clear water surface. Blue Holes is another fantastic site. It has openings that let rays of sunshine through and this creates a very peculiar atmosphere. Both offer great opportunities for underwater photographers to play with reflections and lights.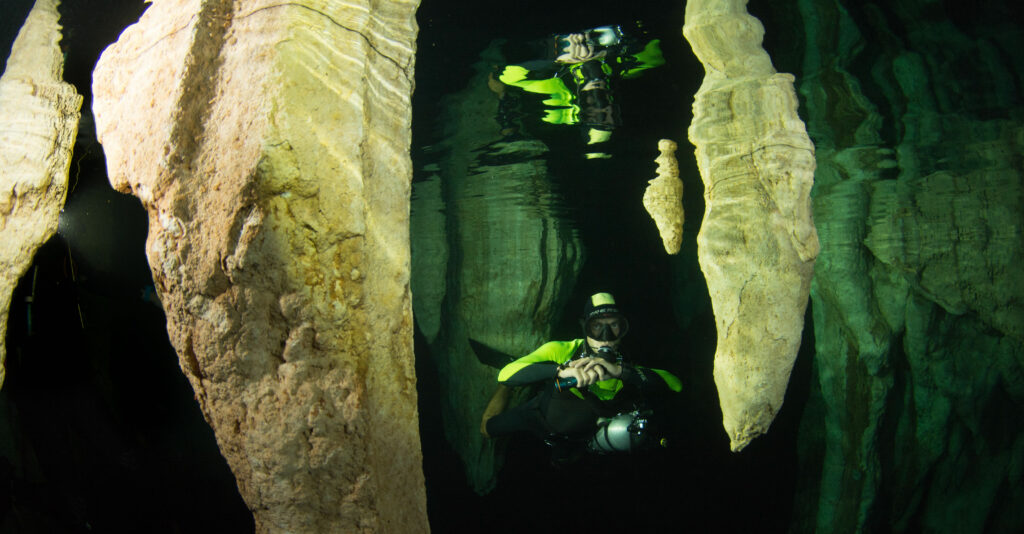 Wrecks
Underwater, Palau hides some of the most incredible, and yet almost unknown, WWII Japanese shipwrecks!
Only six weeks after the more famous attack on Truk Lagoon, the American Navy launched 'Operation Desecrate One' on Palau. The aim was to destroy as much as possible of the remaining Japanese fleet that had managed to escape from Truk. Over 2 days, more than 36 Japanese vessels, as well as aircraft, were sent to the depths of the lagoon.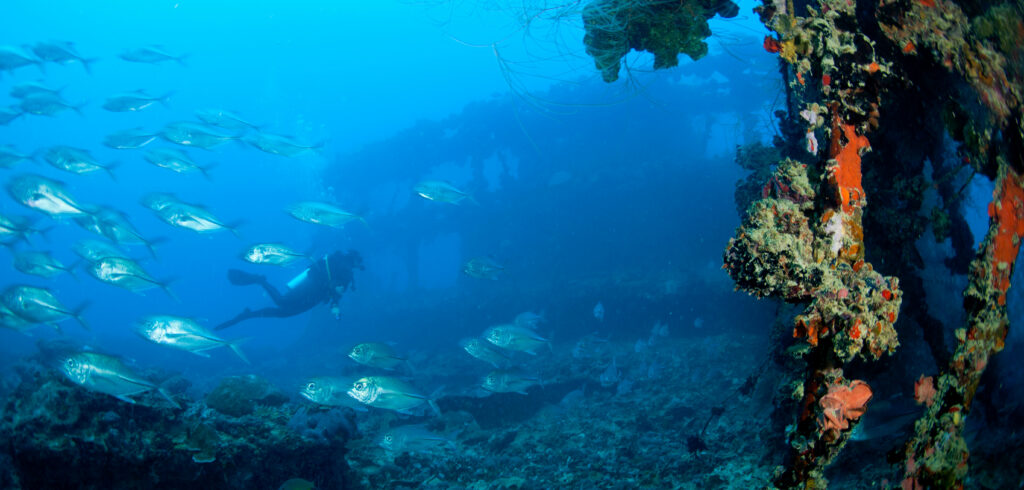 (Un)expected events
Palau has the perfect underwater conditions for the propagation of underwater species. Sheltered lakes and lagoons provide places for juveniles to safely mature far away from the bigger predators. This is why many species come in large numbers to Palau to breed and spawn. It is one of the spawning dive capitals of the world.
A quick season guide:
Manta mating season from December to March which means divers are more likely to encounter mantas at German Channel.
Grey reef shark mating season happens usually around December so expect to see more sharks!
Huge schools of Moorish idols congregate for the spawning season from February to March, around half moon. Expect to see some incredible shark hunting action as well!
Coral spawning in Palau happens 4 times a year: in May, August, September and February. Taking place 6 or 7 days after the full moon, this remarkable event also attracts thousands of fish anticipating a feast like no other since the spawning creates plankton rich waters. If you are lucky enough, you will spot manta rays too. With more luck, it could even be a whale shark!!!
Turtles mate and lay eggs from April to July. After their nesting season, they return to feeding areas to stock up their energy levels for the next reproductive season. Divers can then encounter the larger individuals after July!
From September to November, many dive sites in Palau – such as Short Drop Off – are the best places for grey reef sharks. They use them as baby nurseries and it is very common to see schools of juvenile sharks with their adult female guardian.
Plan your trip during full or new moon and you will see much more underwater action due to the increased amount of plankton in the water and stronger currents! Most of us consider ourselves lucky to see a big school of barracudas, jacks or even bumphead parrot fish feeding on the reef. But what if you would witness a school of thousands of fish? And what if during this gathering they would display fascinating behaviour, such as colour changes or males banging their heads against each other in a final mating dance? Fascinating, right? Each species has its own spawning patterns and style and follows its own lunar phases. For example, red snappers spawn during full moon whilst bumphead parrotfish only spawn when it is new moon.
The beauty of nature: Jellyfish Lake
A main draw for visiting Palau is the opportunity to snorkel through thousands of non-stinging jellyfish in "Jellyfish Lake". Most of our guests describe this unique excursion as a "once in a lifetime" opportunity. In 2015 and 2016, Palau's Jellyfish Lake suffered a drastic decrease of the jellyfish population due to a severe drought. However 2 years later, after Palauan tour operators decided to stop offering this attraction in order to help the lake to recover, the jellyfish finally came back. Clear evidence of how nature can recover when it is left be.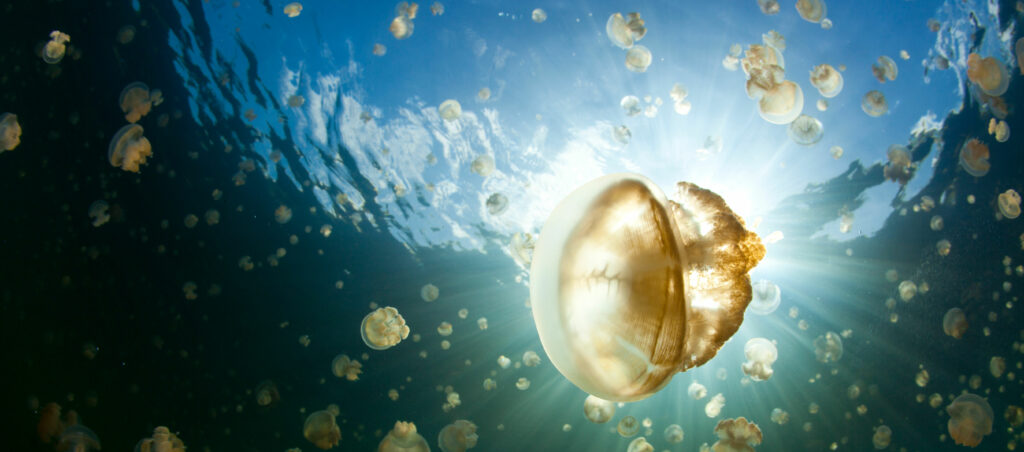 Idyllic islands
To top all these underwater treasures, Palau's iconic mushroom-shaped limestone islands – Rock Islands – are even prettier in real life than they are in photos. The beaches, with their beautiful white sand contrasting sharply with the azure blue of the sea and the lush green of the vegetation, will take your breath away. It is exactly this that makes these beaches so special. There are over 400 Rock Islands, each one with its special hidden treasure of a perfect reef, a pristine beach, or in many cases, both.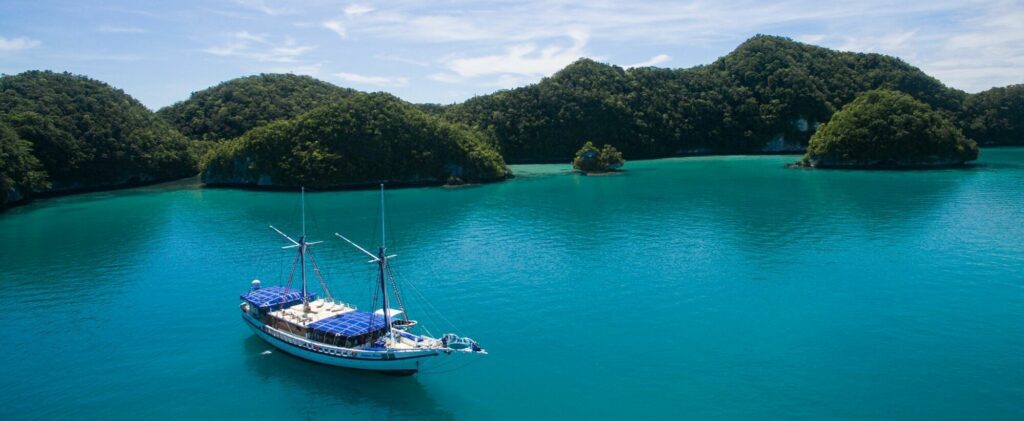 Looking to see whether Palau is a great diving destination for yourself? Then think no longer! Choose Palau Siren for your next liveaboard dive holiday! Palau never ceases to amaze with an amazing mix of pristine reefs, vertigo-inducing drop-offs, thrilling drift dives, abundant marine life and fascinating WWII shipwrecks!!! Jump right in: