The more you know about each Truk Lagoon wreck, the more you will get out of your dives in this wreck Mecca. Today, we jump and enter inside the wreck of the Nippo Maru.
Quick facts

| | |
| --- | --- |
| LENGTH | 107 m |
| GROSS TONNAGE | 3764 tons |
| DEPTH AT THE BOTTOM | 47 m |
| DEPTH MAIN DECK | 31-34 m |
| DEPTH AT SHALLOWEST POINT | 21 m |
| ACCESSIBILITY | Advanced divers – depth and potential currents |
Birth
The Nippo Maru started her life in Kawasaki Dockyard in Kobe, Japan. She was originally built as a 5-hold steam turbine merchant tanker and launched on 30th June 2022. Her owner, Okazaki Honten Steamship Co. Ltd., sailed her as a merchant ship. She was mostly transporting food back and forth Taiwan.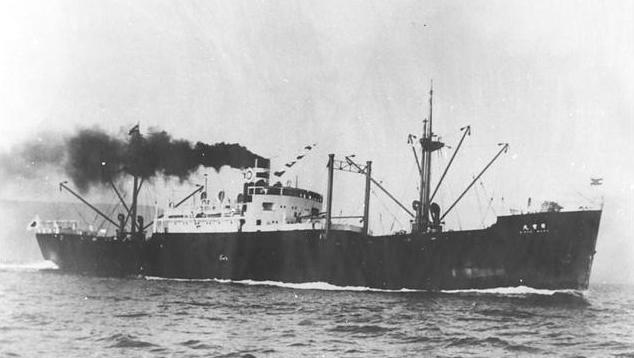 War-time
As the war broke, the Japanese government requisitioned all the ships they could and the Nippo Maru did not escape the draft. She underwent a conversion to become an auxiliary water tanker and entered into military service in 1941.
Really quickly, she also was assigned for troop and ammunition transport but spent most of 1941 and 1942 ferrying supplies and troops around Japan, Taiwan and South Korea. Her first big voyage, after having been fitted with guns, was to Truk in June of that year. She spent the remainder of 1942, 1943 and the early part of 1944 in the Pacific supporting the Japanese Imperial navy.
On 26th January 1944, just a few weeks before Operation Hailstone, the Nippo Maru narrowly escaped an attack by submarine USS Skipjack. Other Japanese vessels were not that lucky and the Nippo Maru rescued all their surviving crew from the Susukaze.
Her luck did not go on and unfortunately she met her fate on 17th February 1944 during "Operation Hailstone". The Nippo Maru was at anchor in the Natshushima Anchorage (east of Dublon Island). She was attacked by three TBF Avengers from USS Essex CV-9 and received a direct hit in the cargo hold and engine room. She sank on 18th February 1944 at 3:10am and there were no casualties during the sinking.
Cousteau
Jacques Cousteau put together an expedition to Truk Lagoon in 1969. A lot of the wrecks were "discovered" and filmed during the expedition. The documentary was aired as "Lagoon of the lost ships" and it remains famous, even now. This Cousteau expedition helped document and identify a lot of the Truk Lagoon wrecks.
The wreck of Nippo Maru was one of those and is featured in the movie. The 1969 expedition found her resting upright with a 25 degree port list and there is a famous moment where one of the diver finds antlers in the officer mess. A bit weird to find such an artifact onboard a wreck at the bottom of the ocean! But in Japanese Shinto mythology, deer are divine messengers. Two of the Shinto Seven Lucky Gods, Jurōjin and Fukurokuju, are actually depicted with deer's antlers. Not only the animal was a good luck charm but is also a symbol of longevity. Maybe the crew was carrying the antlers for good luck or simply they were a remnant of a nice meal.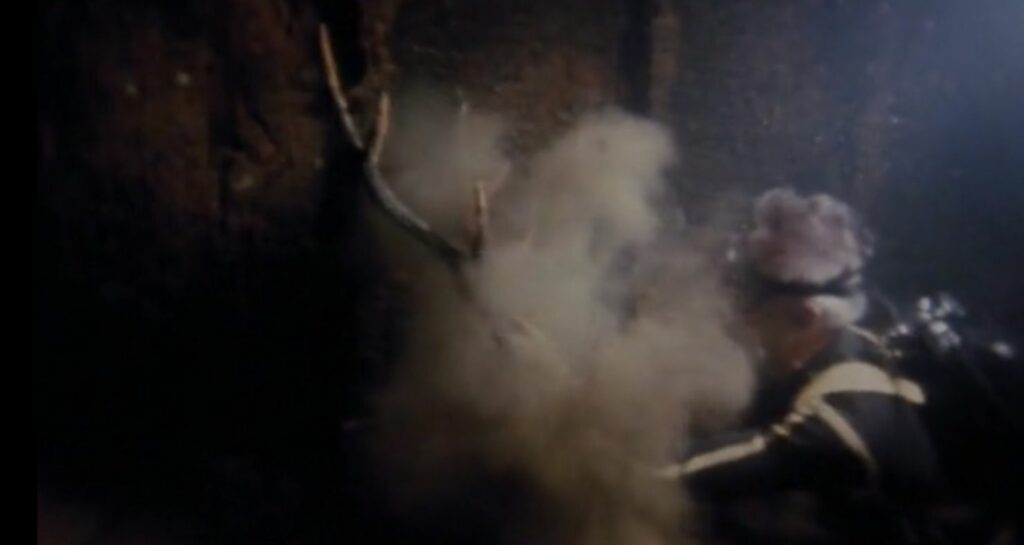 Diving the wreck of the Nippo Maru today
The Nippo Maru now rests upright with her heavy list to portside at the bottom of the lagoon at 47m. Her stern part is almost buried in the sand. She is really intact which makes navigation easy.
We consider this wreck a deep dive, especially if you want to see her entirely. However she is still accessible to recreational divers as her shallowest point is at 21m and decks at around 30m. Having a deep certification though will give the extra experience to explore the wreck so we do recommend it for your own enjoyment.
Overview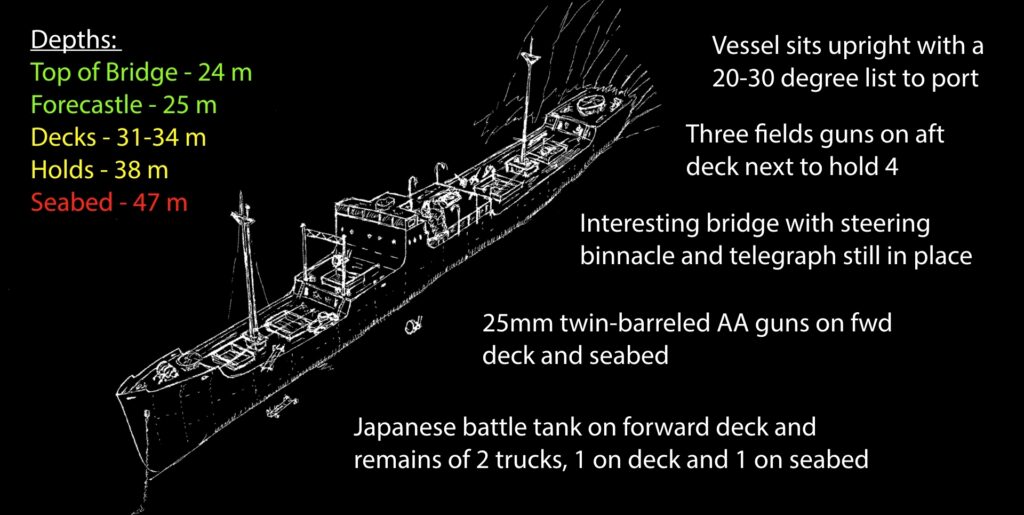 Often as you jump in, you will not see the wreck but we do attach a mooring line that you can use for your ascent and descent. As you go deeper, she will show herself and often the first things you will see are white spots. These are all the China plates scattered around.
As the bow section is the deepest point, if possible, do start there. There you will find a gun platform and the anchor winches. A spare anchor is against the forecastle. Inside the forecastle are many personal effects of the crew in the silt.
You can then work your way back exploring the holds on the way. \Mines, cannon barrels, gun mounts for shore batteries, machine guns, gas masks, bronze rangefinders and small arms ammunition of all kinds lie scattered all around this wreck.
The holds
The 5 holds are fascinating and contain many treasures. They are packed full with ammunition and armaments of all kinds. It is worth spending time exploring them
The forward hold contains mines, detonators, artillery shells, large containers, gas masks and oil drums.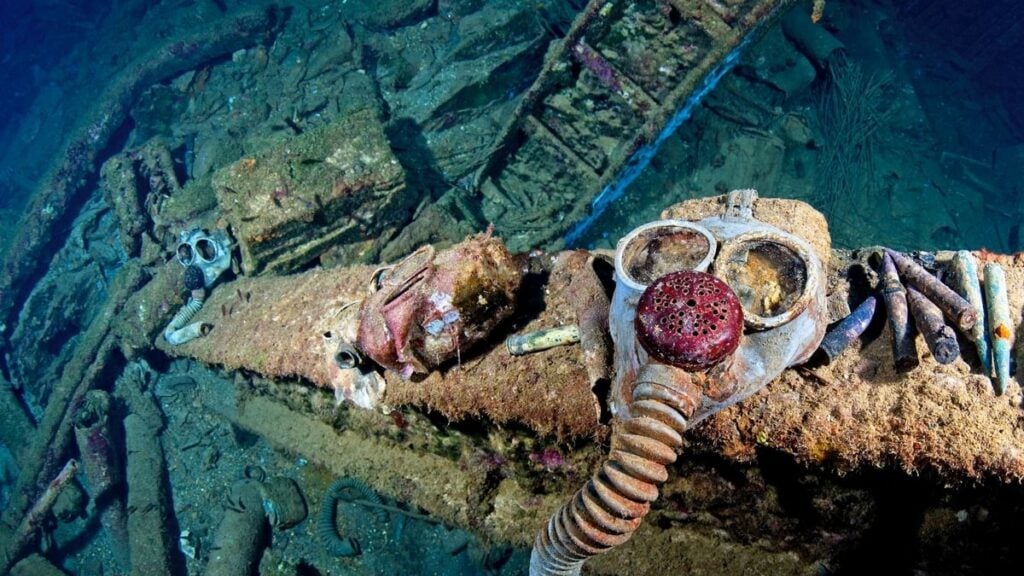 Holds No. 1 and 2 contain large bronze range finders but other than this, these holds are not the most interesting ones. They probably just carried the water.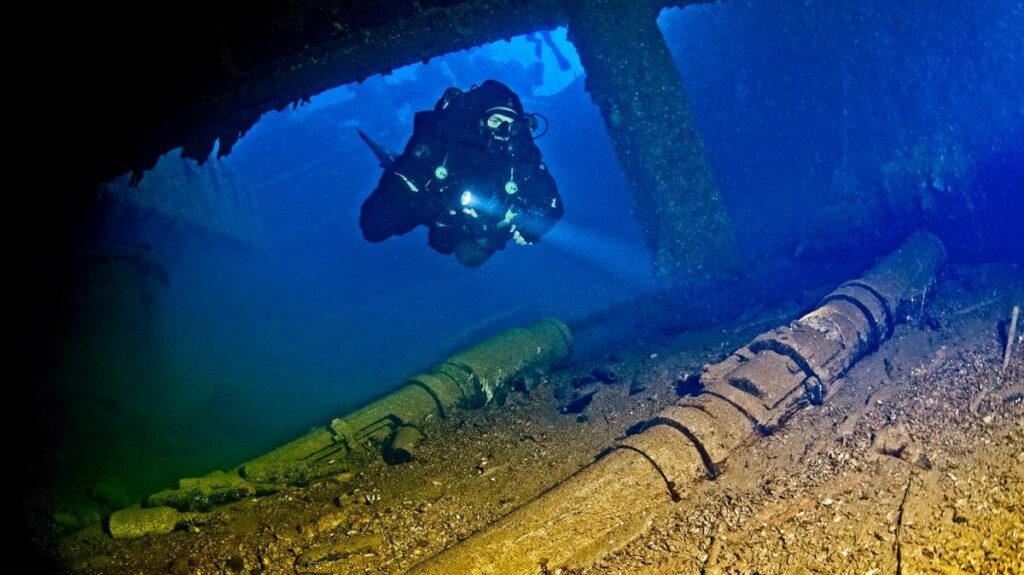 Hold No 3, behind the mid-section, contains debris and somethings that look like engines. You will also see an insane amount of bottles covered with silt. They are said to have been beer bottles. Do not get excited: they are empty!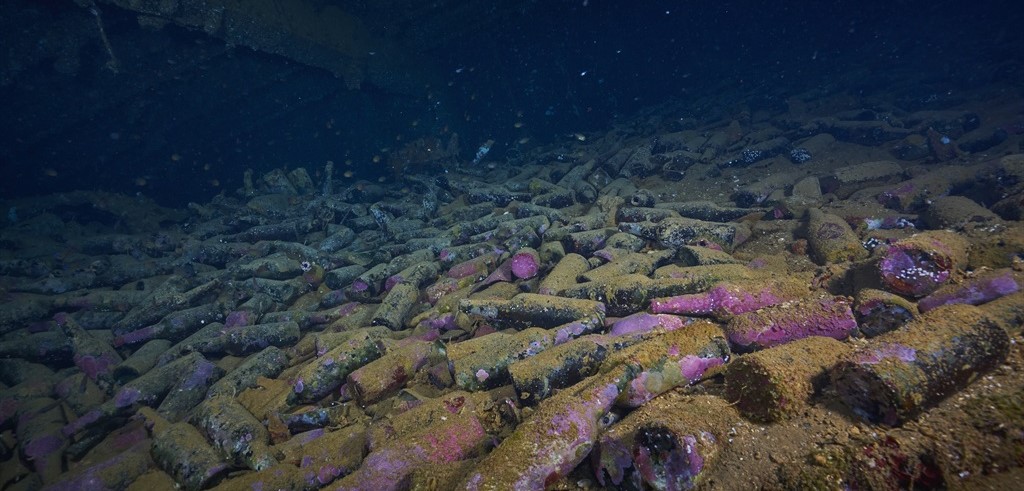 Lastly, in Hold No.4, there also are hundreds of beer bottles, radio equipment and a variety of items. You will even find barrels for 5″ guns.
Mid-section
Do spend some time on the mid-section. As it is fairly intact, it is one of the focal points and most interesting part of the dive. The bridge is almost in pristine condition. It features the famous ships compass and rudder and engine telegraph. It is a photo that you need to take! It also has 3 strong boxes but do not get excited as they contain nothing of value.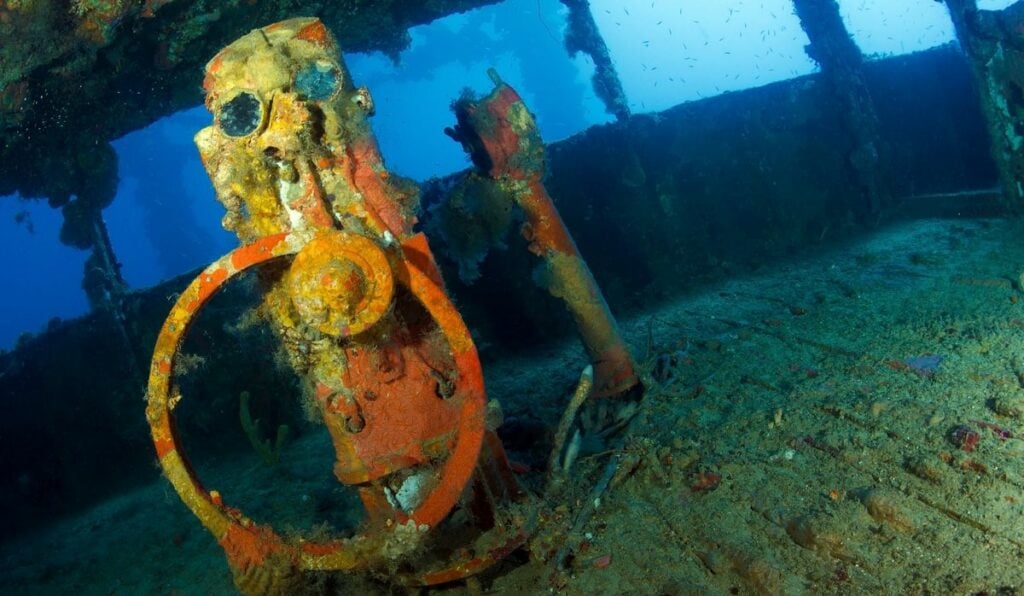 From the bridge, you can access the lower quarters and also access the holds. Below the bridge, there is a large galley and crew quarters. In the quarters, you can find the crew personal belongings.
The decks
Even if you do not want to do any penetration, the decks will amaze you. Mines, cannon barrels, gun mounts for shore batteries, machine guns, gas masks, rangefinders, small arms ammunition of all kinds and personal belongings lie scattered all around.
There are some highlights not to miss though. The first is found next to the entrance to Hold No. 2 and is an actual tank! It is a Type 97 tank but minus the turret gun. They often removed the gun turret from tanks to transport them. Even without a barrel, it still looks awesome and is one of the highlight of the dive.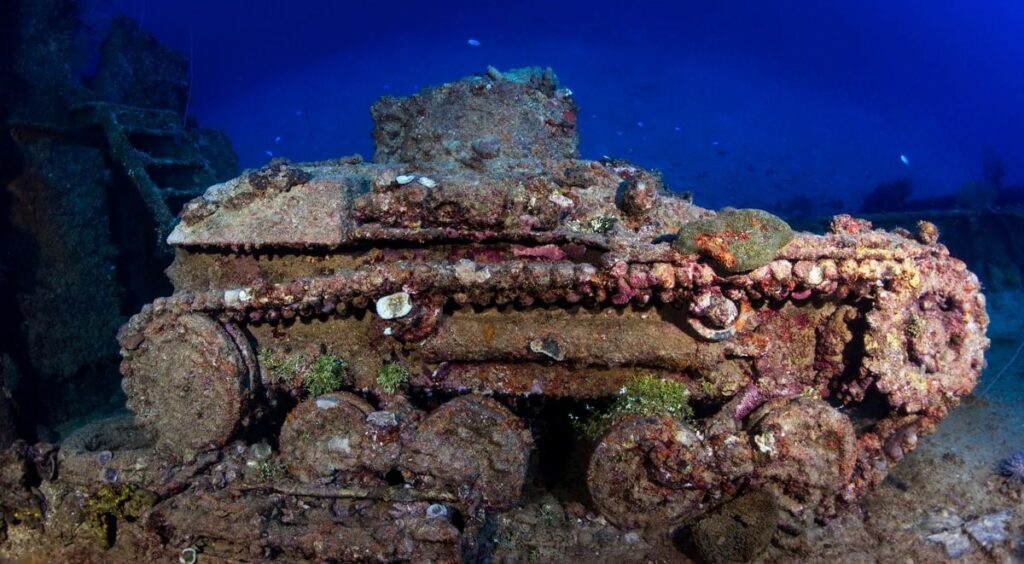 Behind the mid-section, right next to the entrance to Hold No 3, you will find another of the deck highlights. These are 3 howitzers guns. Howitzer is a long-range weapon and falls in kind of between a cannon and a mortar. They are still mounted on their rubber-wheeled carriages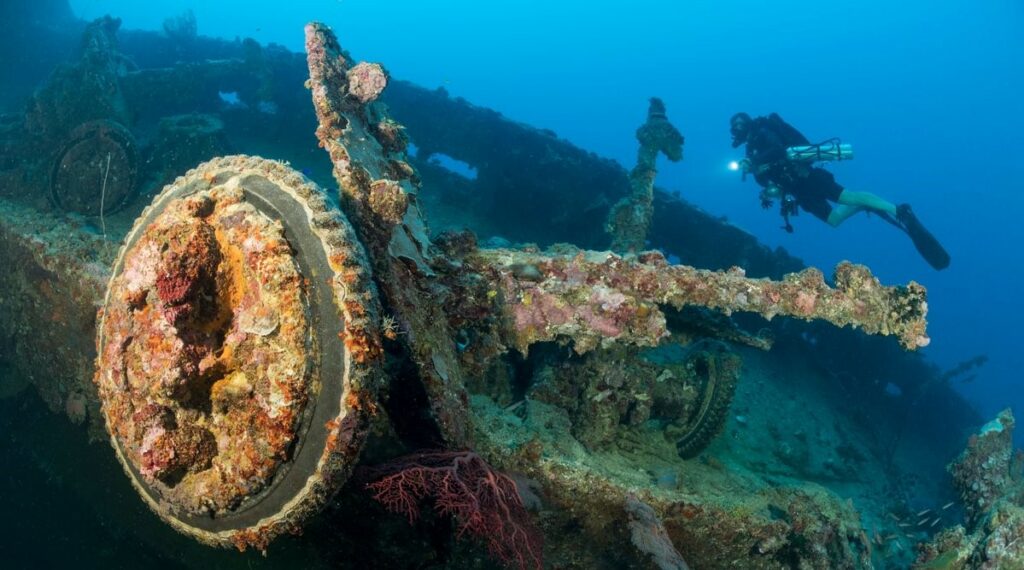 Make sure you do not miss both these key points but do make sure you enjoy all you can see on the decks.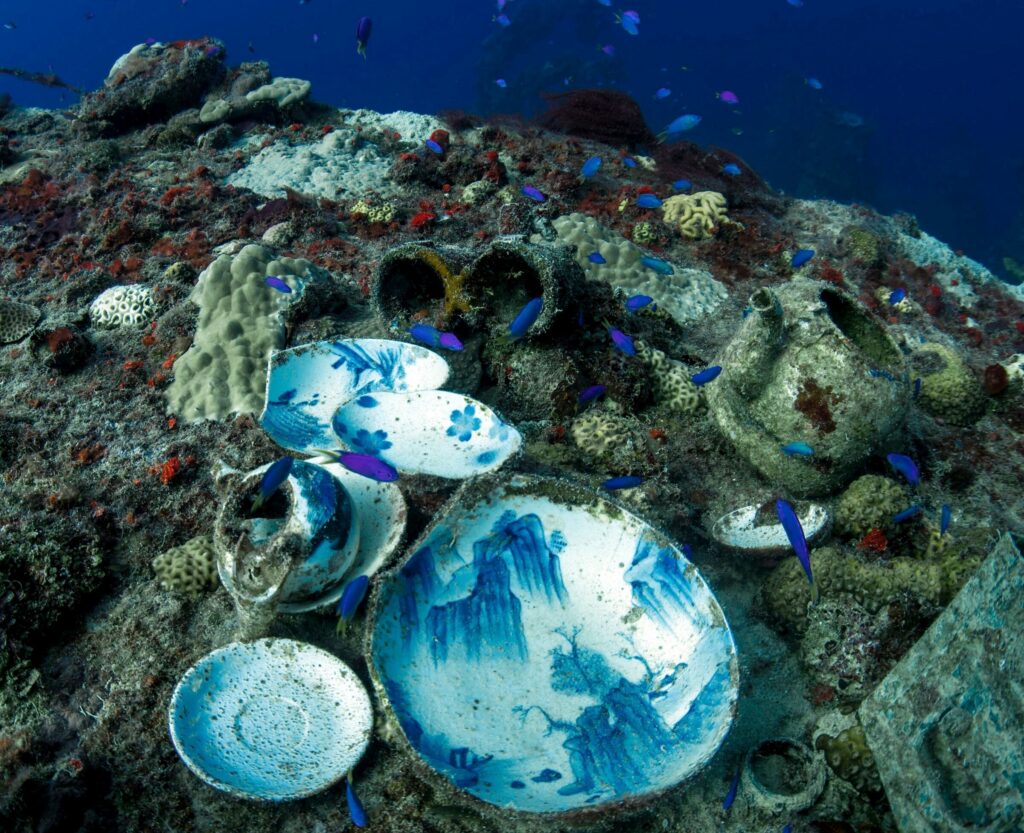 Marine life
The Nippo Maru has been down for a while. She has become an artificial reef and the marine life is stunning. Like you needed another reason to find this wreck interesting… 🙂
The wreck is covered with glass fishes. The schools can be so dense sometimes that it is near impossible to get a photo of the wreck! Glass fishes are an easy meal for larger jacks so it is also common to see them darting around. And jacks do sometimes attract larger pelagic (eagle rays, grey reef sharks and dolphins) so do try to peel your eyes from the fascinating memorabilia from time to time.
The wreck also features colorful corals and sponges which hide smaller life, such as all your "normal" tropical fishes but nudibranchs too.
For more information about diving the wreck of the Nippo Maru, and other shipwrecks of Truk Lagoon, please contact us.